Red Bull also alert FIA of Mercedes' rear flexi-wing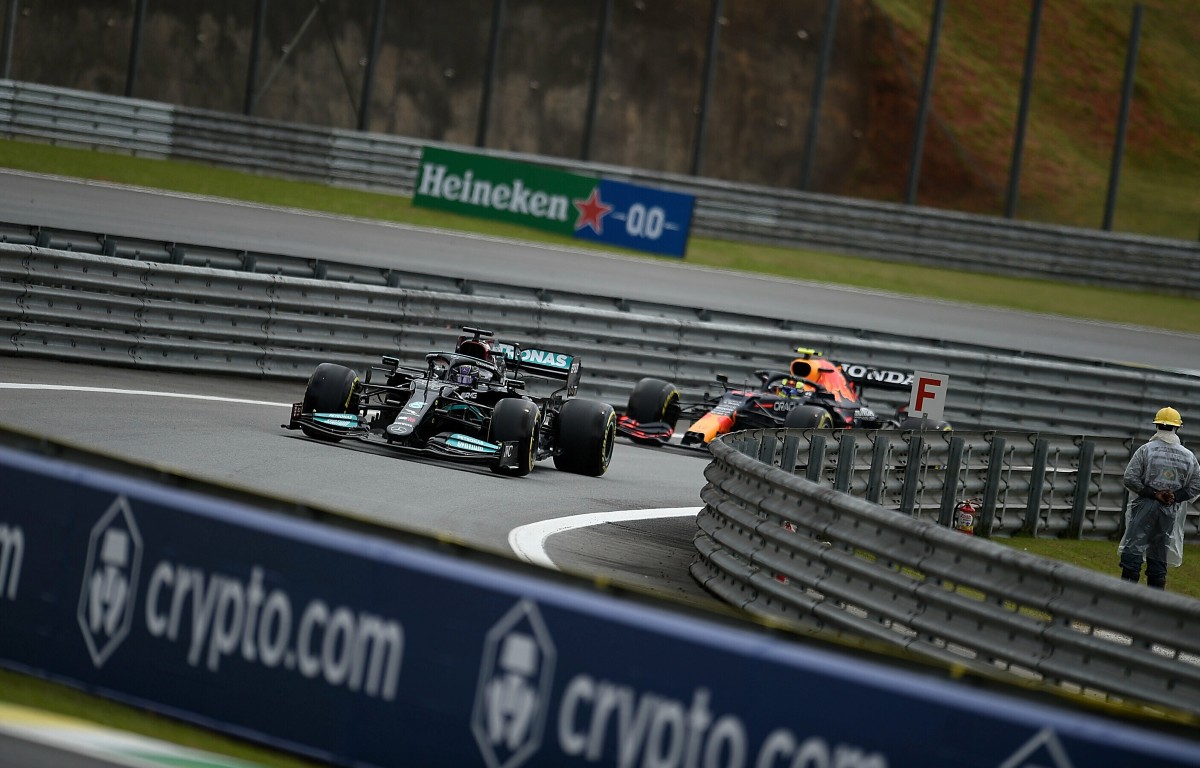 Even before Lewis Hamilton's DRS infringement in Sao Paulo, another row over flexi-wings was brewing between Red Bull and Mercedes.
Hamilton carried a five-place grid penalty into the Sao Paulo Grand Prix after taking a fifth Internal Combustion Engine for the season, although that turned out to only be the start of the drama.
Hamilton's dominant qualifying display was followed by the Briton's DRS not satisfying FIA lead technical delegate Jo Bauer, resulting in his disqualification from qualifying and having to start the sprint at the back – and before that Red Bull had been raising a totally separate concern.
Earlier in the season Mercedes and Red Bull were caught up in a row over rear wings, a technical battle which was started by Mercedes' complaints over the amount of flexibility in the rear wing on the Red Bull RB16B.
A complex investigation followed, which concluded in new regulations being released to firm up the rear wings, with even those causing some frustration from various teams.
The issue had seemed to have calmed down, until now…according to Auto Motor und Sport, Red Bull have brought the flexi-wing debate back to life in Sao Paulo.
Peguei o Max conferindo as asas ao final do Qualy. pic.twitter.com/QY8gr66ujO

— Frederico Monteiro (@frd182) November 12, 2021
AMuS state: "The top speed disadvantage has been driving Red Bull since the summer break. Again and again there were new theories as to why the Silver Arrows fly away from the RB16B on the straights. Now Red Bull believes it has finally found what it is looking for.
"According to Red Bull, the rear wing flap of the Mercedes folds backwards from a speed of 260 km/h."
Auto Motor und Sport also quote Red Bull team principal Christian Horner as accusing Mercedes of "doing the same thing we were accused of until before the race in Baku".
"An hour before qualifying began, Red Bull Technical Director Adrian Newey and Chief Engineer Paul Monaghan marched into the FIA office with a mountain of paper and videos," the report adds.
Red Bull had wanted to give their title rivals "the chance to put an end to that".
The report claimed Red Bull could save themselves the trouble of a protest, since the FIA had inspected the rear wing on Hamilton's W12 and found their own issue of the DRS flap and the gap between the upper and lower elements when it was open.
This was confirmed on Saturday as being a breach of the technical regulations, with Hamilton's punishment being a blow to his World Championship hopes – although the fact the punishment applies to sprint qualifying rather than the race offers the Briton the chance to offset it to some extent.