Horner feels Mercedes protests were 'little bit desperate'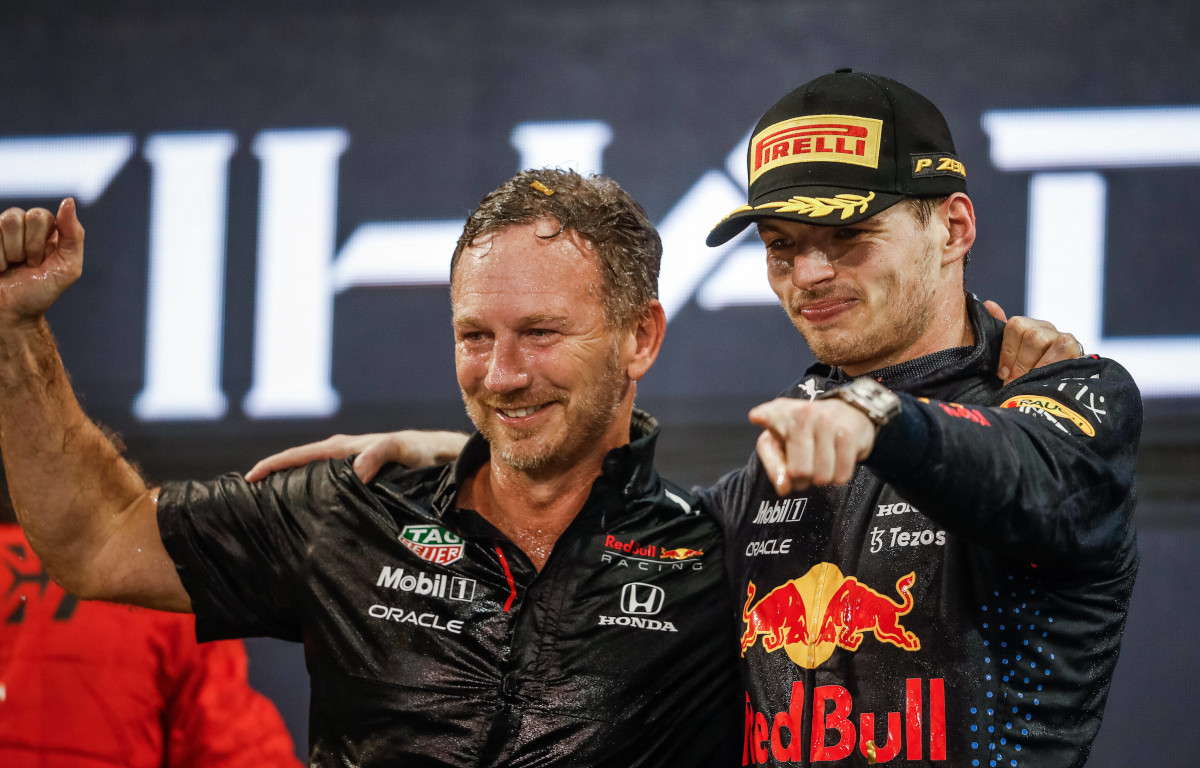 Twice protesting after the season-ending Abu Dhabi Grand Prix, Christian Horner says it all felt a "little bit desperate" from Red Bull's rival, Mercedes.
Lewis Hamilton lost the World title on the final lap of the 2021 season, the Briton overtaken by Max Verstappen after a controversial Safety Car call from FIA race director Michael Masi.
Masi decided to only let the five cars that were between Hamilton and Verstappen un-lap themselves in order to set up a "motor race", as he put it to Mercedes motorsport boss Toto Wolff.
Mercedes were incensed, Red Bull joyous.
With Verstappen taking the win, Hamilton's old hard tyres no match for the Dutchman's new soft tyres, Mercedes protested both the Safety Car call and also Verstappen as they felt he had momentarily edged ahead of Hamilton behind the Safety Car.
Both protests were dismissed by the stewards.
"It obviously felt a little bit desperate," said Horner. "We didn't want it to finish in front of the stewards.
"They have been great competitors this year and Lewis has been a phenomenal driver.
"It's had its moments, it's been tense. It's been tough. But we are just delighted with the outcome and very proud of Max. He has been phenomenal all year."
That extraordinary final lap of the 2021 title race in full 😮#AbuDhabiGP 🇦🇪 #F1 pic.twitter.com/kknTMDfpAF

— Formula 1 (@F1) December 12, 2021
Mercedes have already announced their intention to appeal, the team having until Thursday to do so.
While it was thought in the build-up to the grand prix that Red Bull were the ones who could protest if things did not go their way, Horner non-committal on that possibility, it was Mercedes who pitched up at the Yas Marina circuit with a barrister on hand.
Horner had another dig at them for doing that.
"We never wanted to end up in front of the stewards," said the Red Bull team boss.
"There was obviously a lot of debate before the race but, as it turned out, it was obviously very different after the race.
"But we don't go racing with barristers and so on. It was a shame it ended up there, but the stewards made the right call."
Horner also revealed the teams had spoken with Masi before the race about him doing all he could to ensure the season did not end behind a Safety Car.
The Briton says the FIA race director made the right call.
"We've talked about 'let them race'," added Horner. "You know, Niki Lauda was the guy that pushed hard for it. And we've always talked about not finishing races under Safety Cars.
"The race director, in difficult circumstances, made absolutely the right call today. And strategically we got it right."