Red Bull non-committal on possible late-season protest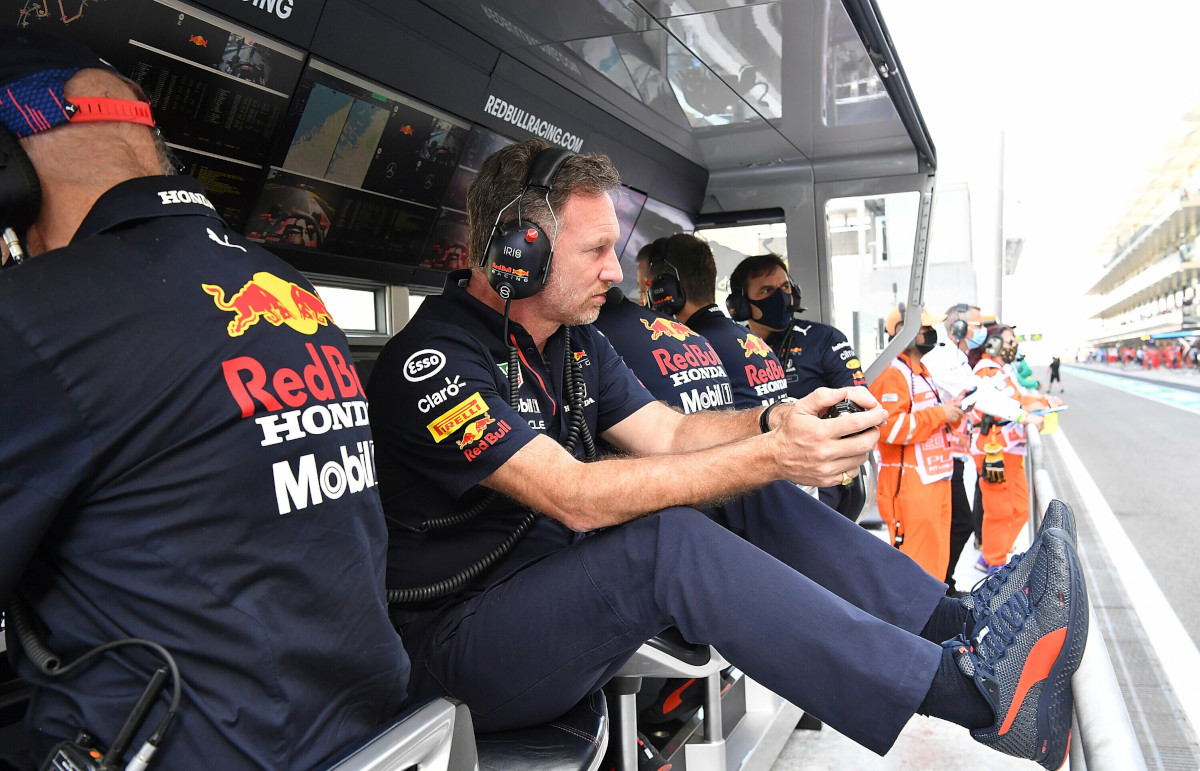 Christian Horner has not ruled out the 2021 title being decided on a protest in the stewards' office, but says Red Bull trust the FIA to ensure a level playing field.
This year's championship has seen Red Bull and Mercedes take swings at each other all too often.
While the on-track tussles have been enthralling as Max Verstappen and Lewis Hamilton have raced hard for the wins and the lead in the Drivers' Championship, the off-track ones have at times left a sour note.
Horner and his Mercedes counterpart Toto Wolff have traded barbs while also accusing the other of running an illegal car.
At the beginning of the year, that led to the FIA introducing more stringent testing for the front wings, Mercedes arguing Red Bull's was too flexible, and later in the year additional tests for the rear wing, this time Red Bull questioning Mercedes' design.
Red Bull have hinted several times they could protest their rival's car but as yet have not done so.
It begs the question if Red Bull lose the Drivers' title on Sunday in Abu Dhabi, will they protest?
After 21 races, nothing splits Max Verstappen and Lewis Hamilton

Who will be crowned champion of the world on Sunday? 🏆#AbuDhabiGP | #F1 | #HistoryAwaits pic.twitter.com/UqOjuXEpQQ

— Formula 1 (@F1) December 10, 2021
"Regarding the question for me, are we going to protest?" Horner replied.
"We have made our points clear a few races ago, to the FIA, about things we were unhappy with.
"The FIA have introduced stringent tests and I believe modifications have been made to our competitor's car.
"So we just want a level playing field and I think hopefully we have that. We rely on the FIA to police that.
"It's an incredibly complex sport. There's a huge talent pool of engineering skill that look and interpret these regulations with tremendous ingenuity and that's part of the appeal of Formula 1, but we rely wholeheartedly on the FIA to make sure these things are policed and adjudicated correctly.
"I think, hopefully with the tools they now have, that certainly will be the case."
As for Wolff, who has also had to deal with Red Bull questioning whether Mercedes are running a trick that allows them to cool their engine while also also questioning how the W12 finds its straight-line speed, he insisted Mercedes had not found a "silver bullet".
Rather, he says, the small things have added up to give them an advantage, but that it is track specific.
"I think we understood much better how to run the car in terms of aerodynamic configuration," he said. "Particularly how much rake you give to the car, how you put the aero balance right, how much rear wing you run and then obviously a massive effect from a new engine.
"You put all of this together with a circuit that suits the car, with the right decisions being taken by Andrew Shovlin and his team and Loic Serra and these guys.
"People tend to believe in Formula 1 there is one silver bullet, but it's not like this. It's small things that add up and I think that's where we took some good decisions."