Red Bull $1.8m crash cost is double Marko's estimate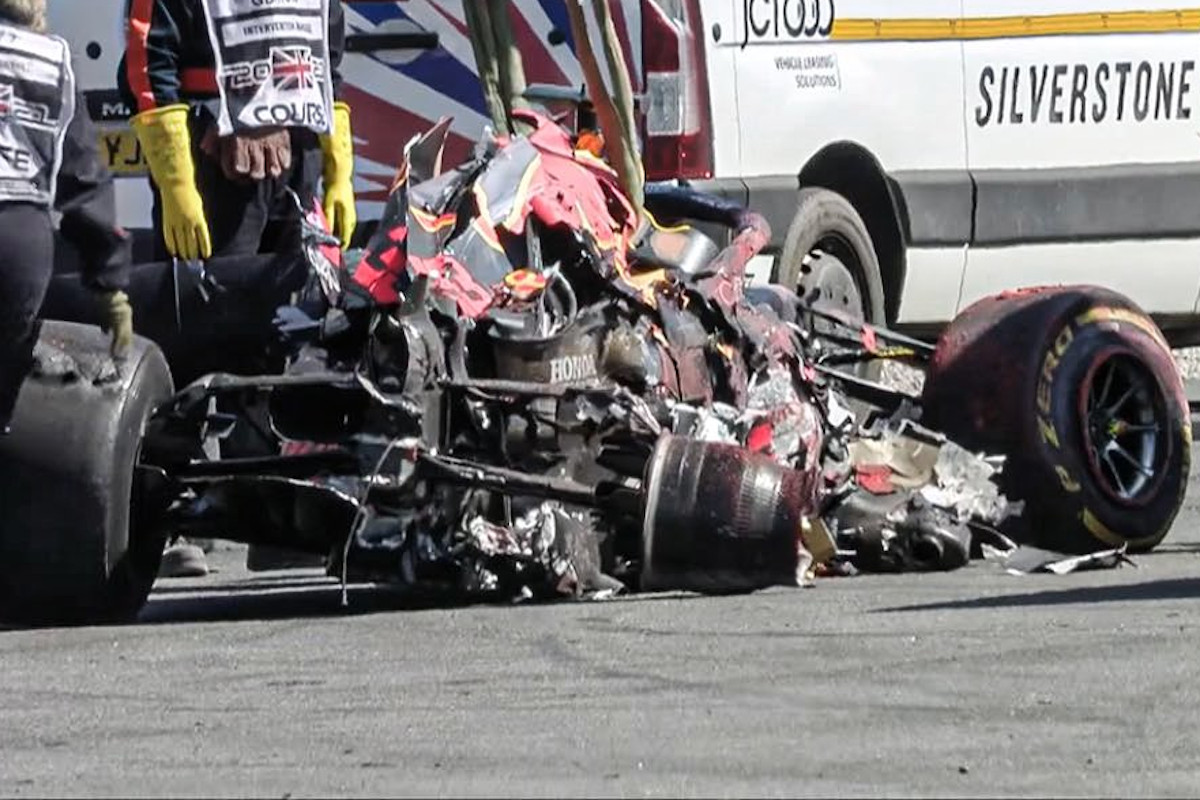 Christian Horner has confirmed a cost figure for the damage caused by Max Verstappen's Silverstone crash – double the previous estimate.
Verstappen tangled with title rival Lewis Hamilton at Copse on the opening lap of the British Grand Prix, leading to a heavy crash into the barriers for the Red Bull driver.
Hamilton was adjudged by the stewards to have caused the collision and a 10-second time penalty was issued, although that did not stop him from coming back to win on home soil for the eighth time.
Red Bull also took issue with Hamilton's celebrations after taking the win, since Verstappen was left needing checks in hospital.
Helmut Marko, Red Bull advisor and driver programme chief, originally put the financial cost at 750,000 euros, but team principal Horner has now revealed that was a conservative estimate. The actual figure is a bigger dent in the spending limit imposed on each team of $145m for this season.
"A huge amount of credit must go to the safety standards of these cars, the Halo and the barrier systems because the impact was such that it actually broke Max's seat," Horner wrote in his column for the Red Bull website.
"The car could have quite easily flipped over, which was an initial concern voiced by the first responding medical team, but fortunately it didn't.
"The other significant factor is the cost-cap element of this. That crash has cost us approximately $1.8m and an accident like that has massive ramifications in a budget cap era."
At current exchange rates, that works out at just over 1.5m euros, therefore twice what Marko had estimated.
Red Bull merchandise is available to purchase now via the official Formula 1 store
Horner also confirmed Red Bull have still not exhausted all options for potentially seeking further action against Hamilton, whose victory cut Verstappen's lead in the Drivers' World Championship to eight points. Red Bull are now only four ahead of Mercedes in the Constructors' standings.
"It's no secret that we felt at the time, and still feel, that Hamilton was given a light penalty for this type of incident," said Horner.
"Given the severity of the incident and the lenient penalty, we are reviewing all data and have the right to request a review. We are therefore still looking at the evidence and considering all of our sporting options."
Both Horner and Wolff independently visited the stewards while the race had been stopped in the wake of the incident to state their respective teams' case regarding potential penalties. Horner has welcomed the FIA's subsequent confirmation that such moves are outlawed.
"Having heard that Toto was lobbying the stewards, I went up to see them and raised the point that neither of us should be there and it was not appropriate for anyone to interfere while the decision-making process was under way," added Horner.
"It is also detailed in the sporting code that this is not acceptable and I am now pleased to see the FIA have clarified that this sort of lobbying will not be tolerated in the future as it may pressure the stewards into a decision that is not wholly fair or impartial."