Masi reveals Red Bull asked stewards to look at Norris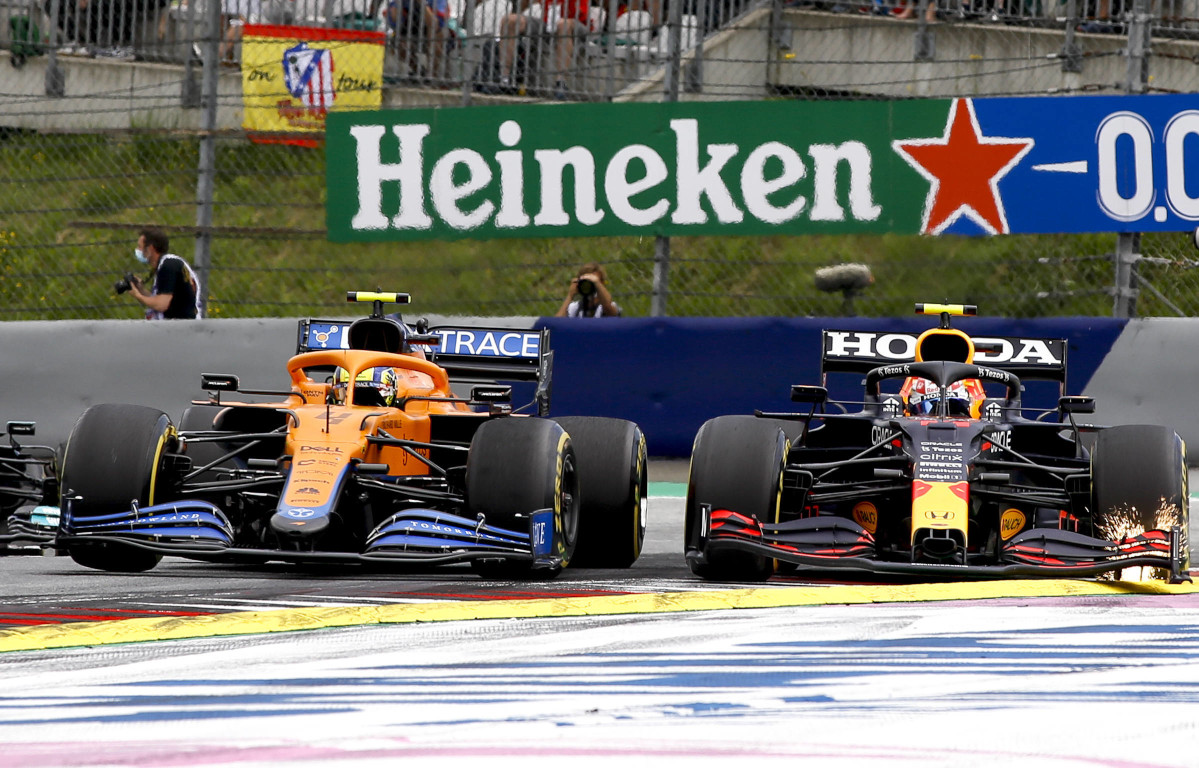 Red Bull may be complaining about the spate of penalties at the Austrian GP but Michael Masi says they asked the stewards to look at Lando Norris.
Fighting for position after an early Safety Car, Sergio Perez tried to pass Lando Norris around the outside of Turn 4 at the Red Bull Ring.
He ran out of road, went off the track and into the gravel, costing him positions.
Several minutes later Race Control announced that the stewards were investigating the incident and shortly after Norris was slapped with a five-second penalty for pushing Perez off the track.
That was only the first of the race's penalties with Perez joining an ever-growing list as he tussled with Charles Leclerc, pushing the Ferrari driver off the track – twice.
Red Bull team boss Christian Horner has criticised the penalties, saying they set a bad precedent as "you don't want the equivalent of footballers taking a dive".
And yet Masi says it was Red Bull who were the first to ask the stewards to look into an incident.
"One that came on immediately was Red Bull, asking for the incident with Lando Norris and Sergio Perez to be looked at," Masi, F1's race director, as quoted by ASN Motorsport.
"And then, in both circumstances, Ferrari asking for the incident between Charles Leclerc and Sergio Perez to be looked at.
"There might have been a couple of others but, outside of that, I didn't have anyone questioning anything that went up under investigation."
Would like to see where the 'forcing Sergio Perez off the track' happened 🧐 #F1pic.twitter.com/vzEptFybKY

— Planet F1 (@Planet_F1) July 4, 2021
Red Bull merchandise is available to purchase now via the official Formula 1 store
Norris' time penalty also came with two penalty points on his licence, bringing the McLaren driver up to 10, which is just two away from an automatic race ban – although two points will expire and be wiped off again ahead of the British Grand Prix.
That had both the Brit and Austrian GP winner Max Verstappen questioning the penalty points system.
Masi has defended it, adamant it is not "harsh" on minor infringements.
"It's a penalty point system that exists. So, it has been there all the way through, no different to those driving on the road in a lot of countries that have the maximum number of points that they have to abide by.
"And they have to adjust driving style and so forth accordingly. So, no, I do not think they're harsh. That was discussed late last year. And it's funny because it affects different drivers in different teams in different ways.
"The consensus was at the end of last year from involving everyone, teams, the FIA and F1, that there shouldn't be a change for this year. And it is not something that we would ever change mid-year.
"So that is the penalty scale is something that the teams all agree upon, and actually have input into at the start of the year. That is what the stewards use."
Follow us on Twitter @Planet_F1 and like our Facebook page.