Horner explains why Red Bull 'switched strategy on the grid'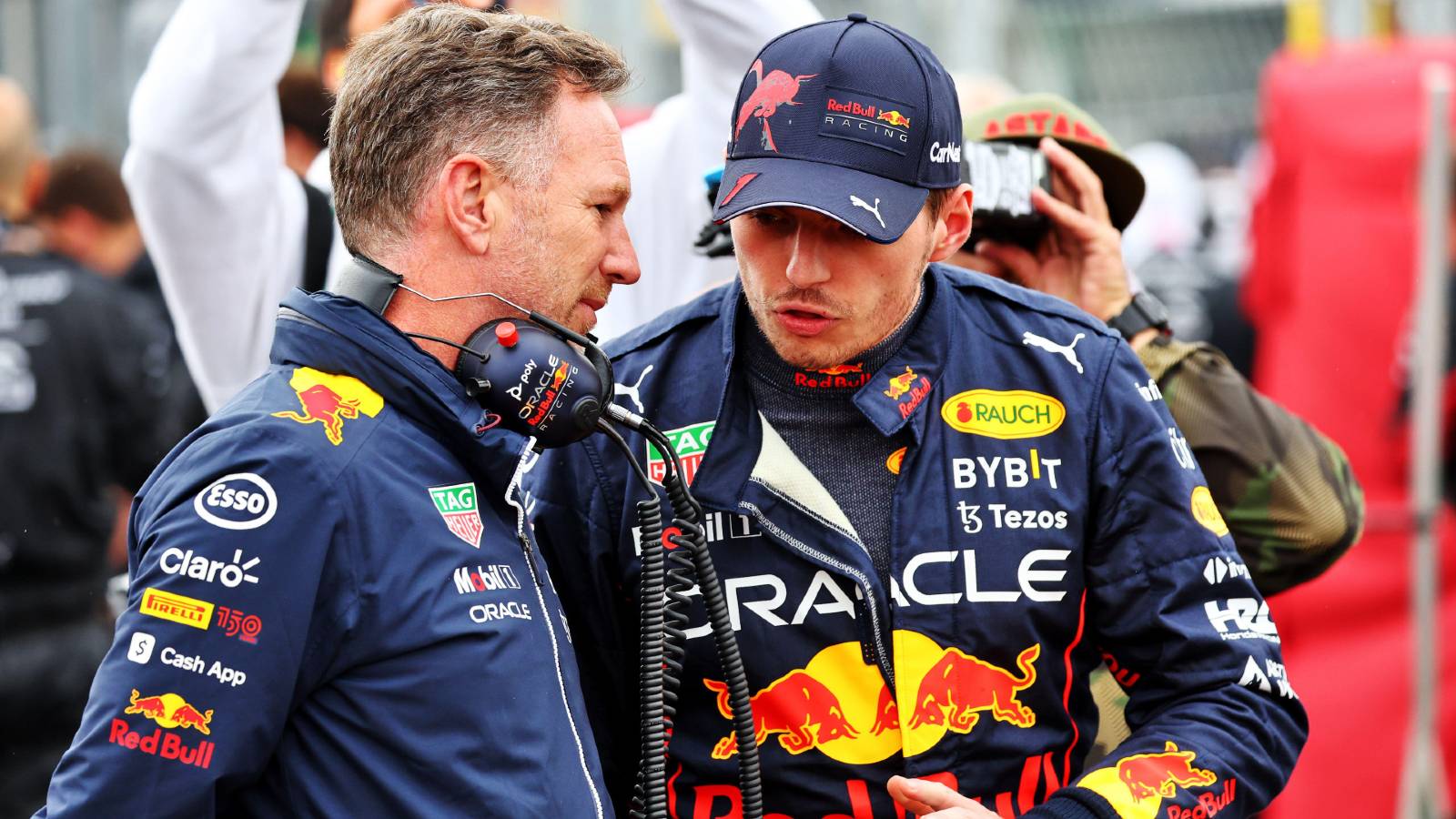 Red Bull's Christian Horner said a last-minute strategy change had been instrumental in Max Verstappen's brilliant Hungarian Grand Prix win.
The World Champion's victory hopes looked to have been dealt a major blow when his RB18 suffered a power-unit issue in Q3 and meant he could not set a representative time, starting the race 10th on the grid.
But after power-unit elements had been changed under permission on the morning of the race, Verstappen produced a superb drive to work his way through to the front and claim his eighth success of the season – on a day to forget for Red Bull's main rivals, Ferrari.
However, there had also been another key factor, Red Bull team principal Horner revealed. That was a decision to eschew the hard tyres, which ultimately proved Leclerc's downfall after they had been fitted to his car on lap 40.
"We switched our strategy on the grid," Horner told Sky F1. "Going to the grid, both drivers (Verstappen and Sergio Perez) felt they were struggling to generate temperature in the soft tyres, which were the tyres to get to the grid, and we were due to start the race on the hard tyres.
"So we switched it on the grid to deal with the ambient conditions and a bit of rain around and so on, and the soft tyres went much further than we'd thought. So at that point we committed to a two-stop and went on to soft-medium-medium.
"I think the key moment for the race for us – well, there were several key moments – was obviously as soon as we saw Charles go onto the hard tyres, I thought 'okay, we've really got a chance now'."
What a 𝗧𝗘𝗔𝗠 effort 🏆 P1 and P5 on Sunday 💪 #HungarianGP 🇭🇺 pic.twitter.com/cKVWZlB76A

— Oracle Red Bull Racing (@redbullracing) July 31, 2022
With Verstappen and Perez starting right in the middle of the pack, Horner admitted the team had originally only been targeting solid points finishes – which the Mexican duly accomplished by finishing fifth as Verstappen extended his World Championship advantage to a commanding 80 points.
"We were going to start them both on the hard tyres," added Horner. "That was statistically, if you follow the data, the best way for us to achieve what would have been maybe a fifth and sixth in the race.
"But of course sometimes the data has to go out of the window, where you look up and see what the weather's doing and the temperature and you listen to the drivers, and both drivers were complaining they couldn't generate the temperature on the softs on the way to the grid.
"So it's a question of okay, we need to change our strategy here."