Emotional Christian Horner dedicates Constructors' title to Dietrich Mateschitz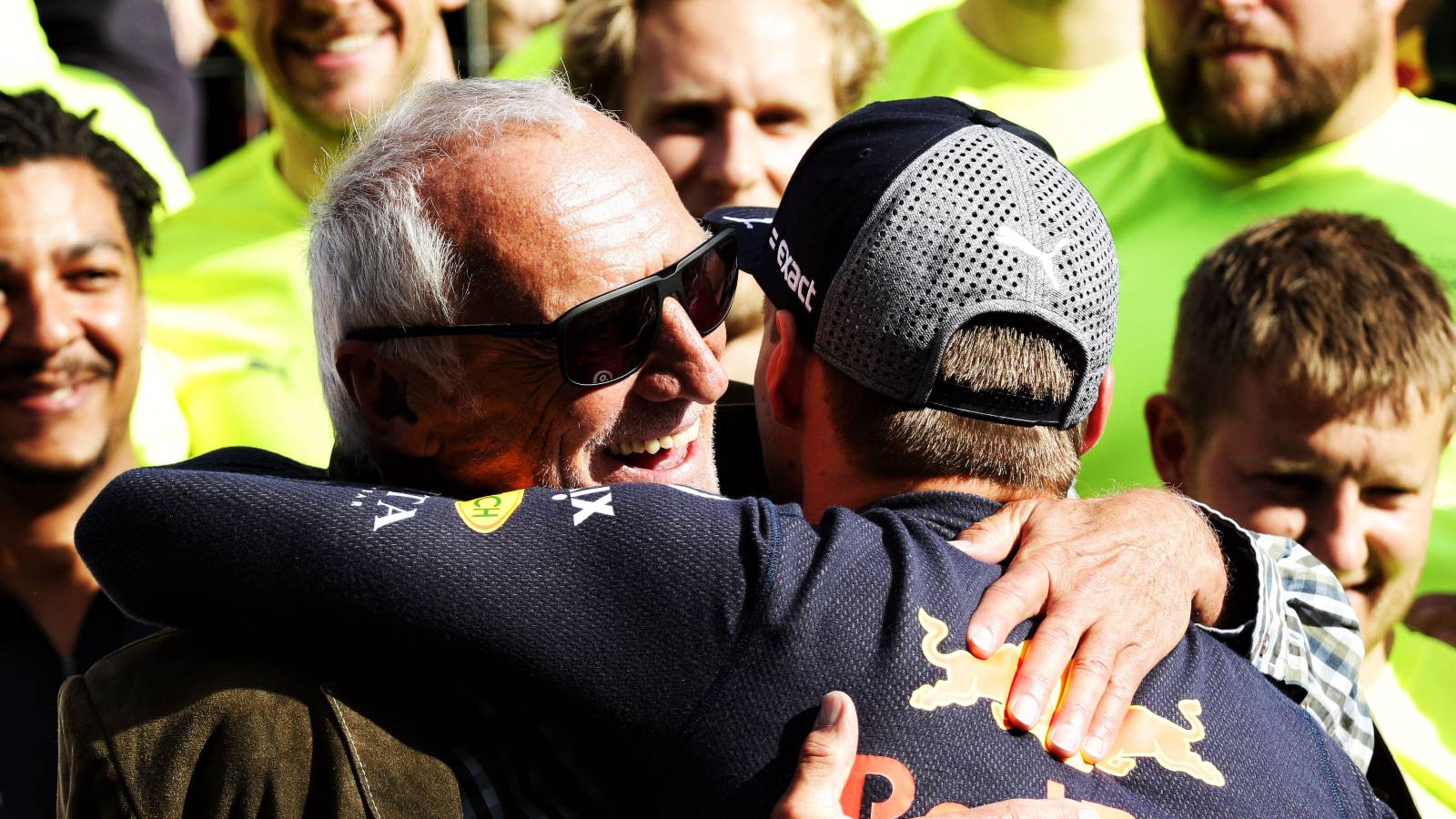 As Red Bull clinched the Constructors' title to end Mercedes' dominance, Christian Horner dedicated that to their late founder Dietrich Mateschitz.
Red Bull and AlphaTauri were rocked ahead of qualifying for the United States Grand Prix as news came through that Mateschitz, the founder of both teams, had passed away at the age of 78.
But Red Bull, determined to do Mateschitz proud, did exactly that as Max Verstappen took victory at the Circuit of The Americas in what was a thrilling race, Sergio Perez crossing the line P4 as Red Bull confirmed themselves as 2022 Constructors' Champions.
Verstappen was forced to fight back after a very slow Red Bull pit stop, overtaking Charles Leclerc and Lewis Hamilton to rescue the win in a race which he had been controlling.
And with the Constructors' title secured, it means that Mercedes' dominance is now over, the Silver Arrows having won every Constructors' title in the turbo-hybrid era, beginning in 2014, until this point.
Horner, emotional as he spoke to Sky Sports F1 post-race, dedicated this fifth Red Bull Constructors' title to Mateschitz.
WE ARE #F1 WORLD CHAMPIONS!!! ⭐️ #GivesYouWings pic.twitter.com/p1h7bBRTSZ

— Oracle Red Bull Racing (@redbullracing) October 23, 2022
"It's been a hugely emotional weekend and that was the best possible way we could have won that race," said Horner. "I think Dietrich would have been very proud of that.
"Max had to fight back after a difficult pit stop, we had a problem with the front wheel, it was an issue with the gun itself.
"And he just got his head down and yeah, I just thought there was only going to be one outcome of that race and to win the Constructors' World Championship after eight long years, it's incredible.
"This means everything to us, it's been such a journey and Dietrich was a very private man, but he was passionate, as in passionate about life, passionate about sports, he was especially passionate about Formula 1, and he had a dream, which was to have a Formula 1 team.
"And he did that, in the end he had two, he gave us all an opportunity, he believed in us, he backed us, and this is for him.
"We're just tremendously grateful for everything that he's done, for us as individuals, as a team, and we're going to celebrate in his honour tonight."
Asked if it was more poignant that Red Bull won the Constructors' title this weekend, the one that is all about the team, considering Mateschitz's passing, Horner spoke of how Red Bull never gave up hope that they could win this title again, even though they have not always been Mercedes' closest challenger.
"It means the world to us, I'm just so happy that he got to see Max retain the Drivers' [Championship] in Japan," said Horner.
"And the Constructors', that's been a big one as well, because eight years and we were out of it for a few of them, but we've never lost hope and we never stopped fighting and believing in ourselves.
"And so to be able to come back and do this is testament to every man and woman in the team, in the company."
Read more: Fernando Alonso hits Lance Stroll in scary high-speed airborne crash