Red Bull to drop investigations into Aston Martin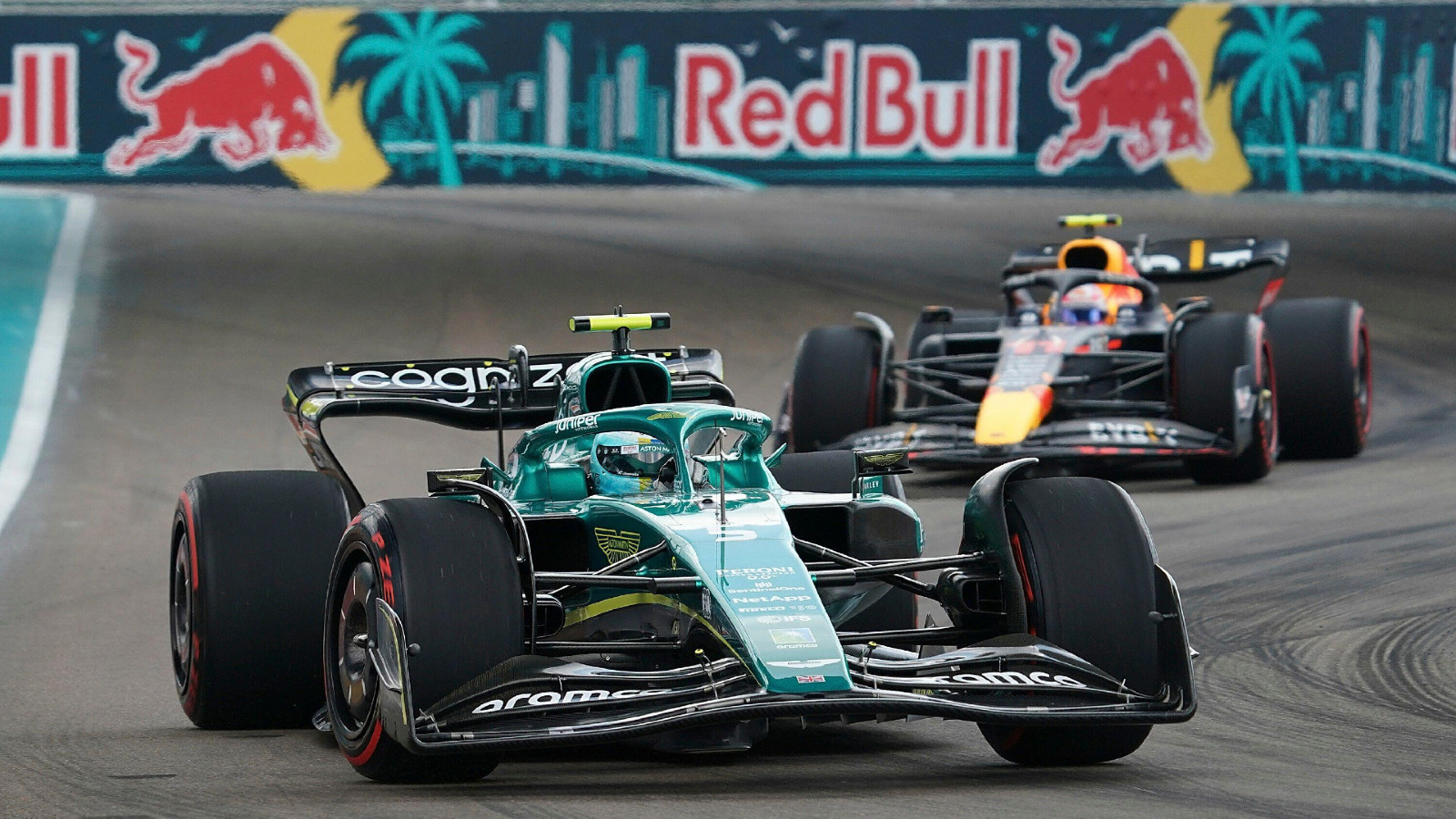 Red Bull will be moving on from the so-called 'Copygate' situation with Aston Martin, after conducting internal investigations at Milton Keynes.
Red Bull won't be pursuing any escalation of the situation regarding Aston Martin's AMR22, after the Silverstone-based team showed up with a 'B-spec' version of their car that bore a striking similarity to Red Bull's own RB18.
While Aston Martin began the season with a unique design, the team showed up for the Spanish Grand Prix with a very different-looking car that appeared to take quite a lot of inspiration from the Red Bull machine.
Given that Aston Martin have signed several team personnel from Red Bull in recent months, including former Head of Aerodynamics Dan Fallows, eyebrows were raised in light of the design change. Fallows' signing as Aston Martin's new Technical Director was fought in court by Red Bull, with both parties eventually agreeing to a deal that allowed Fallows to start work at Aston Martin in April.
There were murmurings of discontent from Red Bull about the Aston Martin design during the Spanish weekend, with a statement saying that "while imitation is the greatest form of flattery, any replication of design would obviously need to comply with the FIA's rules around 'reverse engineering'.
"However, should any transfer of IP (intellectual property) have taken place that would clearly be a breach of regulations and would be a serious concern."
While the FIA cleared Aston Martin of having obeyed all the regulations regarding how they came about their design, essentially being able to show the proof of their concept dating back to late 2021, Red Bull confirmed they would carry out internal investigations to ensure that no data had left their facilities.
Those internal investigations appear to now be closed, with Helmut Marko confirming that nothing is provable.
"The current state of affairs is that we can't prove anything specifically," Marko is quoted by RTL following an interview with Motorsport-Total.com.
"We're not pursuing it because we don't see Aston Martin as a direct competitor for us. If you can't prove it in black and white, you shouldn't."
With Marko having claimed that there had been evidence that "data had been downloaded" at the Red Bull factory, a hugely serious claim in its own right, the motorsport advisor had softened his stance: "I said data had been downloaded. But I didn't say where it went. We would like clarity from the FIA ​​on how far you can go. Because we have a sister team, AlphaTauri, and if you interpret that consistently, the AlphaTauri should be more like the Red Bull."
PlanetF1 have approached Red Bull for comment on Marko's statements.
Given that the situation has seemingly resolved itself, Sebastian Vettel has spoken about how his relationship with Red Bull boss Christian Horner has been affected as a result of the needle between the teams.
It's perhaps not surprising that suspicions could have been raised about Aston Martin copying a front-running design, given the team, under their previous Racing Point moniker, showed up for the 2020 season with a design that had been reverse-engineered from pictures and analysis of the 2019 Mercedes – a practice that wasn't against the rules at that time.
Aston Martin's Chief Technical Officer Andrew Green, who oversaw that design in 2020, addressed the media in Spain to deny the team had received any data from anyone outside of their ranks.
"I don't know what these accusations are that Red Bull are flinging about," Green said.
"All I can say is that at no stage did we ever receive any data from any team, from anyone. The FIA came in and did a thorough investigation, examined all the data leading up, in the history of this car, they interviewed all the people involved, and concluded that it was completely independent development.
"To that point, where you're talking about potential in employees, this car was conceived in the middle of last year, as a dual-route with the launch car, and the majority of the releases were made before anybody from Red Bull even turned up. So I think the accusations are very wide at the mark."