Red Bull wary of Ferrari threat with Jeddah expected to better suit SF-23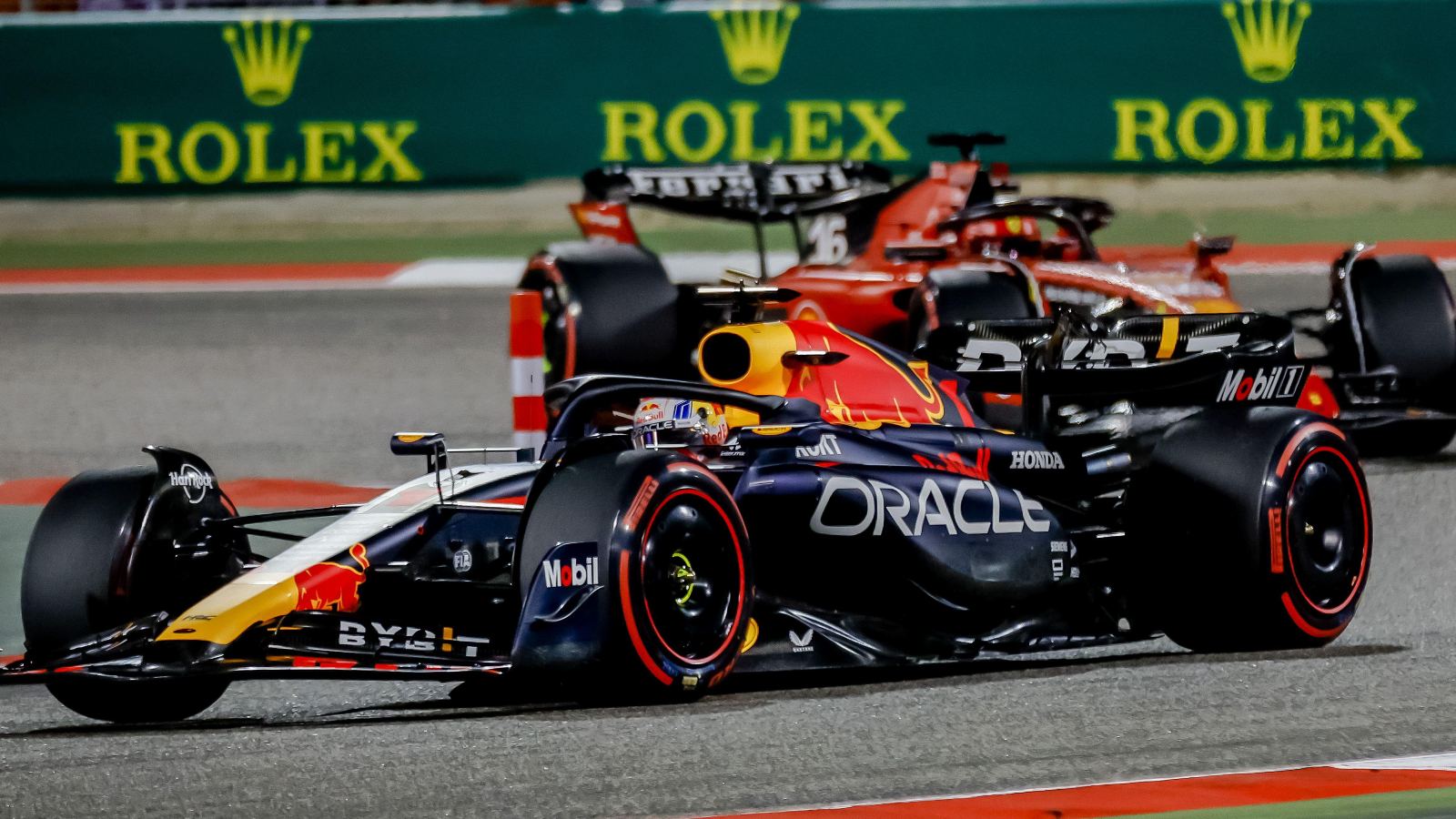 Max Verstappen can foresee the high-speed Jeddah track, which causes less tyre degradation than Bahrain, being a stronger battleground for Ferrari.
Bahrain served as the curtain raiser for the F1 2023 season, and it was a story of Verstappen domination as the Red Bull driver claimed pole and the victory ahead of Red Bull team-mate Sergio Perez, with P3-finisher Fernando Alonso 39 seconds behind Verstappen at the chequered flag.
That distant P3 spot was looking like going to Ferrari's Charles Leclerc, but a power unit failure would see him drop out of the race, Ferrari's old wounds seemingly not healed.
Additional reporting by Thomas Maher
But, a gain which Ferrari do appear to have made with the SF-23 is when it comes to straight-line speed, which Verstappen points out is a great asset to have at the high-speed Jeddah Corniche Circuit, the next stop for Formula 1.
Asked if he was surprised to see such a big gap back to the non-red Bull runners in Bahrain, Verstappen told media including PlanetF1.com: "I think I already said before that the one-lap performance to the race is very different in balance requirements.
"So even like I said before, on Friday, I was unhappy with the one-lap performance, my long runs were still okay. So not really surprised. I'm just of course, happy that it worked out like this.
"But Jeddah is going to be quite different again. Our car, it seems quite strong in high speed, but I think Ferrari is quite quick on the straight, which in Jeddah, of course, is very nice to have, let's say it like that.
"But time will tell. I mean, it's really hard to know, we've only really driven these cars here in Bahrain, so we just have to wait and see. We will of course, try and get there in the best shape possible, and then we'll find out throughout practice where we are exactly."
Another issue which Ferrari were seemingly sporting in Bahrain was tyre wear, the Scuderia having struggled last season to keep their tyres in good health during a race compared to Red Bull.
Verstappen though notes that the Jeddah track should be less demanding on the Pirelli rubber than Bahrain was, so suspects the field will tighten up.
"Saudi is quite a different track to this one, you have a lot more straights, fast corners, and a lot less deg," said Verstappen. "And I think here we were particularly good on the deg.
"So I do expect in terms of race pace that everyone is closer in Jeddah."
PlanetF1.com recommends
F1 rumours: Laurent Mekies part of Ferrari mass exodus? Leclerc meets Ferrari president
Is Max Verstappen the modern day equivalent of Ayrton Senna?
The problems facing Ferrari and Mercedes that will be music to Red Bull's ears
And Ferrari team boss Fred Vasseur, while making it clear that Ferrari have a problem to solve when it comes to tyre wear, does nonetheless share Verstappen's opinion that Jeddah should be kinder on the tyres.
Asked if Ferrari need a few more races to get a clearer picture, Vasseur told media including PlanetF1.com: "No, the picture of today is the picture of today.
"Even if Bahrain is a bit extreme in terms of degradation, and also considering the layout of the track, the fact that you have a lot of traction phase, with DRS, and so it means that if you're not in a good shape, that it's becoming a mega [problem].
"But this is the situation and it's not the track layout. The circumstances increase the picture, but don't change the picture. It means that for sure we have to do improvement. It will be probably much easier in Jeddah, but it is like this today."