Red Bull's budget cap saga set to resume: Will the team accept FIA's breach offer?
The ongoing budget cap saga involving Red Bull following the FIA's discovery of a 'minor overspend breach' could conclude soon, according to Christian Horner.
The continuing negotiations and stand-off between Red Bull and the FIA could conclude shortly, with talks between the two parties set to resume at this weekend's Mexico City Grand Prix.
Following the announcement by the FIA that Red Bull were found to have committed a 'minor overspend' over the $145 million limit set out for the teams in the Financial Regulations for 2021, a period of negotiation was entered into as Red Bull reiterated their stance of innocence.
All sorts of rumours have abounded about the nature of the overspend and the area of the company in which it occurred, while suggested figures have ranged from a couple of hundred thousand all the way up to the $7.25 million upper range that defines a minor overspend.
Red Bull were due to hold a press conference on the issue last Friday in Austin, but cancelled this appointment in order to allow team boss Christian Horner to meet with FIA President Mohammed Ben Sulayem on Saturday.
However, any further progress in resolving the matter immediately became unimportant due to the sad news of the death of Red Bull owner Dietrich Matecschitz on Saturday evening – the team immediately withdrawing into mourning as the hounds were called off temporarily, and the expected deadline for acceptance of an offered ABA (Accepted Breach Agreement) extended.
Are Red Bull set to accept the FIA's offer of an ABA?
Heading to this weekend's Mexico City Grand Prix, the discussions between the FIA and Red Bull are set to resume – the big question being whether Red Bull will accept wrongdoing and an ABA with the FIA. The rules of an ABA mean that their 2021 Drivers' and Constructors' points totals will be unaffected, but it means Red Bull having to admit their guilt and accepting a large financial punishment as well as a sporting penalty such as a cut in wind-tunnel or CFD time.
If the team wish to fight the initial findings of the Cost Cap Administration and escalate the issue, they run the risk of being hit with harsher sanctions, which includes possible points losses for 2021 – potentially risking Max Verstappen's title win.
Horner has maintained the team's innocence from the start, and went into further detail as he spoke to media in Austin.
"We made an interim submission in 2021," he said.
"There was no feedback or suggestion that we were doing anything that was contrary to any regulations. And then, of course, the submission was made in March. Again, we didn't hear anything from that submission in March until the latter part of September."
One of the main suggestions about how Red Bull breached the cap was that the FIA were unclear about whether parts for heritage machinery (ie. demo and show cars) were included in the budget cap, with the team seemingly working on the assumption that these parts were not included – only for the FIA to rectify the regulations in June to include these parts.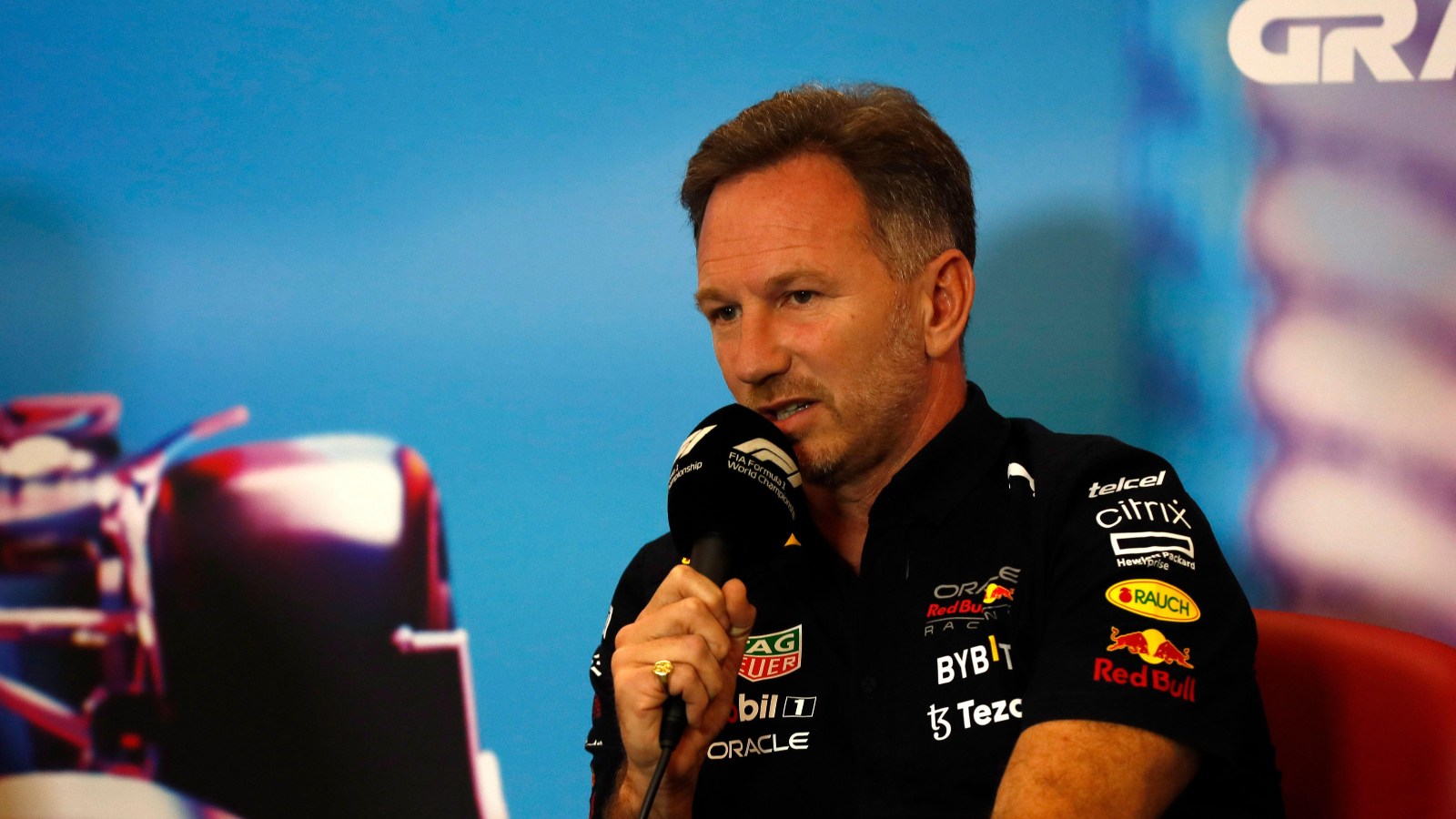 Horner was asked whether he felt the FIA had moved the goalposts by making such clarifications after the teams had already entered their 2021 submissions.
"Yes, in a simple answer to that question," he said.
"We feel that, again, at such an immature set of regulations, there's going to be clarifications and tidying up, and I think, certainly how unused inventory was treated was, in our view, a change to the regulation.
"Certainly we applied a very strict ruling in the way that we treated our new stock. And I think that a clarification came out in June that changed the application of that. That had a seven-digit effect on our submission. But, of course, retrospectively, we were not allowed to change your submission.
"What you have to remember is that the submission can constitute about 75,000 line items. So, there's an enormous amount of data that has to be inputted into these submissions and I think it's only natural that, in a first year, we have a set of very complicated regulations – to be able to get its arms around everything is almost impossible. Almost impossible.
"And interpretations have been made, maybe by other teams have been slightly different, and then a change like that has a huge swing in your application of how you've completed your form which, had we been able to resubmit at that point in time, we would have treated very, very differently."
Christian Horner: Red Bull's costs are within the $145 million limit
Horner emphasised his point again that he believes Red Bull were below the required figure of $145 million.
"Our view is that our relevant costs are within the cap," he said.
"Now, obviously, we are in discussion with the FIA about what those costs are, and what are mitigating potential circumstances, etcetera. We had zero benefit from a development perspective or an operational perspective, either for 2021 or 2022 from the way that we operated it within the cap. Our submission was significantly below the cap.
"We expected certain things to be potentially challenged or clarified, as is the process in a brand new set of regulations but, based on external, professional accounting third parties, the interpretation of those rules, of a 52-page document to police this, were very clear from our side.
"So, we absolutely and categorically don't feel that we've had any advantage either in 2021, or 2022, or '23 or '24 or some team's even talked about '26 – it is totally fictitious."
Will Red Bull accept ABA to minimise risk of harsher penalties?
Weighing up whether to accept an ABA (which is essentially a plea bargain) or whether to dig their heels in and take the matter before the Cost Cap Administration Panel and potentially even before the FIA's International Court of Appeal, Horner hinted that his team may yet accept the ABA just to get the matter over and done with.
"The process, as per the regulations, is that we've been invited to enter into an ABA, which is for a minor breach, and a procedural breach, that you have the opportunity to discuss with the FIA and present your case, your position on this," he explained.
"We're in that process and have been for the last… pretty much, what, 10 days or so? Going backward and forwards with the FIA. And I hoped for it to be resolved before this [United States] weekend."
With the matter not being resolved due to the death of Mr. Mateschitz, Horner said the team refusing the ABA would result in "it goes to the Cost Cap Administration Panel and then, beyond that, there's the International Court of Appeal. So, it could draw it out for another six, nine months, which is not our intention. We want closure on 2021. I think that we've had some healthy and productive discussions with the FIA, and I'm hopeful of being able to reach a conclusion in the near future."
However, even if Red Bull do accept the ABA and thus being 'guilty' of the budget cap breach, Horner said he promises 'complete transparency' about the nature of his team's finances – he's intent on explaining to the public why their submission was made under the belief of being under the budget cap, as well as the team's position on individual areas of their expenditure.
"What I will say is that once, hopefully, this situation is concluded, there will be complete transparency," he said.
"I will talk you through the reasoning behind our submission and the position that we had, as to why we felt that each of the line items that have been challenged we believe there's a contrary position. It should be transparent. The whole thing should be transparent. There's going to be no private, secret deal. I think it would all be absolutely above board. This is very different to a previous situation (referring to the FIA's undisclosed deal with Ferrari regarding their power unit's power output in 2019)."
Read More: Will Red Bull prioritise Sergio Perez over Max Verstappen in Mexico?