Cyril Abiteboul has confirmed Renault would be opposed to any Red Bull-requested engine freeze because differences in power are "the core of Formula 1".
Red Bull are touting for a freeze on engine development after Honda announced in October that they are pulling out of F1 at the end of next year, leaving the two teams owned by the Austrian energy drink giant, the other being AlphaTauri, seeking a fresh supply of power.
The preferred option for Red Bull would be to acquire the intellectual property for the Honda engines and bring the operation in-house, but it has yet to be confirmed whether that will be the plan.
Another, less palatable, possibility would be to revert to Renault power, with the two organisations having disagreed towards the end of their previous collaboration which concluded in 2018.
Renault team principal Abiteboul would not be completely opposed to a reunion, but does remain against an engine freeze and also convergence of performance which his Ferrari counterpart Mattia Binotto has spoken in favour of.
"There has been a meeting where we all expressed our position," Abiteboul told Sky F1. "We've not changed our position. There is a set of regulations.
"We are ready for some sort of compromise, in particular in the engine freeze because we accept convergence is happening, so spending big money is crazy.
"Having said that, there is clearly a line. We will not turn our backs to 70 years of competition on engines, engine development and performance.
"For us, the engine as a performance differentiator is at the core of Formula 1, it's what it means for us. We will not cross that line, that is very clear.
"Now if we need to write in the regulations that Red Bull should have the best engine, that's something different, but I think this is not what's at stake here.
"We need to find a solution for Red Bull. There is already a solution in the regulation. If they can do it with Honda then all the best, but we should not go further than that."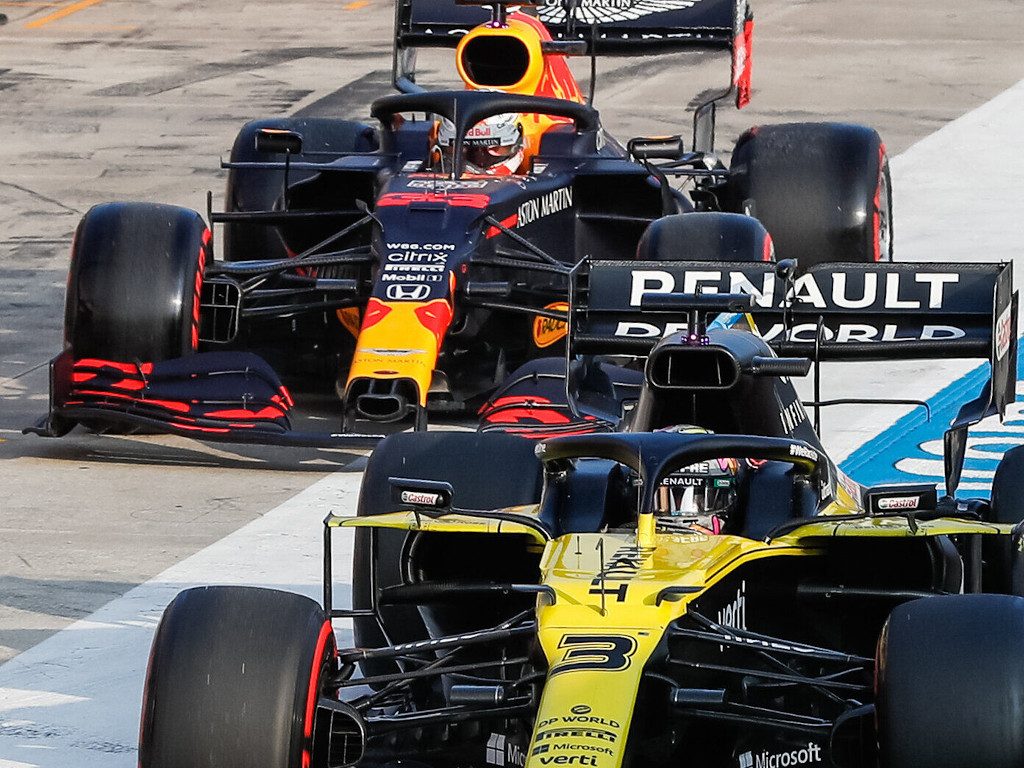 Get your hands on the official Renault 2020 collection via the Formula 1 store 
The solution to which Abiteboul referred was that if Red Bull cannot source an alternative supply of engines, the provider with the fewest teams on the grid, i.e. currently Renault, would be obliged to step in.
Asked if they need to get a rival outfit on Renault engines to sway how the teams are working with manufacturers, Abiteboul said: "I think it would be good to do so. It would be good to have a partner team rather than a customer team because you see that Formula 1 is shaping up with these groups of teams.
"There are probably some opportunities there whether they be financial, commercial, political or technical, but I think also we need to accept that train has gone.
"I think there was a point when there was a lot of question marks regarding Renault's commitment to Formula 1. We were not really in a position to secure a long-term customer or partner team. The deals are pretty much set out.
"So we need to see when the next train is going to pass and for me, that's not going to be massively a job added to our plan for the future."
Asked would that partner not be Red Bull, the Frenchman added: "We never say never, and in particular always we have said we would comply with the regulations. If we have the obligation, we will do so."
Follow us on Twitter @Planet_F1 and like our Facebook page