Reader reaction to Romain Grosjean's terrifying crash in Bahrain, plus what were Renault playing at with Daniel Ricciardo and Esteban Ocon?
Here are some of your post-race thoughts…
Grosjean gets driver of the day
👍👍👍
Thank you so much for all your messages
Loving life pic.twitter.com/uTyfhTYTxP

— Romain Grosjean (@RGrosjean) November 30, 2020
McLaren: Another win for Hamilton, he keeps on showing why he's the best.
Bad luck to Perez he deserved that last podium place. He's been great all year for Racing Point always showing why they made a bad mistake in letting him go.
Great result for McLaren; both driver's getting crucial point's and getting into 3rd place in the championship. Hopefully, they can stay there now.
But most importantly, today is all about Grosjean, the medical officials and all the safety measures that have gone into F1. I'm glad Grosjean came out alive in one piece it was not great to see a crash that big and serious. Also nice of the fans to give him the driver of the day.
Mistery: Such a huge relief Grosjean is fine. It was a feeling of increasing satisfaction that such a horrific crash ended with a minor injury.
Huge respect for all the track marshals. It brought back memories from a time drivers could really die, but luckily didn't.
Stroll was lucky to come out uninjured as well.
As for the race: Max showed why he is considered one of the best drivers on the grid. Great start and managed to do what was necessary.
After the last Safety Car, the race was ok. Hamilton was clear ahead, and the real battles were in midfield. Let's hope Mclaren, Red Bull and Ferrari will come to join the fight next year.
F1 can do better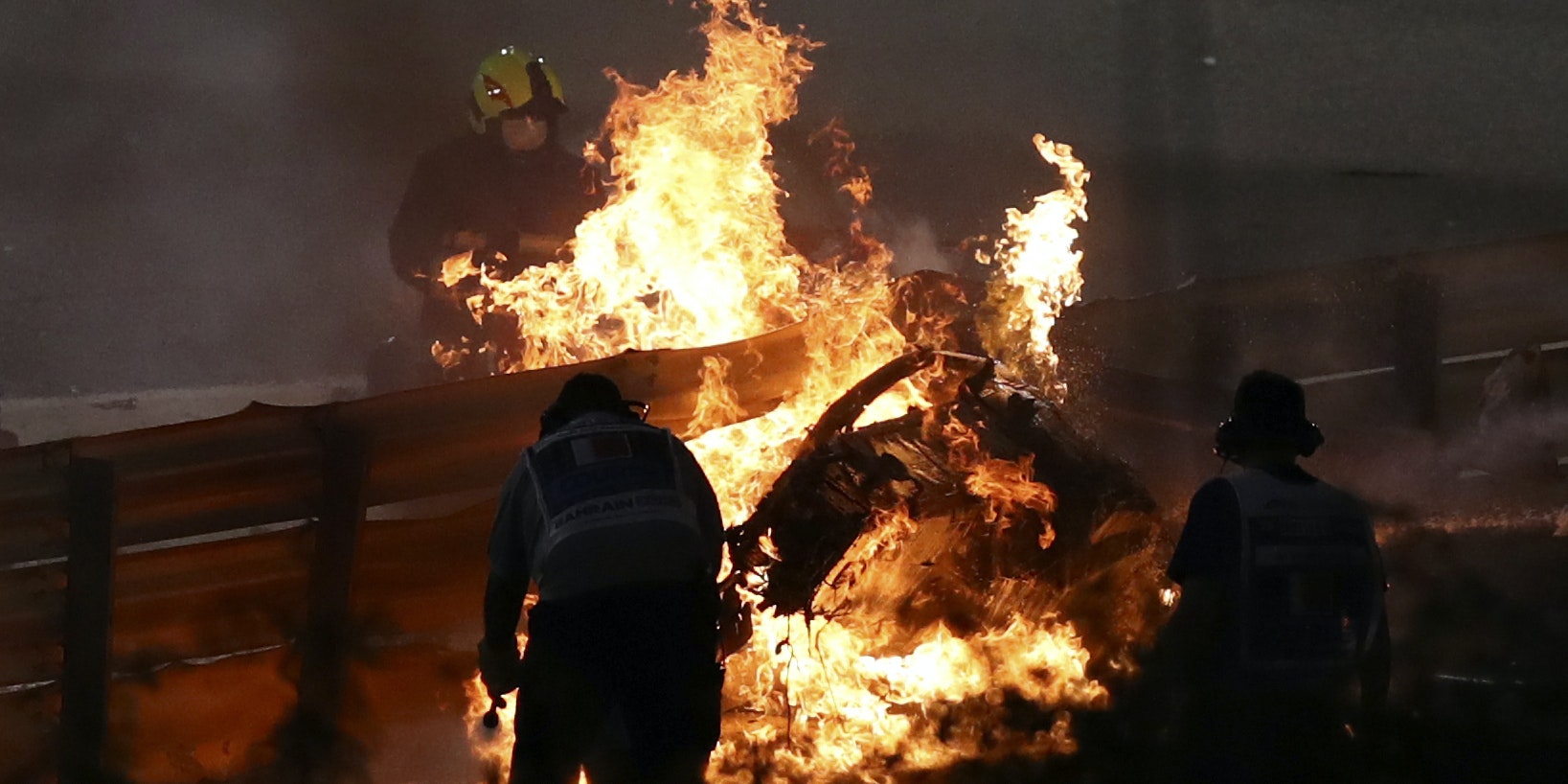 Alien: Many state test Mercedes is the fastest car this year. Maybe true early on, though the past few races RBR has had then fastest lap.
Bottas with a lot of bad luck, though he is unable to pass a Ferrari on better and newer tyres, during the race. Perez Mercedes engine blows up. All these facts can have only one conclusion, RBR had the fastest car in the past couple of races at least. However, Hamilton keeps winning, not because of the car, but because he is the best.
Regarding Grosjean, glad he is alive. However, the FIA need to improve the cars and [speed up] procedures. That accident should not have been that scary.
Terry Murry: The only thing that saved Grosjean was the fact his car split into two, and the actual fuel tank did not set alight. F1 cars hit barriers all the time. Bianchi's accident was because his car went under the truck and head hit the object, and Massa's accident was because the spring hit his head, not because his car hit the barriers after.
Wayne Rowlinson I am super happy that Romain was not more seriously injured. As much as it is fantastic that the Halo and driver crash structure did their job, it shows that there are still many things that need to be improved for driver safety. This incident showed that the barrier is not adequate, the safety tethers on the wheels failed, and the fire showed something else needs to be done. The good thing is these things will be looked at, and likely improved very quickly. Here's wishing Romain a quick recovery. I'd like for him to be able to get at least one more race in so he can leave on a higher note.
Renault are playing games
The most important about today the rest doesn't really matter, glad to see @RGrosjean walking away from the car 🙏
And thank you to the medical crew for always being there on time when it matters @fia pic.twitter.com/GGdCWJ5Mx4

— Esteban Ocon (@OconEsteban) November 29, 2020
Boss: Crazy race all round. Luckily Grosjean escaped the worst of what could have happened, just goes to show how well designed these cars are compared to 20 years ago. He actually went through the metal barrier piercing a giant hole into it, was insane.
Poor Perez, definitely deserved 3rd place. Stroll also unlucky with Kvyat torpedoing in what was a no chance overtake. Other than that, great drives from Hamilton and Verstappen and both the Mclaren drivers.
I have no idea what Renault were thinking – they're in the middle of a four-way fight for third position WCC, and they're playing silly games with their drivers! Ricciardo could have gotten 6th if they had let him past Ocon and also not put him out behind Ocon again. Ocon again showing that he's not a team player, right now instead of overdriving the car trying to prove himself, he could've played the team game and chose to get more valuable points for them.
Follow us on Twitter @Planet_F1, like our Facebook page and join us on Instagram!