Resurfaced section of the pit box proves a 'slippery' situation for McLaren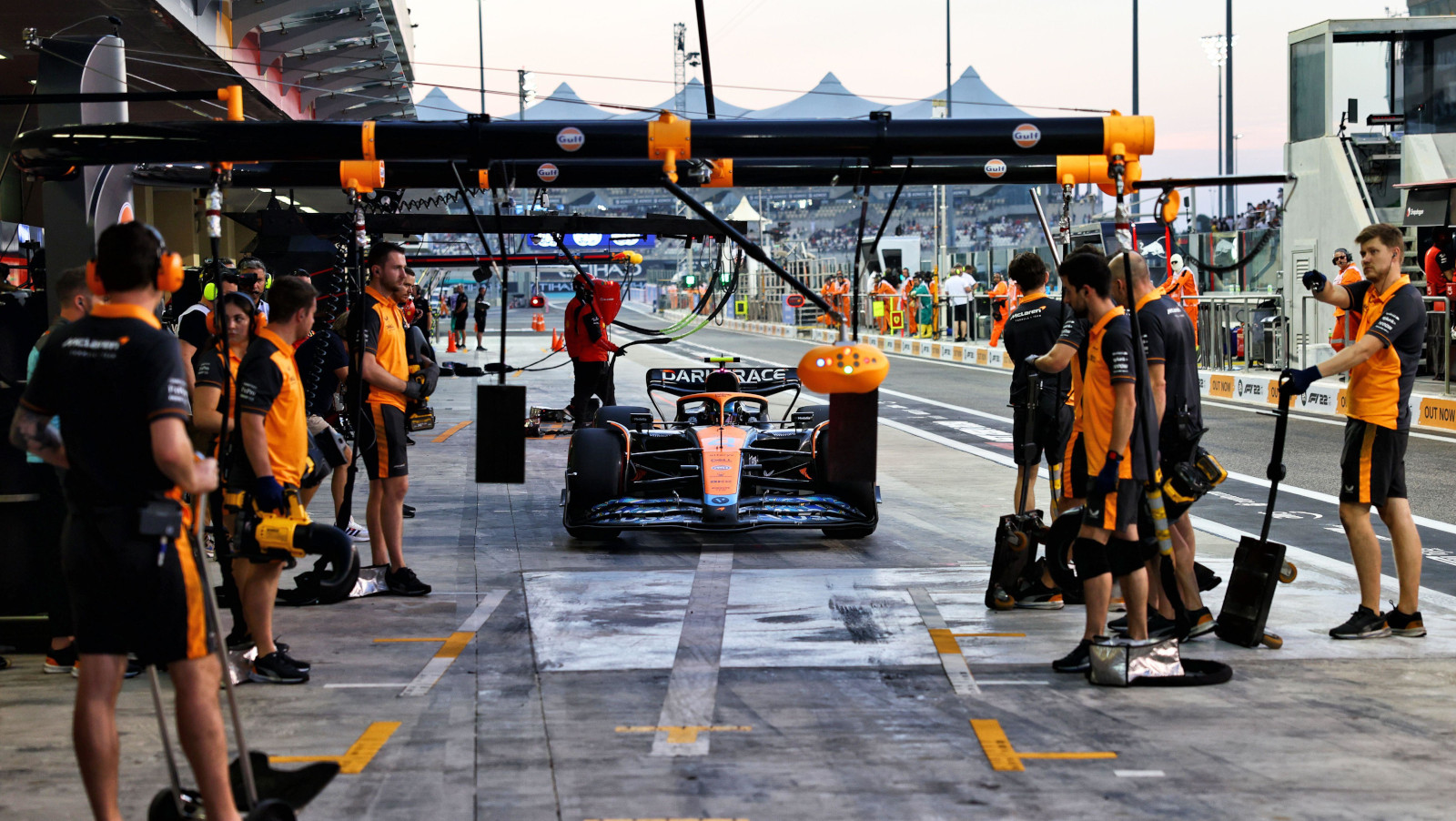 McLaren are considering complaining to the FIA about their pit box at the Yas Marina circuit as there's a patch of concrete that the drivers found extremely slippery.
That section of the pit box has a different surface to the rest of the pit lane, one that was sorely lacking in grip.
It proved to be a tricky one for the drivers with Daniel Ricciardo questioning: "What is this patch in our pit box? There's a slippery patch. It is really bad."
His team-mate Lando Norris even went as far as to perform a burnout to try lay down rubber on that section of the box.
With his drivers unhappy about the pit box, team boss Andreas Seidl says they may approach the FIA to find a solution.
He told Sky Sports F1: "They are not allowed as a team to modify the surface next to the garages.
"It seems there is a patch that is quite slippery that is different to the rest of the pit lane.
"So that is something we need to have a look at and see if there is anything we need to speak to the FIA [about]."
La zona más deslizante en el area de cambio de ruedas de la que se está quejando Ricciardo

The pitstop more slippery area that Ricciardo is complaining about. #f1 #AbuDhabiGP pic.twitter.com/g0mgxn6ez6

— Albert Fabrega (@AlbertFabrega) November 18, 2022
Sky's pit lane man Ted Kravitz confirmed that the pit apron had recently been resurfaced.
Ferrari-esque floor and underside skate
McLaren opted to put new parts on the MCL36 in Friday's practices in Abu Dhabi, running a Ferrari-styled floor as well as underside skate.
"We aim to evaluate the effect of this floor edge on the car's ride height behaviour," the Woking team said ahead of Friday's running.
The new floor has a much less complex edge, doing away with the wavy edge wing that McLaren previously ran.
As for the skate, that's also something new for McLaren even though other teams have adopted it as it not only helps increase stiffness in that section of the floor but also acts as a skid.
Ricciardo was ninth fastest on Friday with Norris P11.
McLaren are locked in a battle with Alpine for fourth place in the Constructors' Championship, the Woking team trailing by 19 points.
Read more: 'Daniel Ricciardo has a good chance of replacing Sergio Perez at Red Bull'