Force India and Williams have provided a glimpse into the future of Formula 1 racing after revealing the new 2019 front wings in Hungary.
In a bid to improve overtaking opportunities and allow cars to race closely to each other, Formula 1 is introducing a more simplified and standardised front wing for the 2019 season.
Under the new regulations, the complex front wings currently on show will be a thing of the past as elements such as fancy endplates and flaps will be removed.
The front wing itself will be 200mm wider and 25mm deeper in the hope that drivers can race closer for longer with each other and not get disturbed as much by the dirty air generated by the car in front.
As a result of the regulation change, teams are using the in-season test in Hungary as a chance to collect their first bits of data on the new front wings.
Force India gave the first sneak peek:
@ForceIndiaF1 with 2019 spec front wing #F1 #F1Testing pic.twitter.com/yrrvfUMTvg

— Christian Menath (@MSM_Christian) July 31, 2018
While Auto Motor und Sport were able to get an early look before the cars hit the track:
A little treat for all our F1 tech friends out there. We've got an exclusive first pic of a frontwing in new 2019 dimensions!

AMuS story & gallery: https://t.co/fQ97xZoAee pic.twitter.com/NF6F64IjXg

— Tobi Grüner 🏁 (@tgruener) July 30, 2018
Oliver Rowland, in the Williams, is also driving with the new front wing on:
#BudaTest sees the debut of the 2019-spec front wing, with Force India & Williams already on track and using it. What do you think? #F1 Images Copyright @octanephotos pic.twitter.com/JSau9qZfW5

— Thomas Maher (@thomasmaheronf1) July 31, 2018
The official Williams Twitter also provided a quick pic from the pit lane:
Budapest test is underway, with @oliverrowland1 behind the wheel 🇭🇺 #F1 #F1Testing pic.twitter.com/n1yXKj4or5

— WILLIAMS RACING (@WilliamsRacing) July 31, 2018
And here is a reminder of what the 2018 front wings currently look like. Force India were racing with this at the Hungarian Grand Prix: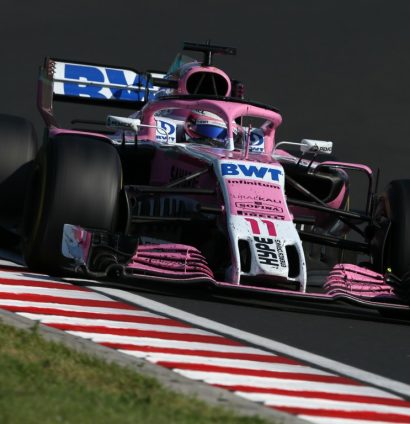 Follow us on Twitter @Planet_F1 and like our Facebook page