Revealed: Why the W14 is not suited to Lewis Hamilton's strengths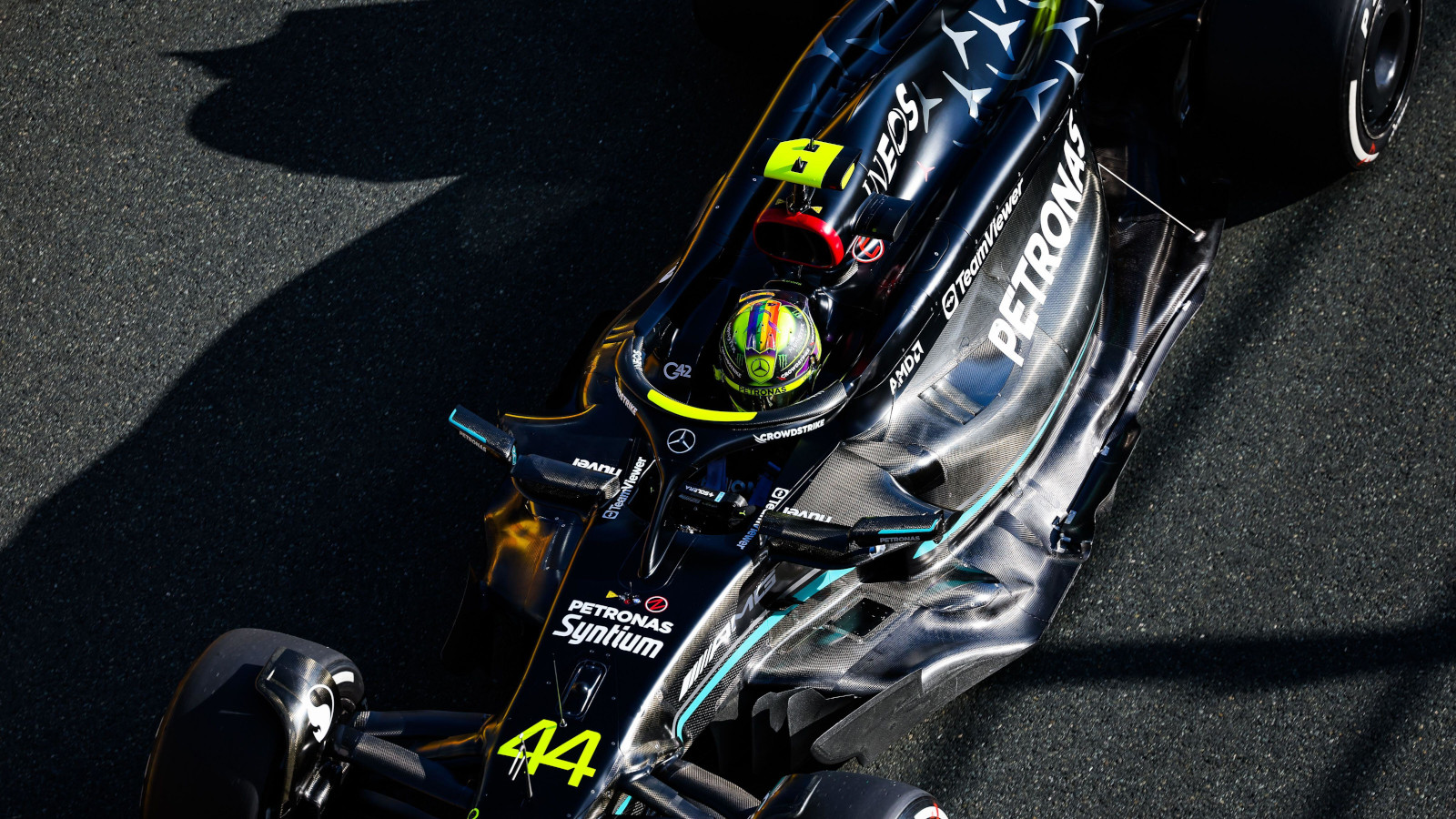 Although Lewis Hamilton usually enjoys an oversteering car, the Briton says with his W14 it feels like he's sitting on the front wheels and that's "one of the worst feelings if you're driving a car".
After last year's disappointment, Hamilton recording his first winless season in Formula 1, the Briton had hoped to rebound this season. So far there's been no sign of that.
While Red Bull have pulled clear of the pack, their advantage said to be as much as a second per lap in race trim, Mercedes are already working on a new concept after Toto Wolff admitted they wouldn't win with the car as it is today.
Additional reporting by Michael Lamonato
Hamilton gave voice to his frustrations at the Saudi Arabian Grand Prix where he was four-tenths down on George Russell in qualifying, saying it's a "miserable" feeling when he does not feel "connected" to the car he drives.
He explained in Melbourne that's in part because of where he sits in the car, revealing it's "too close" to the front wheels.
"Looking at the past I've always enjoyed an oversteering car," he told the media including PlanetF1.com. "I think we sit closer to the front wheels, our car is too close to the front.
"When you're driving, you feel like you sit on the front wheels which is one of the worst feelings if you're driving a car.
"If you're driving your car at home and all the wheels were around your legs you would not be happy.
"So what that does is just really changes the attitude in the car and how you perceive the movement and it just makes it harder to predict compared to when you are further back and you're more centred. And it's just something that I've really struggled with it.
"And on top of that we have a narrow characteristic which is too far forwards rather than being rear sat, as you begin to turn and coming off the brakes then moving rear wheels.
"We have one that's very forward, very much on the nose early on, and then shifts. It's the opposite of what we want and that's what we're trying to fix."
PlanetF1.com recommends
'Lewis Hamilton's expensive £60m contract could tempt Mercedes to look elsewhere'
Fernando Alonso had 'insider info' for George Russell about the Jeddah P3 outcome
Jeremy Clarkson's most outrageous F1 quotes: Lewis Hamilton and Max Verstappen be warned
W14 is 'slightly more predictable and nicer to drive'
But while he's by no means happy with the performance of the W14, he concedes at least there's no bouncing like there was with its predecessor.
Labelling that car "massively unpredictable", he says this year's car is "nicer to drive".
"We had bouncing until the very last lap of the last race [last season]," he said.
"The race where we had the least amount of bouncing was at Brazil maybe. The balance was pretty much the same throughout the year. It was a massively front-ended car, very pointy, and unpredictable, massively unpredictable.
"We don't have bouncing, there are small remnants of it every now and then. We still have generally very strong front, it's not as good a rear as we'd hoped to have.
"If you look at the Red Bull, they can get on the power earlier and carry it through the corners because they have a stronger rear end.
"But this year's car is slightly more predictable and nicer to drive, particularly because we don't have the bouncing."
Mercedes have shown they can develop quickly, Red Bull could plateau
Mercedes are set to bring a barrage of upgrades to the car at the next race, the Azerbaijan Grand Prix, with Wolff declaring there "might be more radical decisions that need to be taken" down the line.
Hamilton hopes it won't be too long before Mercedes find the "trick" to unlock the performance in the W14.
"There's a part of me that's just hopeful that we find the trick and get straight onto the right track that's not far away from the others," he said.
"We've shown in the past that we can develop quickly, and I hope that's the case.
"As the potential of the car opens up, that the guys can go full steam ahead in that direction. I'm grateful that they are open to making a shift and not being stuck with what we have.
"And I'm aware that it could take a long time to catch a car that, if you looked at the Red Bull, is just going to continue to evolve most likely."
But, he added: "Some cars do plateau in terms of performance. At some point it can't just keep coming, although maybe it can.
"We just got to make sure when we do make the change that hopefully the jump isn't too far."