Renault boss Cyril Abiteboul has said the staff reaction to signing Daniel Ricciardo reminded him of the title celebrations with Fernando Alonso in 2005 and 2006.
Ricciardo represents a major acquisition by Renault, with the Aussie lured in by the excitement of a new challenge as opposed to staying at Red Bull alongside Max Verstappen.
There appears to be an incredibly positive vibe at Renault, who are said to have made the "biggest gains" over the winter, and the arrival of Ricciardo is only adding to the confidence.
"It was obviously a huge relief, fantastic news – and the way it was welcomed in the factories at Viry and Enstone was just amazing," Abiteboul told Motorsport.com.
"I was expecting something, but nothing in relation to what I have been able to witness.
"It was a fantastic moment. I have never seen a reaction like that in either of the two factories. It was reminding me of the titles with Fernando Alonso in 2005 and 2006.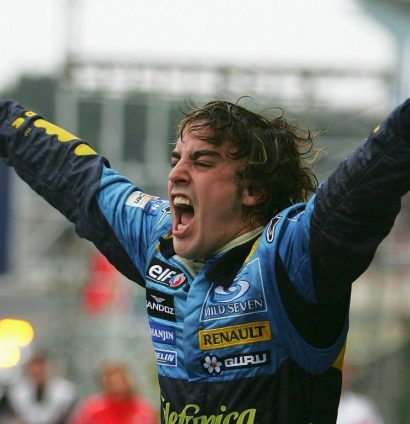 "We have not won anything, but there is this feeling that now we are really on a trajectory to be able to win something. We really feel now this obligation to come up with an engine and a chassis that will be capable of giving what that guy deserves."
That being said, Abiteboul did warn Ricciardo that there is still some way to go before that car can be delivered to him.
He added: "I was clear to Daniel that if he was expecting a team that is a turn key organisation – a turn key car where everything is ready and everything is prepared – and his only contribution will be to drive to a fantastic level, but just to drive, he should look elsewhere.
"What I told him is we are still in the making, we are still progressing, we are still in construction but his contribution will be to be much more than to drive.
"We are expecting from him to be an ambassador, a leader and to bring his experience, and his expertise into the team.
"We have added a lot of ingredients into the team, a lot of assets, a lot of people, a lot of headcount, but now we need that extra sparkle. I think he will like that challenge."
But Abiteboul also wants Renault to act as quickly as possible in order to avoid a situation similar to what Fernando Alonso experienced at McLaren.
"We feel more obliged towards Renault, towards our sponsors, towards our fans, towards the legacy of the Renault brand in motorsport, because I don't want to look at disappointment or frustration in his eyes over the next two years," Abiteboul said.
"I don't want to feel what McLaren must have felt with Fernando over the past few years."
Follow us on Twitter @Planet_F1 and like our Facebook page.