Daniel Ricciardo is well aware of the threat posed by team-mate Nico Hulkenberg as the pair prepare to do battle at Renault in 2019.
The stat that follows Hulkenberg around is the fact he has taken part in the most Formula 1 races without reaching the podium, but the Aussie knows there is much more to 'The Hulk' than that.
"I'll certainly take a lot of the highs with me and take them with me as confidence moving to Renault," Ricciardo told Motorsport.com.
"And I'll need that as well because of Nico.
"I think that everyone who knows F1 knows his calibre.
"From the outside, you can think that he's done 200 races or whatever and never had a podium, but we all know he isn't that level of driver.
"So I know I'll need to bring all of this, not only to beat him, but also to help fast-track the team to progress."
Ricciardo also provided some further reflection on his time with Red Bull, singling out his Monaco Grand Prix in 2018 as the "biggest high".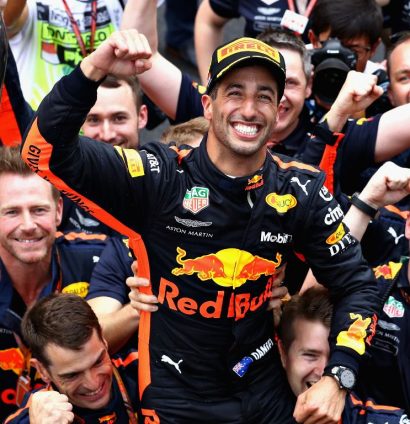 "I'll still hold onto Monaco forever because the aftermath of all that was the biggest high I've ever had," Ricciardo said.
"Walking back into the Energy Station that day after doing all the press – just seeing everyone…It was full, and I got a standing ovation, and I was so proud that everyone was so happy for me.
"I do this for myself, this sport, and the day I stop loving it I'll stop. Having that effect and making so many other people happy, that was awesome.
"That moment made me feel like I'm not just doing this for myself."
Follow us on Twitter @Planet_F1 and like our Facebook page.