Binotto recalls 'fair battles' with Williams
As the Williams family said farewell to F1 at Monza, rival team bosses spoke of their admiration for the "super straightforward" talking team.
Sunday's Italian Grand Prix marked the last grand prix that Frank and Claire Williams were in charge of the team that the former founded.
Having sold Williams Racing to Dorilton Capital, the family decided that it was time to say goodbye, handing the reigns to acting team principal Simon Roberts.
Winners of seven Drivers' titles and nine Constructors', Williams had often in the past found itself up against Ferrari for the ultimate prize.
Mattia Binotto recalls a team that always played fair.
"If I think of Williams I cannot forget all the challenges we have as Scuderia Ferrari," he said. "Our history, Williams is part of the history, always a very fair battle, a very fair challenge.
"I think that Williams has contributed to the F1 of today. Williams certainly is an important name, an important family for our sport so somehow it's maybe sad but it's also important and great to know that the Williams name will remain in F1 for the future because I think, as I said, it's really part of the history and as Ferrari we can only remember the great challenge we had with them."
Williams has been instrumental in several histories, not only Ferrari's.
The team gave Toto Wolff, who owned shares in Williams Racing, his break into Formula 1 with the Austrian remembering his first conversation with the "super straightforward" Frank Williams.
"The family have been the founders of this team and I will always hold the team high up," the Austrian said.
"It was the start of my own journey in Formula 1. I remember the first sentence that Frank Williams told me when I went there in 2009 and that was "somebody told me that you can help repay my mortgage".
"This is how he is and he is super straightforward and I ended up with a shareholding in the team.
"I met Claire and without it meaning it in any way patronising, I thought it was very important that Claire was on the board and I'm impressed on how she grew there and what she has achieved, together with her father."
Turning to look at the deputy team boss, he added: "I will never forget our last win in 2012 with Pastor, which was an incredible moment, also because your mum was there, and probably one of my best moments in Formula 1."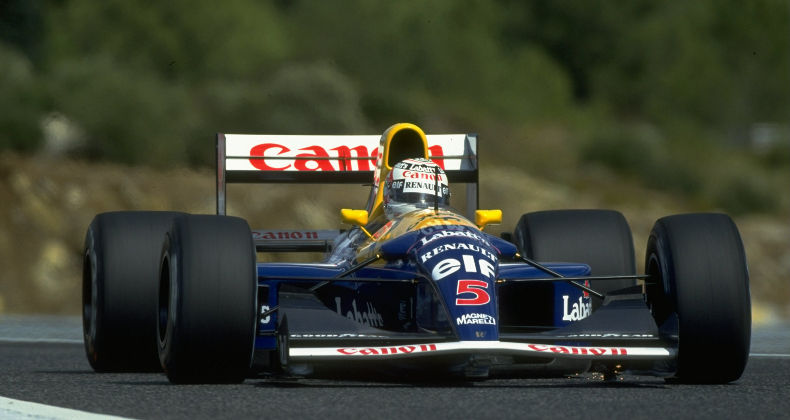 Official F1 Shop: Black and white face coverings
Renault is another Formula 1 team that had ties with Williams with the Grove team running the French manufacturer's power units for eight years, winning five Constructors' Championships during that time.
"Obviously it's an emotional moment, because as you say, the legacy that the team is carrying today under the Renault name has had its greatest moment, also as an engine supplier, particularly as an engine supplier of Williams," said Renault MD Cyril Abiteboul.
"They were instrumental to building Renault's reputation in the world – in the world of Formula 1 but also in the automotive world as a large OEM – so it's been great sporting moments but also great business moments.
"We have for instance the Clio Williams, that is still a very fancy car the people love. It has clearly been a milestone of the sport but also on the road.
"Myself, I fell personally in love with Formula 1 during this period. Myself, one of my best memories is when I announced in Viry that we had done an engine deal again with Williams. That win of Pastor was actually not with a Mercedes engine but with a Renault engine. That was an amazing moment also for us.
"It's good that the name I understand it staying but also a bit sad when the people that are carrying the name are leaving. But it's good that the name stays and that there is a way forward for the Williams name and also the factory and the group of people."
McLaren team boss Andreas Seidl echoed Abiteboul's sentiment that it is good for Formula 1 that the Williams name will remain in the sport.
"Yeah, first of all, obviously sad news to know that the Williams family is not involved any more in Formula 1 in the future. At the same time also positive news that, first of all, the Williams name stays in Formula 1 as far as I understand.
"For the future in front of us for Formula 1 there is actually interest of investors to join. And last but not least, I think it is very important for the employees as well in the Williams team that they know they have a good future.
"And then, regarding my personal experience with Williams. It was obviously great for me as a young, and keen engine engineer to learn my way in motorsport in a Williams garage.
"I always admired this unbelievable commitment and passion all these guys had at Williams in the garage, which was a great education for me. And what was simply inspiring for me was how Frank, as a team principal at this time, was also interacting on the human side with his people.
"I still remember when he was coming in the garage every morning, saying hello to everyone, calling out the name also, and exactly the same again each evening. That's something that, yeah, I still admire and was very inspirational for me."
Follow us on Twitter @Planet_F1 and like our Facebook page.