Rivals' advice for 'problem child' Tsunoda, find 'balance'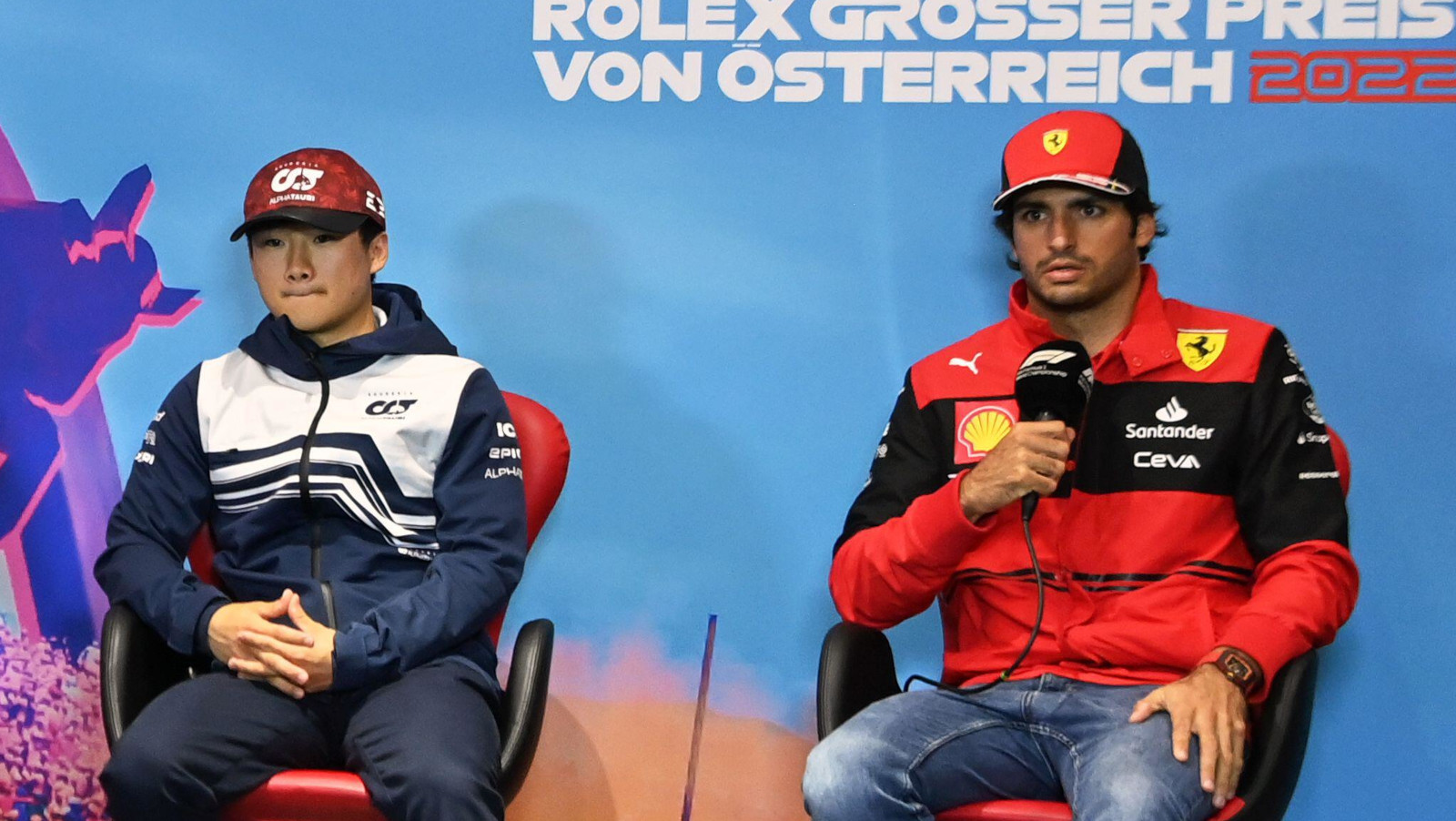 With Helmut Marko hiring a psychologist for the sweary Yuki Tsunoda, Carlos Sainz says drivers have to find a balance between making their point and trusting their teams.
Marko revealed earlier this week that he had brought in a psychologist to help AlphaTauri's "problem child" Tsunoda, the driver losing his cool during grands prix too often for the Red Bull motorsport advisor's liking.
The Japanese driver is sceptical as to whether it is actually helping.
"I mean I don't know currently [if it] is working well [or] not," he said. "If it's working well I think I didn't have a crash [in Canada] but I have to take a bit more time."
Sainz, probably one of the more level-headed drivers at least when it comes to team radio, says the youngster needs to find balance.
Sainz argued against one of Ferrari's calls at the British Grand Prix, telling the team to "stop inventing" when he was asked to leave a gap to help his team-mate Charles Leclerc on the restart.
It was by no means a rant, it was just the driver making his point.
"I think it's a balance," Sainz said, "I think you need to find a balance, an in-between point.
"I think there's no harm in sometimes being a bit excited on the radio and keep making your point. Making sure that you're making a point, and people take it, and there's other times that you need to give the team calmness and trust.
"And I think in Formula 1, if there's something I've learned over the years is how to try and find that balance with when to be a bit more agitated or when to be a bit more calm and it comes with experience.
"I remember in my first couple of years in Formula 1 I could be too calm on the radio and not make my point through or I could be too excited and make no sense about what I was talking and being excited and help the team in taking the right decision or wrong. So I think it all depends on the moment and on its balance."
AlphaTauri have enlisted a psychologist to help Yuki Tsunoda.#F1https://t.co/RuKfPJBVF5

— PlanetF1 (@Planet_F1) July 6, 2022
Haas driver Kevin Magnussen, whose former team-mate Romain Grosjean has spoken of how seeing a psychologist helped him during his F1 days, says it is a good thing for Tsunoda, and everyone, to have someone to talk to.
"Depends on the situation but there is emotion and you get annoyed sometimes and you get excited and if there's stuff that you can improve, why not try to speak to people, whether it be people in the team, friends, psychologists, anything that helps, whatever you need."
Asked about how he'd describe his demeanour in the car, he replied: "I haven't thought about it. I can get angry, of course, and excited. I feel certainly I'm a more emotional person inside the car than I am outside of the car but I guess that makes good sense in many ways."
Esteban Ocon concedes it is not easy to stay calm in the heat of the battle.
"It's not easy to stay level, calm when situations are very heated in the car, because we know that at these kind of moments you can lose everything or win everything," said the Alpine driver.
"So, yeah, I guess the most important though, is in this situation, how you come back to yourself, you know, just after that? .
"In my case this is things I've been working on for a while, before I've got to Formula 1, with a lot of different exercises, just working on the pressure. But yeah, people just react differently to different things happening to them. And, yeah, the most important (thing) for us is to perform under these pressures."