Rivals fear the worst as Red Bull Japanese GP 'guarantee' made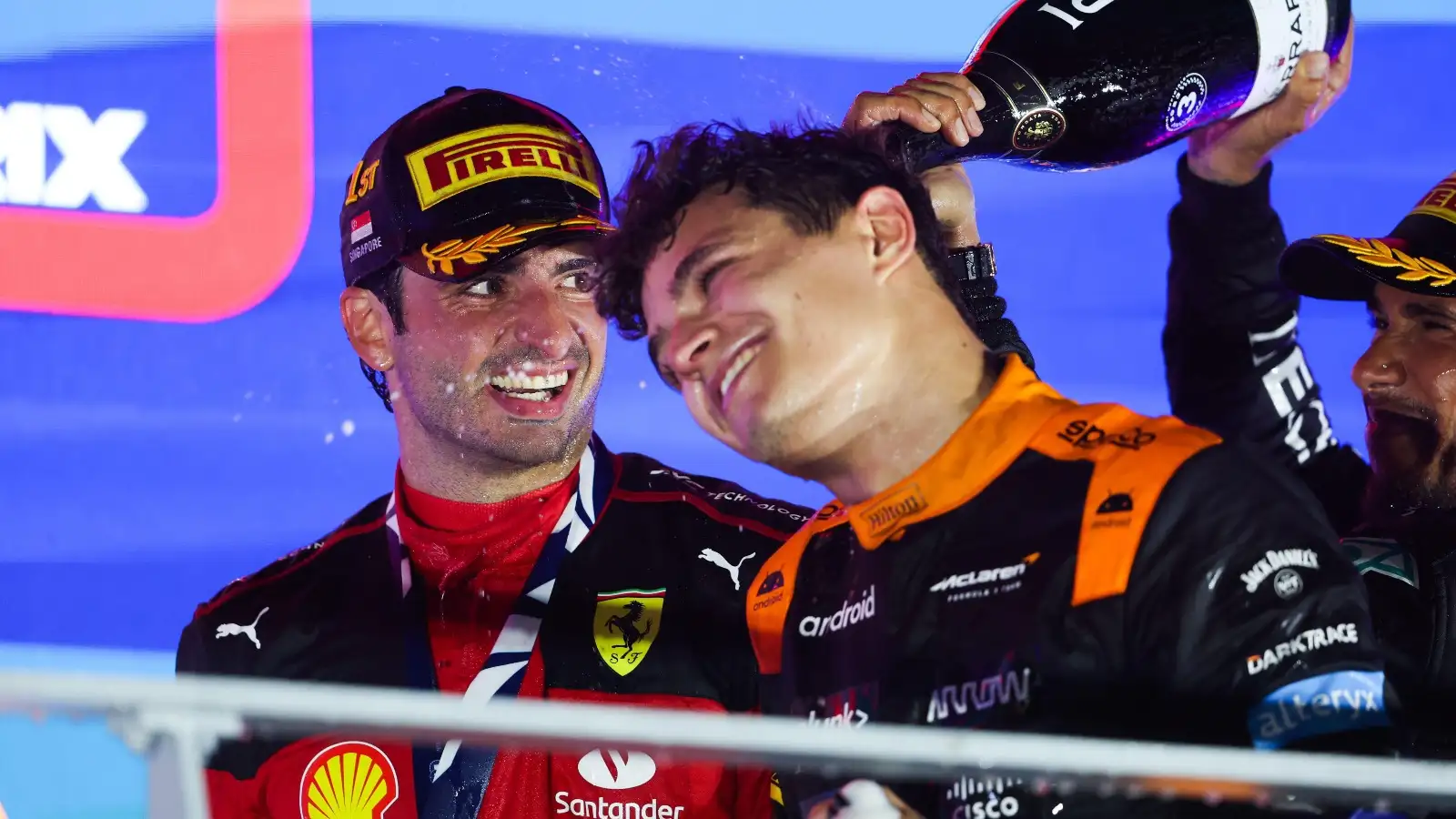 Carlos Sainz may have ended Red Bull's winning streak but both the Singapore GP race winner and P2's Lando Norris have warned it was a one-off with the Bulls "pretty much guaranteed" to win in Japan.
Sainz and Norris took advantage of a weekend in which Red Bull struggled with the set-up of the RB19 to finish first and second at the Marina Bay circuit.
The race marked Red Bull's first defeat of this championship thus bringing their 15-race winning streak, their run having begun last year in Abu Dhabi, to an inglorious end.
Rivals wary of epic Red Bull fightback
Max Verstappen's record-breaking run of 10 wins on the trot also ended as did his podium streak with the driver finishing 21s down in fifth place.
But while he's brushed that aside with a "sh*t happens", his rivals are worried the wounded Bulls will not only beat them this weekend in Japan but could destroy the competition.
"I wouldn't be surprised if they still win the rest of the races of the championship," said Sainz, while Norris proclaimed it is "pretty much guaranteed" that they'll win in Suzuka.
The McLaren driver believes even with his team's upgrades, the Woking team having introduced their second big batch in Singapore, the RB19 remains the car to beat.
"It's tough to say," Norris said when asked if McLaren's updates would also work in Japan. "I don't know. I want to believe so. I think everything did what it was meant to do. And I think we definitely took some steps forward.
"I don't think that we're confident in saying we're as quick as Red Bull. I think Red Bull will probably be dominant this weekend.
"But I think comparing us to Ferrari and Mercedes, Mercedes have been just a lot more consistent than we have. We still fluctuate quite a bit. On a good weekend we can be very, very good and maybe a little bit ahead like we've seen in Silverstone.
"But on the whole, Mercedes have probably been the second-best car this season. Then Ferrari, then us.
"So we're getting there but it's still a very different circuit to Singapore with these upgrades so there's still things for us to find out and analyse them."
As for Sainz, the Ferrari driver is hoping to build on his momentum having taken two pole positions in a row before winning in Singapore.
"I've been before in F1 in the position of going through a good run and it's always important to keep your head down and try and keep the momentum going as it's difficult to find those momentums in such a competitive environment," he said.
"We have a good chance now and that's the target, keep our heads down, Singapore is over, focus on Suzuka."
PlanetF1.com recommends
Revealed: The five longest winning streaks by a single driver in F1
F1 2023 title permutations: When can Max Verstappen win the World Championship?
Sergio Perez: No reason Red Bull won't be strong in Japan
Red Bull are also confident of bouncing back at the Suzuka circuit, a track that should play to the RB19's strengths.
Although neither Red Bull driver made it out of Q2 in Singapore with their set-up issues, Perez says they "understand" what went wrong and don't expect a repeat in Japan.
"That's definitely the target. We understand fully what went wrong, or what went so wrong, in Singapore," he said.
"We have some ideas, but certainly this track is very different so there shouldn't be a reason why not to be strong. Actually, this should be one of the best circuits for us."
He added: "We obviously have some good ideas about how we prepared for the weekend and the misinformation we had and where things got wrong.
"But obviously, it's something that we will keep internally but there's some some indications that we probably approached the weekend wrong."
Read next: Lewis Hamilton details scenario which would confirm 'something's up' with Red Bull