Rivals question Mercedes' speedy reaction with second stay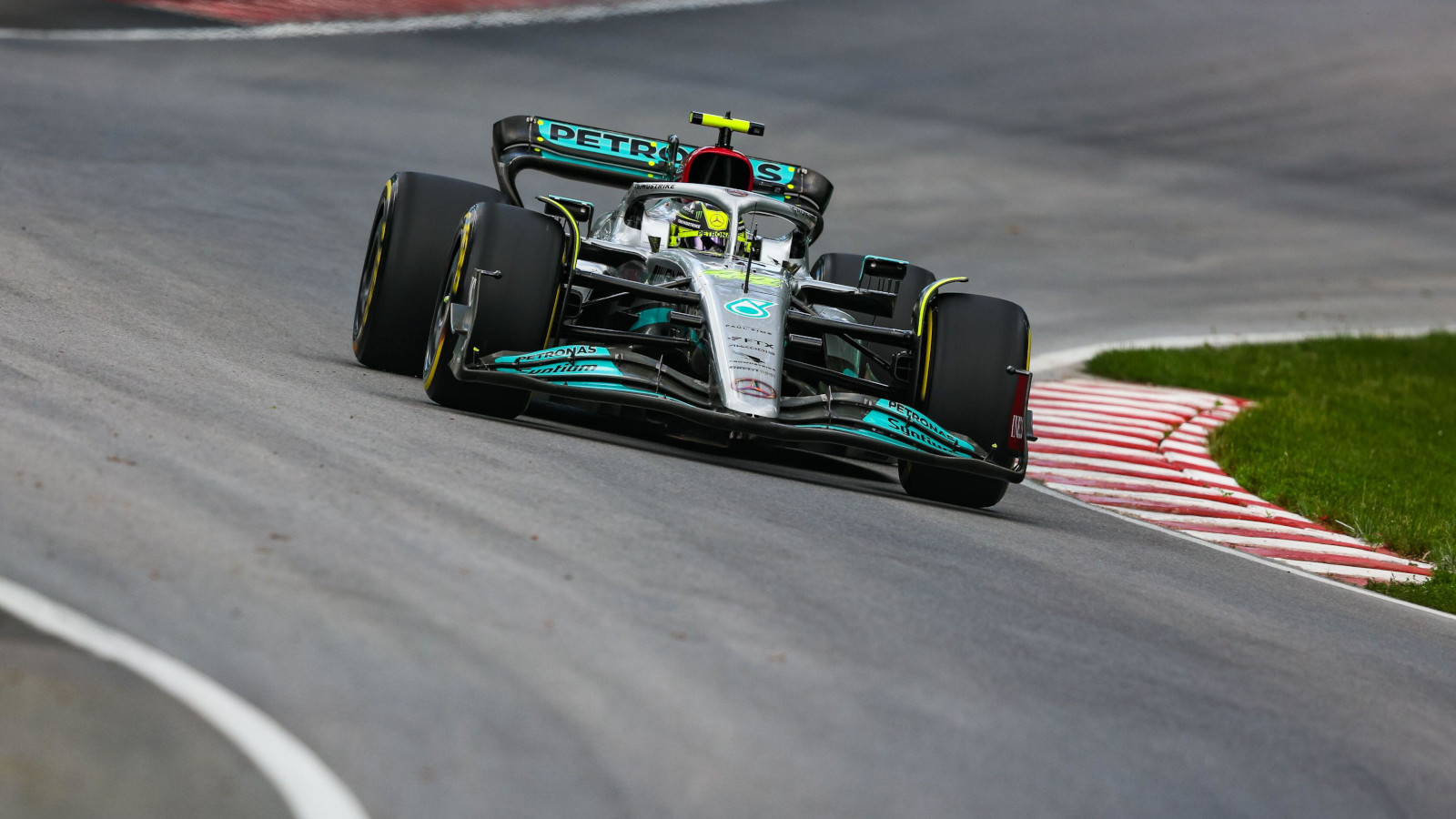 With a second stay attached to the floor of their W13 in practice in Canada, Ferrari, Red Bull and McLaren have reportedly questioned how Mercedes were able to react so quickly to the FIA's new-for-Canada rule.
That's according to a report on Auto Motor und Sport.
The FIA issued technical directive TD039 on the eve of the Canadian Grand Prix, motorsport's governing body stating that not only will they be checking the floors of the cars from Montreal onwards but they'll also lay out a "quantitative limit for acceptable level of vertical oscillations".
Each car will be individually checked, their numbers set out after second practice, and any car that doesn't meet the FIA's "safe" numbers will have to raise the ride height by a reported 10 millimetres.
It is a TD that is likely to affect Mercedes more than most as the Brackley squad's W13 suffers with severe porpoising.
As part of it the FIA also cleared the way for the teams to reinforce their floors with an extra stiffening stay, mounted ahead of the one they are already permitted to run.
Mercedes already had one in place in Friday's practice, and their rivals have questions about that.
According to AMuS's Michael Schmidt, 'Ferrari, Red Bull and McLaren are not only upset that the FIA ​​​​is changing the rules in the middle of the season and allowing for a second underbody support, they also openly question how Mercedes had such a stay and attachments to the chassis and floor on hand in just one day.'
Nuevo suelo de Mercedes con un gran corte y un tensor extra.

New Mercedes floor with a huge cutout and extra stay. #f1 #CanadianGP pic.twitter.com/sFkxmdKTqT

— Albert Fabrega (@AlbertFabrega) June 17, 2022
The stay, though, didn't work as hoped.
A Mercedes team member responded, saying: "We had people who flew late to Montreal and took the material with them. Because of our problems with the ground, we were prepared for anything in terms of the stays."
He added: "The second one didn't work as expected anyway."
Lewis Hamilton said after practice that it was a "disaster" and that the car was "getting worse".
The FIA has subsequently confirmed that, while technical directive TD039 is being tested this weekend, it won't be used as a rule before the British Grand Prix.
"The technical directive does not specifically state that the metric would be applied for this race," an FIA spokesperson told The Race.
"It is felt that the complexity of establishing that metric from all the data from the different cars is not going to be an overnight job.
"There will be a careful and full analysis of the data gathered this weekend and any application of it will be appropriate to whatever arises from the analysis."
The teams still have a lot of questions about the TD, the biggest one being what will be considered an acceptable level of vertical oscillation.
"Who dares to say that 7g or 8g is the limit?" an unnamed team boss told AMuS. "There is no expertise whatsoever as to what is still acceptable and what isn't."
Red Bull advisor Helmut Marko has joined Christian Horner in saying the FIA should stay out of it and the teams should fix their own problems.
"There is no need for action," said the 79-year-old. "If you have a problem, you should put your car higher."