Robert Shwartzman losing hope of securing race seat in 'weird' world of F1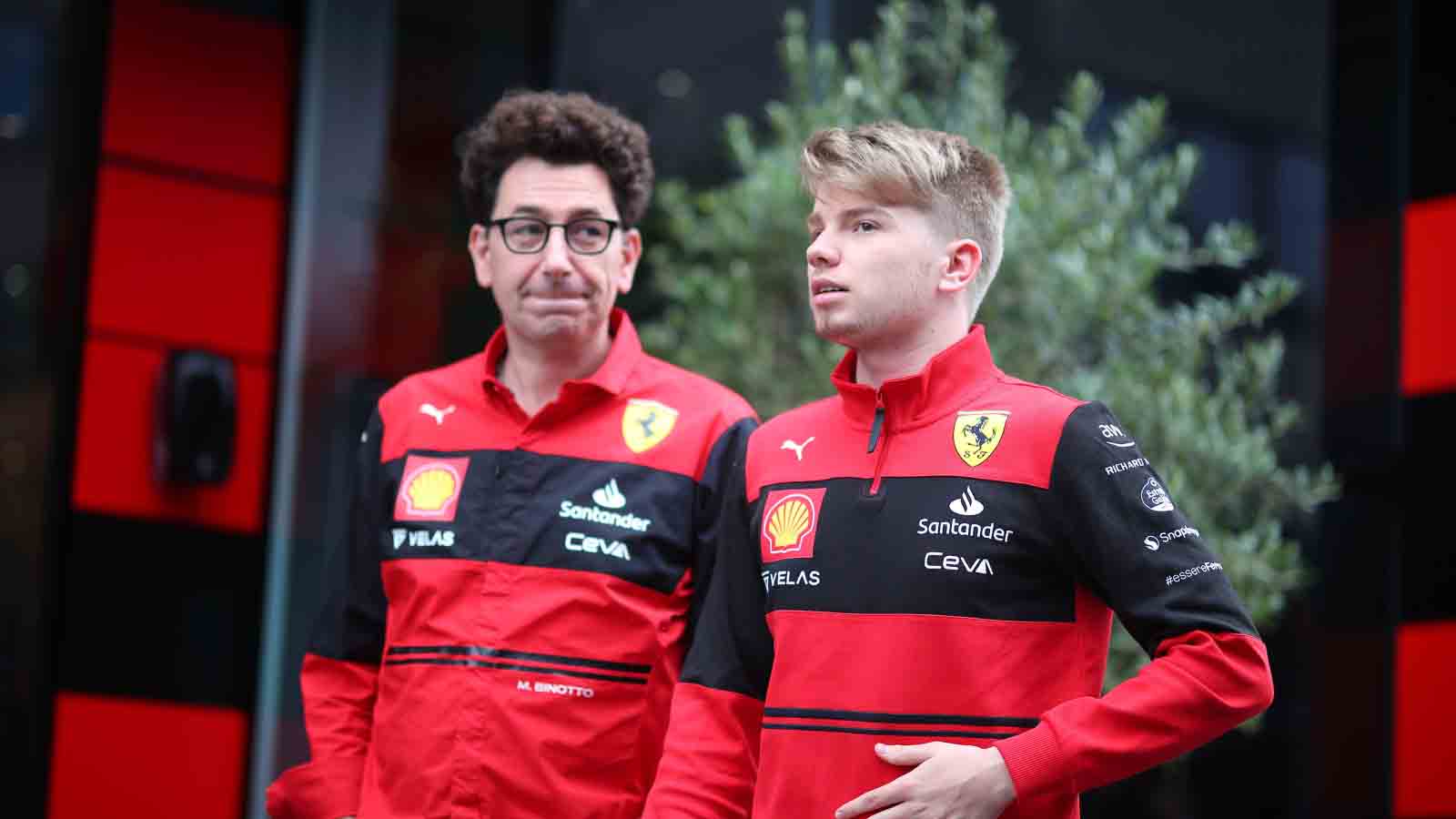 Robert Shwartzman is the latest victim of a "weird" driver market, the Ferrari junior conceding "I can guess maybe not" to his chances of ever lining up on the grid.
Despite finishing runner-up behind Oscar Piastri in last year's Formula 2 championship, Shwartzman found himself sitting on the sidelines with the Aussie this season.
But while he filled the role of Ferrari test driver, Piastri was at least a step closer to a F1 race seat having signed as Alpine's reserve driver.
Next season he'll be on the grid after signing with McLaren to replace Daniel Ricciardo. For Shwartzman, the dream is all but over.
"Honestly it was a tough year," he told MotorsportWeek.com. "Unfortunately, I didn't race, which for any racing driver is a big thing.
"What will happen [in the future], I don't know yet, but it's super hard and challenging to get into Formula 1.
"I always pushed and worked really hard, it didn't matter what was going around with the dream or target to get to Formula 1.
"Will it happen or not happen? At this stage I don't know. I can guess maybe not.
"That's obviously very sad for me because it has been such a big work and I kept on pushing and believing and at the end still it doesn't happen for various reasons."
The driver, who swapped from a Russian racing licence to an Israeli one, is perplexed by F1's driver market.
"I mean, F1 is a bit weird to be honest these days, for me at least," he said. "I don't really understand it, the line-up and the driver decisions teams do, I don't get it from my side.
"I don't want to put names, but for me unfortunately it doesn't always go by the merit.
"Oscar had to wait a year and it was a bit messy for him. I put myself in it as well, I pushed him hard, did hard work, and I know if I would have a chance, I'd show I'm capable.
"It is what it is at this stage, it's the situation where I can't do anything about it even though I'd love to and make it more fair."
There is, however, a glimmer of hope for the 23-year-old with Nyck de Vries set to be the oldest rookie in decades when he lines up for AlphaTauri next season.
The 27-year-old was handed his big break by Williams when Alex Albon fell ill, the team putting the Mercedes reserve in the car at the Italian Grand Prix.
De Vries, winner of the 2019 Formula 2 title, seized his opportunity and scored points with a P9 on the day.
"Honestly for Nyck it happened after three years, he raced, and honestly I respect Nyck and think he's talented and good but the stars aligned perfectly for him and he did a good job of taking that opportunity – he got one shot and he took it," said Shwartzman.
"Will I? Who knows. To wait and sit here and waste time not racing just hoping for a miracle to happen… I would not really see it quite logical for me, and anyway after doing this work I really want to race next year, as I miss racing.
"If you don't race you miss that spirit of [being] a race driver: to fight, to win, and push yourself. Imagine if I don't race; I will wait, wait, wait and if I have the opportunity I would not be ready for it as I had not raced [since 2021].
"So for me the main priority next year is to go race. Where? I don't know, we are looking at options and what we have on the table for the best offer possible and we'll see."
The ruthless nature of trying to step up into 20-car field
In 2019, 27 drivers raced in Formula 1's feeder series, F2. A year later there were 26 participants, then 29, and this year 27.
Let's call it an even 80 for the four years as some of them raced for two season, even three. That's 20 drivers per year wanting to break into Formula 1.
Of those Nicholas Latifi joined the grid in 2020, Mick Schumacher, Nikita Mazepin and Yuki Tsunoda stepped up in 2021, Guanyu Zhou this season, and Oscar Piastri, Nyck de Vries and Logan Sargeant will follow suit next year.
That's eight out of 80.
The simple point is Formula 1 doesn't have enough seats to promote the entire feeder series, it doesn't even have enough most seasons to promote the entire podium.
This year F1 is losing three, last year it was two, the year before three, and the year before that one.
It's easy to say more seats would help and yes it would to some degree but the sport still doesn't have a high turnover.
You could argue the old guard should go but who misses Kimi Raikkonen? For that matter who wants to see Fernando Alonso or Lewis Hamilton leave?
To enter Formula 1 these days a driver has to show himself to be a prolific talent, an Oscar Piastri if you will. Or a spot in a junior academy, Logan Sargeant. Or get thrown a Hail Mary pass that lands as did with Nyck de Vries.
It's not longer good enough to be good, you have to be great, and a little luck with the timing doesn't hurt either, especially with more teams moving away from the pay driver model.
That's not to say the sport doesn't miss out on fantastic talent, but that is unfortunately the nature of a 20-car field.