Solbergs conquer F1 contingent at Race of Champions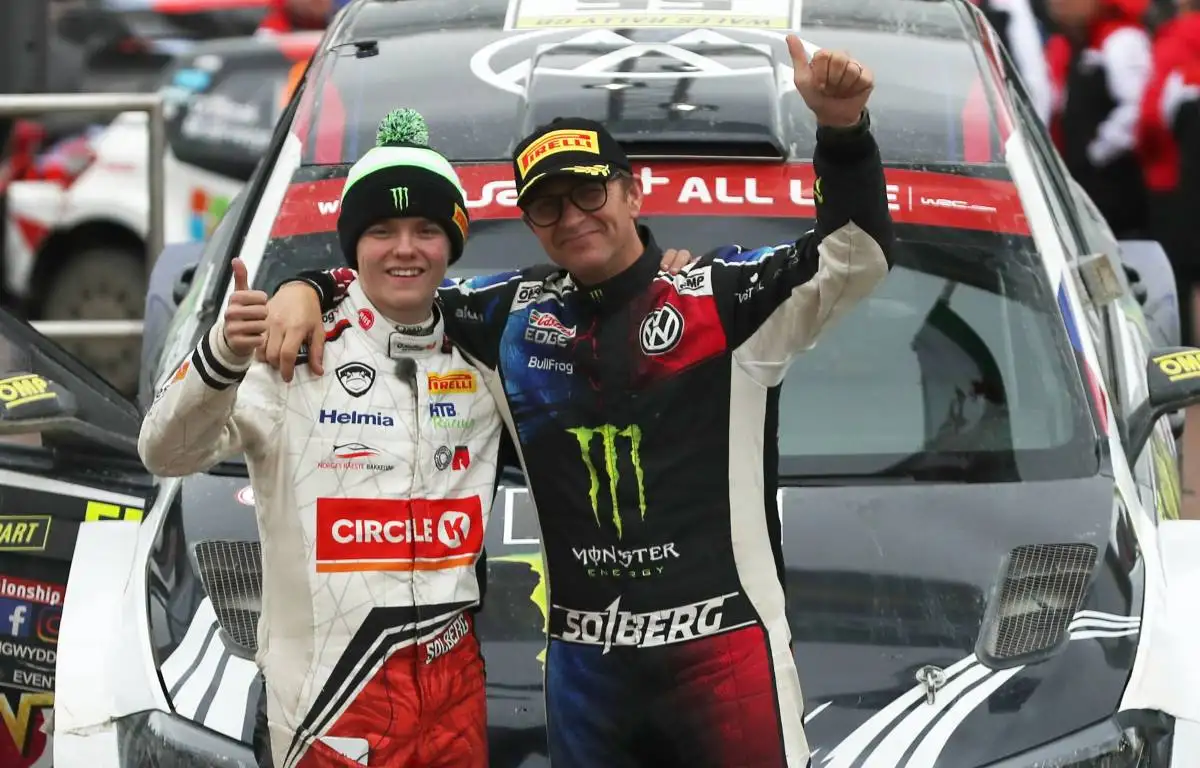 Formula 1 drivers past and present were put in their place by Norway in the Race of Champions Nations Cup team competition in Sweden.
Although Valtteri Bottas was a late withdrawal due to "other commitments" that had arisen, F1 was still represented by Sebastian Vettel and Mick Schumacher from the current grid and former McLaren team-mates Mika Hakkinen and David Coulthard.
But after Vettel had struggled from the outset, losing his first heat against sim racer Lucas Blakeley, it was father-son rallying duo Petter and Oliver Solberg who took the title for Norway, beating surprise package the United States in the final.
IndyCar driver Colton Herta, who was linked with a move to F1 last year amid talk of a Michael Andretti buyout of Alfa Romeo that nearly happened, partnered NASCAR legend Jimmie Johnson in the American team.
A week ago, Herta was winning the very different discipline of the Daytona 24 Hours, and this represented a complete contrast as he tackled an ice track created on the frozen Baltic Sea, just 60 miles from the Arctic Circle, in a selection of four different vehicles.
In the final, the United States were on the back foot from the moment Johnson's engine cut out in heat one and they eventually lost 3-1 to the Solbergs.
History at #ROCSweden!

Father and son duo @Petter_Solberg and @OliverSolberg01 are bringing the ROC Nations Cup to Norway! 🇳🇴🇳🇴👏

It's a ROC debut win for Oliver, and a second Nations Cup for Petter. But you can imagine which win will mean the most. 🥺 pic.twitter.com/FO90WupPxM

— #ROCSweden (@RaceOfChampions) February 5, 2022
Of the winning pair, 47-year-old Petter was the World Rally Champion in 2003 and a two-time World Rallycross Champion, while his 20-year-old son Oliver is an emerging talent on the rallying scene and a winner of events in Latvia and Estonia.
Although Vettel and Schumacher, representing Germany, recovered from the four-time former F1 World Champion's early setback against Blakeley to beat the eROC All Stars, they bowed out in the quarter-finals against the USA.
As for Hakkinen and Coulthard, they went head-to-head just as they had done so often when driving for the McLaren team together between 1996 and 2001.
Just like on many occasions back then, it was Hakkinen who came out on top both individually and as a team as the two-time former World Champion, partnered by Emma Kimilainen who stood in for Bottas, advanced before losing to the Americans in the last four.
"I love Mika Hakkinen, he was my team-mate for [six] years, he's a great guy and for years I've been trying to get him to come to the Race of Champions," said Coulthard.
"Not for the first time in my career, he beat me."
Individual honours will be at stake on Sunday when the Race of Champions itself takes place, with Coulthard and Vettel having won three of the four titles between them – the Scot two, the German one – between 2014 and 2018, Juan Pablo Montoya the other victor during that period.