Grosjean survives horrific fiery crash in Bahrain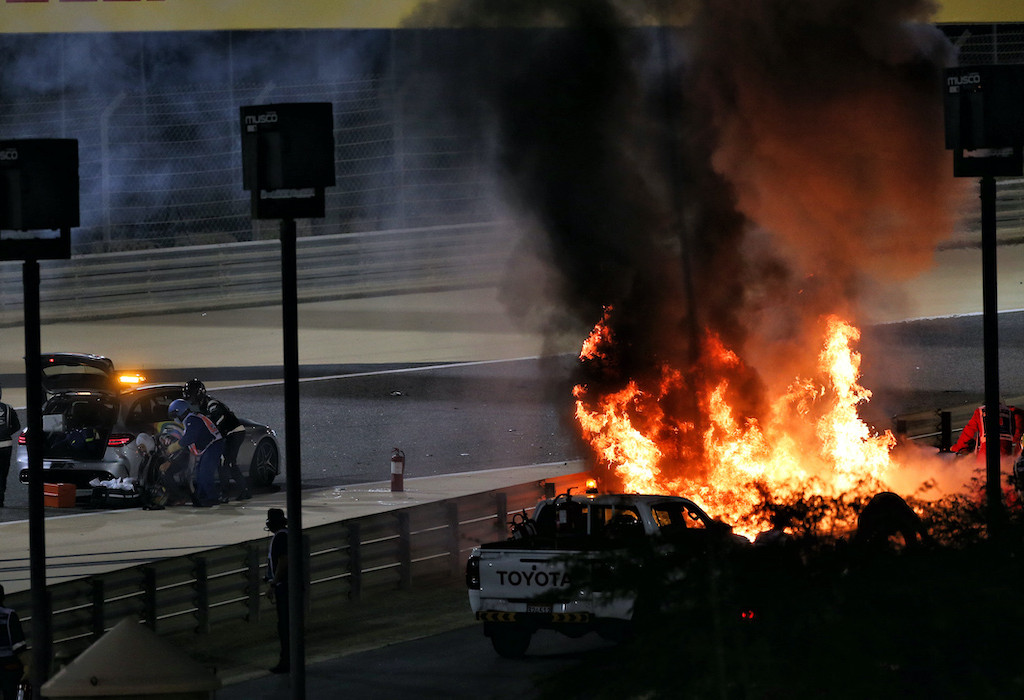 Romain Grosjean was helped away by medics after a huge crash at the Bahrain GP which ripped his Haas in two and sent it up in flames.
Coming out of Turn 3, the Haas driver moved across the circuit and made contact with Daniil Kvyat before crashing heavily into the barriers.
At that point, the VF-20 erupted into flames and actually broke into two pieces as part of the car, including Grosjean in the cockpit, went through the barrier.
It's truly a miracle that Grosjean was able to walk away, with help from the medics, from one of the scariest incidents in recent Formula 1 history.
The moment Grosjean collided with the barriers#BahrainGP 🇧🇭 #F1 pic.twitter.com/VL1lMtRQjR

— Formula 1 (@F1) November 29, 2020
Early reports from Haas stated that Grosjean has suffered burns to his hands and ankles, but further details will be released in due course.
UPDATE: Romain has some minor burns on his hands and ankles but otherwise he is ok. He is with the doctors just now.#HaasF1 #BahrainGP

— Haas F1 Team (@HaasF1Team) November 29, 2020
Speaking to Sky F1, Haas team principal Guenther Steiner said: "The latest what I've got he is doing okay. Obviously I don't want to make a medical comment here but he has light burns on his hands and his ankles.
"Obviously he's shaken and he's going through all the checks that you go through after an impact like this. He is conscious, he is fine, but I didn't have any direct contact with him, just with the people there.
"It seems to be okay. I want to thank the rescue crews which were there, very quick. I didn't see who it was yet but the marshals and the FIA people did a great job. It's scary what happened."
damn pic.twitter.com/RPwdnIvzcW

— Out of Context F1 (@f1nocontext) November 29, 2020
Asked if the halo device played a part in saving Grosjean's life, Steiner replied: "Absolutely. When you see what is going on out there, if you see the barrier they are torn down, it's unbelievable.
"But I think we were lucky by being unlucky. I prefer that luck than any racing luck. He seems to be doing good, hopefully there is nothing coming but he got away with it I think."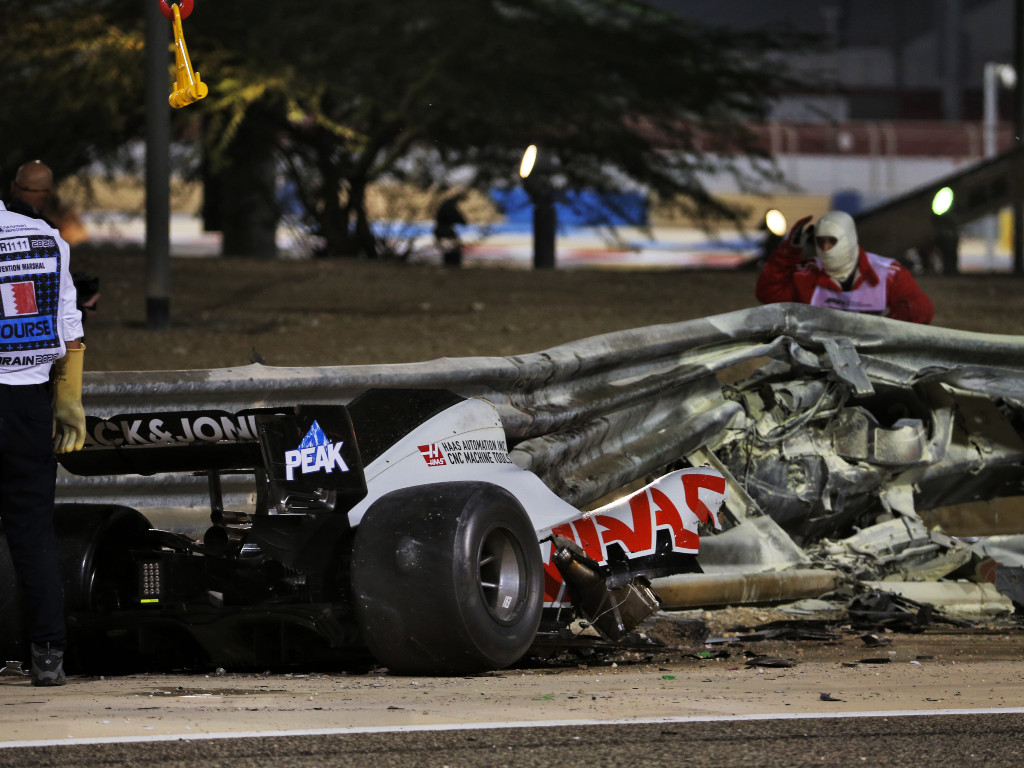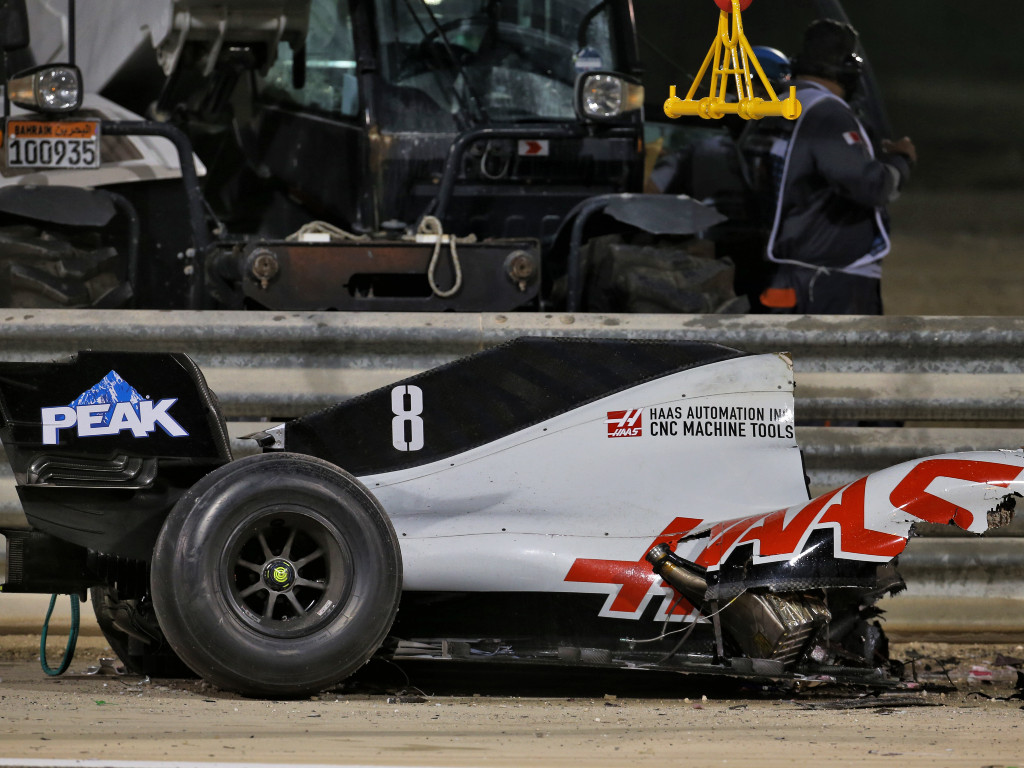 Steiner added that the team saw nothing clearly wrong with Grosjean's car at this stage which contributed to the crash.
He added: "It looks like he was just moving across and went over the front wheel and just crashed full speed into the barrier, that's what it looks to be.
"I just have seen the footage you guys have seen, I've not seen any more, so that's what it looks like.
"As long as he's good that's the most important thing."
The FIA released a short statement with a quick update on the horrific crash:
'The driver was immediately attended to by emergency and medical crews.
'The driver self-extricated, and was conscious at all times. He was taken to the medical centre before being transferred to Bahrain Defence Force (BDF) Hospital by helicopter where he is undergoing further evaluation.
'Updates will be given when further information is available.'
Follow us on Twitter @Planet_F1, like our Facebook page and join us on Instagram!