Romain Grosjean says that there was a brief moment during his crash in which he accepted that he was going to die.
Formula 1 saw its biggest crash in a long time at the start of the Bahrain Grand Prix when the Haas driver flew into the barriers, with his car splitting in half and setting alight.
He eventually escaped the fiery wreckage after spending around half a minute stuck. He says that it felt much longer, and admits that there was a point where he lost hope.
"First of all, for me, it wasn't quite 28 seconds. It felt more like a minute 30 if I had to put a time on it," he said.
" I jump out and I feel like something is touching my head, so I sit back down in the car and my first thought was 'I'm going to wait. I'm upside down against the wall so I'm going to wait until someone comes and helps me'.
"So I wasn't in stress and obviously not aware at the time there is fire. Then I look right and left, and watching on the left I see fire. So I say 'OK, well I don't really have the time to wait here'. So next thing is that I tried to go up a bit more on the right, it doesn't work.
"I go again on the left, it doesn't work. I sit back down and then thought about Niki Lauda, his accident, and thought 'it couldn't end like this, it couldn't be my last race, it couldn't finish like this. No way'.
"So I try again and I'm stuck. So I go back and then there's the less pleasant moment where my body started to relax. I'm at peace with myself, and I'm going to die.
"I asked my question: 'Is it going to burn my shoe or my foot or my hand? Is it going to be painful? Where is it going to start?' To me, that looks like two, three, four seconds. I guess it was milliseconds at the time. And then I think about my kids and I said 'no, they cannot lose their dad today'.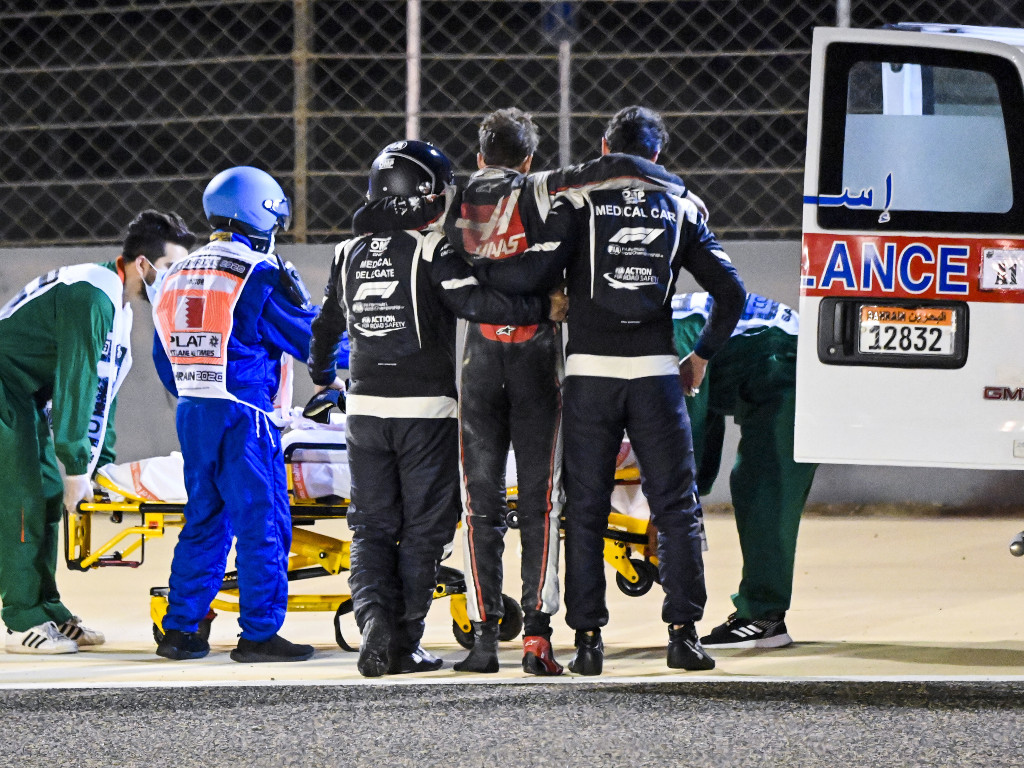 Get your hands on the official Haas 2020 collection via the Formula 1 store 
After freeing himself from the car, losing a shoe and burning his hands in the process, Grosjean was helped by Dr Ian Roberts, who has rushed to the scene.
The pit lane applauded when he was seen walking, with help, to the ambulance soon afterwards, and he says that he insisted on doing so, against Robert's wishes, to reassure people watching.
"They put some cold compress on my hands because I told them my hands are burning, my foot is broken," he added.
"And then the pain really starts going very high, especially on the left foot. The hands were OK at the time but the left foot starts being very painful.
"Then Ian explains to me the ambulance is coming in and that 'they're going to come with the [medical] bed and you're going be OK'.
"And I say 'no, no, no, we walk into the ambulance'. 'No, no, no, no, the bed is coming'. And I said 'no, no, no'. And I walk out of the car and I say 'we are walking', and he says 'OK, we are going to help you'.
"I guess on the medical side, it wasn't the perfect decision but they understood that, for me, it was key at the point that there was some footage of me walking towards the ambulance.
"Even though I'd walked out of the fire, I needed to send another strong message that I was OK and I was going to walk towards the ambulance."
Follow us on Twitter @Planet_F1 and like our Facebook page.