Grosjean endured 67g, FIA investigation finds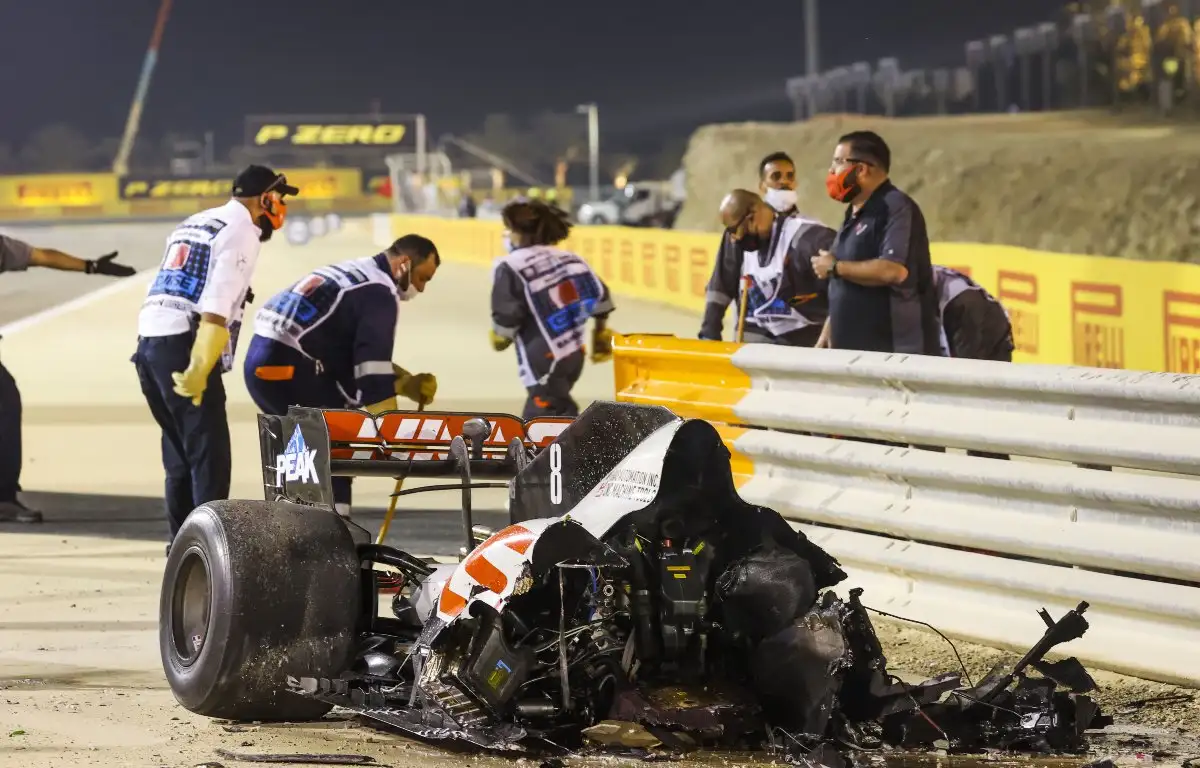 The FIA has completed its investigation into Romain Grosjean's crash in Bahrain and has confirmed that the impact peaked at 67g.
Formula 1 saw one of it's biggest crashes in years at the 2020 Bahrain Grand Prix as, after colliding with Daniil Kvyat, Grosjean hit the barriers at high speed, causing his car to split in half and set alight.
He ultimately escaped after being trapped in the inferno for just under half a minute, and walked away with burns to his hands and ankles but nothing more.
In the aftermath, the FIA launched an investigation into the incident, and have now published the findings which reveal the extent of the initial impact.
"Romain Grosjean's car impacted the triple guardrail barrier behind the run-off area at 192 km/h and at an angle of 29 degrees, with an estimated yaw of 22 degrees to the direction of travel and a resultant peak force equivalent to 67g," the report stated.
"Following the failure of the middle rail of the barrier and significant deformation of the upper and lower rails, the survival cell was able to pierce the barrier and came to rest behind the barrier, constrained by the primary roll structure against the upper rail of the barrier.
"The car suffered extensive damage during the impact including separation of the power train assembly from the survival cell. The fuel tank inspection hatch on the left-hand side of the chassis was dislodged and the engine fuel supply connection was torn from the fuel tank "safety bladder"; both providing primary paths for the escape of fuel from the tank."
FIA concludes investigation into Romain Grosjean's accident at 2020 Bahrain @F1 Grand Prix and releases 2021 circuit racing safety initiativeshttps://t.co/2VRQ671oI6

— FIA (@fia) March 5, 2021
Sign up to the official Formula 1 store and save 10% on your first order!
As a result of the findings from the investigation, the FIA has identified a total of 22 areas where improvements can be made when it comes to driver safety.
These include modifications being made to the cars – specifically, the fuel cells, steering columns and survival cells – as well as circuits, with the installation and placement of barriers being reviewed.
"Important learnings have been drawn from these investigations that will drive our continuous mission to improve safety in Formula 1 and global motorsport," FIA President Jean Todt said.
"The enduring commitment of the FIA, particularly the Safety Department, on reducing risks associated with motorsport enabled Romain Grosjean to maintain consciousness and survive an accident of this magnitude.
"Safety is and will remain FIA's top priority."
Follow us on Twitter @Planet_F1 and like our Facebook page