Haas race engineer Dominic Haines has recalled the "awful sensation" he endured while waiting to hear the outcome of Romain Grosjean's horrific Bahrain crash.
Haines was Grosjean's race engineer for the 2019 and 2020 seasons and a trackside performance engineer in the Frenchman's three previous campaigns with the American-owned outfit.
With Haas having already decided they would change both of their drivers for 2021, the working relationship between Grosjean and Haines came to a dramatic end on the opening lap of the Bahrain Grand Prix. Grosjean's car clipped Daniil Kvyat's AlphaTauri and speared into the barrier at high speed, splitting into two and bursting into flames.
As the race was immediately stopped and the other drivers coasted back to the pits, neither they nor anyone in the paddock knew of Grosjean's fate as the broadcast coverage understandably was diverted away from the terrifying scene.
Miraculously, Grosjean, helped by marshals and the crew of the F1 medical car, emerged from the fiery wreckage with only burns to his hands and a sprained ankle.
But the short time that elapsed before it became clear the 34-year-old had escaped were as dreadful as it can get for F1 team personnel.
Bahreïn, 29 novembre 2020, 15h14. @RGrosjean s'encastre dans le rail avec une puissance inouïe 😱

Revivez en 3D comme vous ne l'avez jamais vu ce spectaculaire accident avec la participation du pilote français🎙️

"Retour de flammes", c'est ce samedi à 13H50 sur @canalplus 🔜 pic.twitter.com/YFV6gKtbTj

— Sport Reporter (@Sport__Reporter) February 16, 2021
Check out the new 2021 collection on the official Formula 1 store!
Haines, speaking during a documentary about Grosjean's crash on Canal Plus, explained: "On the first lap of the race, one of the key things we look at is just making sure the data from the car is coming back okay, so we are really focusing on the telemetry data that's streaming.
"All of a sudden the data stopped, and it stopped when he was going 200km/h and just cut out.
"Immediately, you go on the radio and say 'are you okay?' and the worst thing to hear is silence. There was around 30 seconds that was just an awful sensation.
"[But then] someone saw another feed 'he's walking, he's walking' and I heard that come in my ear and then you know, okay, he's out of the car, he's okay. But until then it was just a horrible, horrible day."
Ayao Komatsu, Haas' chief race engineer, admitted he had also "worried about the worst".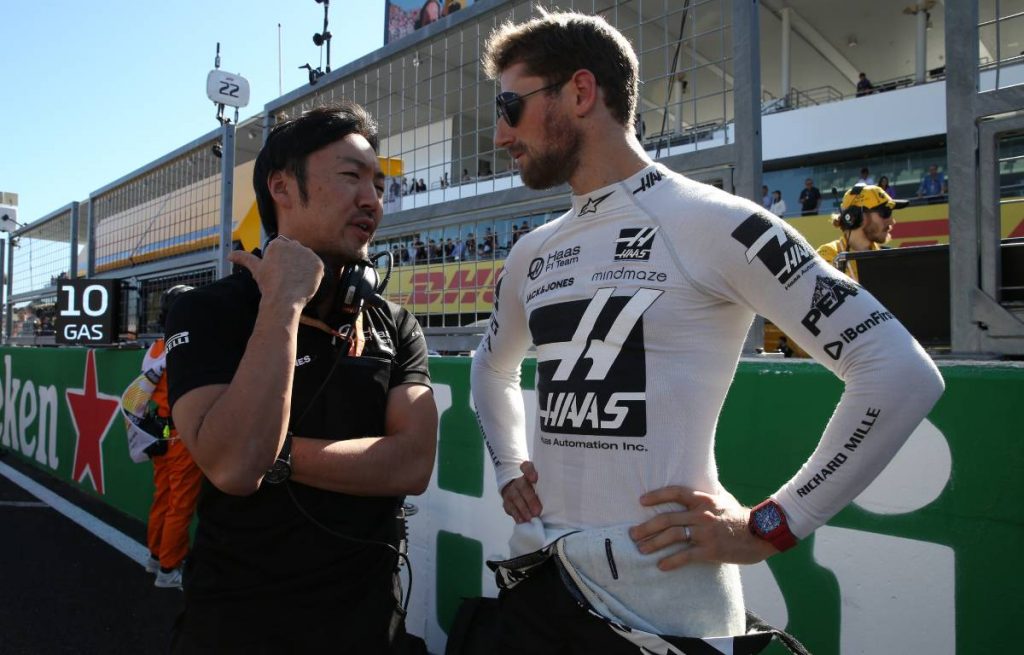 "When the race started, I was watching both of our guys' onboard [footage]," said Komatsu.
"Initially, I didn't think it was Romain and then I saw on the GPS 'Oh, GRO, stopped'. I don't know the best way to say it, but I still couldn't believe…I was worried about the worst.
"I just couldn't process in my head that someone could walk out of that fire so quickly."
Three months on, Grosjean, whose only obvious sign of the accident remain the burn scars on his hands, is now preparing to continue his career in the IndyCar series in North America.
He has signed up to drive for the Dale Coyne Racing team but will not contest any of the oval races in 2021. He is due to make his debut at Barber Motorsports Park in Alabama in April.
Follow us on Twitter @Planet_F1, like our Facebook page and join us on Instagram!