Haas principal Guenther Steiner has spoken to Romain Grosjean and he told him that no bones were broken during his horror crash.
The Frenchman was rushed to a local military hospital after a horrifying crash on the opening lap of the Bahrain Grand Prix where his Haas split in to two and erupted into flames upon hitting a barrier.
There were reports that Grosjean had suffered broken ribs, but Steiner said that he had spoken to his driver over the phone who had confirmed that he had suffered only burns to his hands.
"Romain, I've just spoken to him, we talked on the phone, he's a clear state of mind, he's good," Steiner explained to Sky F1.
"He is still staying in hospital overnight, they want to keep him there, but he told me that he feels good, nothing is broken, obviously he has got his hands bandaged from the burns but otherwise he said he has no other burns or nothing.
"He was very upbeat I would say, so I'm very happy."
The looks of terror were clear throughout the Haas garage after the incident.
"It was hard, but what we try to do, what I try to do is give them immediately the good news everything is fine, just inform them what is happening," Steiner said.
"They are all shocked and as soon as we knew that he was okay, I had the chief engineer say over the radio 'guys, just calm down Romain is out of the car, he's good'.
"And then the pictures came which speak more than words."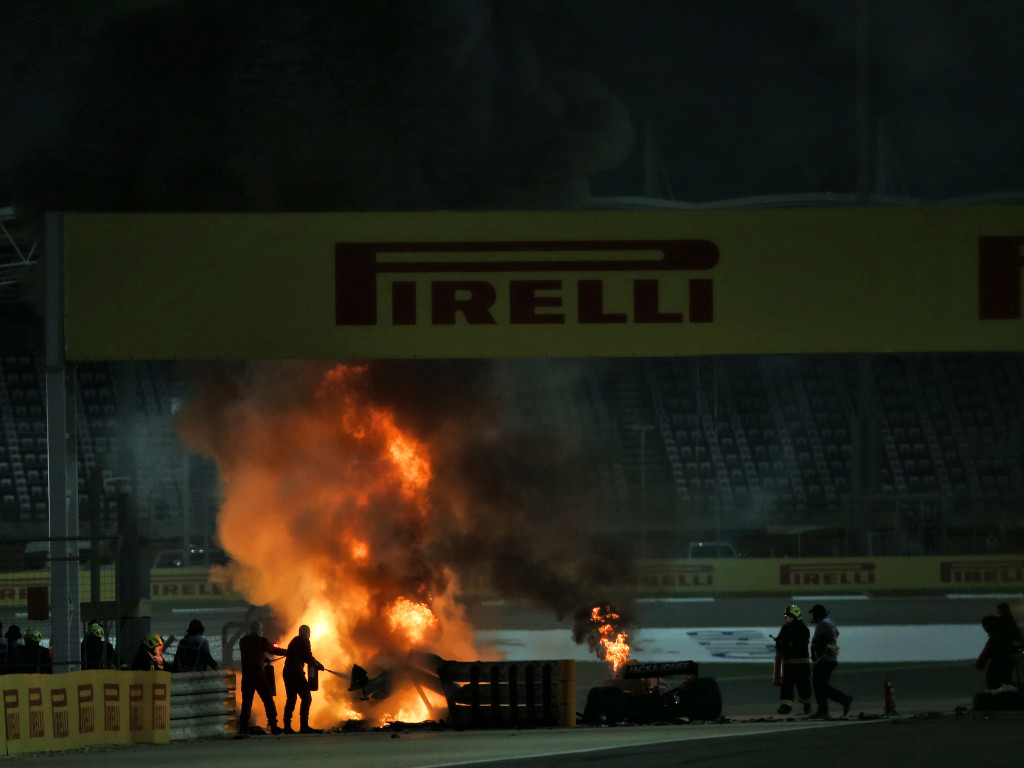 Formula 1 medical car driver Alan van der Merwe and Formula 1 medical delegate Ian Roberts were among those first on the scene as Grosjean was helped to escape the fireball, and Steiner was keen to pay tribute to all of the medical personnel and marshals for rescuing Grosjean.
"You saw the pictures, we saw they put him in the car and then immediately when they took him to the medical centre they told us he is there and his physio went there and we got informed from him, so he kept everyone up to speed with that one.
"I said I need to go and see these guys and thank them because it's emotional for me.
"To be brave, I think doctor Ian Roberts would have gone there even if he would have been in [the fire] and Alan behind with the fire extinguisher just doing the right thing trying to keep it away from him.
"There was no time to make a plan, this just happened, these guys know what they're doing.
"I was impressed by this, also the marshals which were there they did a great job, fair play to them.
"It was a bad crash, but we ended up lucky and for sure be conscious of it but get our heads up and say we got away."
Romain has been voted as the #BahrainGP Driver of the Day.

Thank you for your votes ❤️#HaasF1 pic.twitter.com/F9hTKxo9mR

— Haas F1 Team (@HaasF1Team) November 29, 2020
Formula 1 races again in Bahrain next weekend for the Sakhir Grand Prix, and while Steiner said Grosjean "absolutely" will want to take part, first they need to see how bad the burns to his hands are.
"Absolutely knowing him he wants to be back, but we will see tomorrow when they take the bandage off because he has no idea what they look like," Steiner explained.
"For me at the moment the only good thing is nothing bad happened, for sure it wasn't good, but he's safe, he's healthy, and the rest we'll speak tomorrow when we speak to the doctor."
Follow us on Twitter @Planet_F1, like our Facebook page and join us on Instagram!