Romain Grosjean: Max Verstappen of today wouldn't make Monaco '15 mistake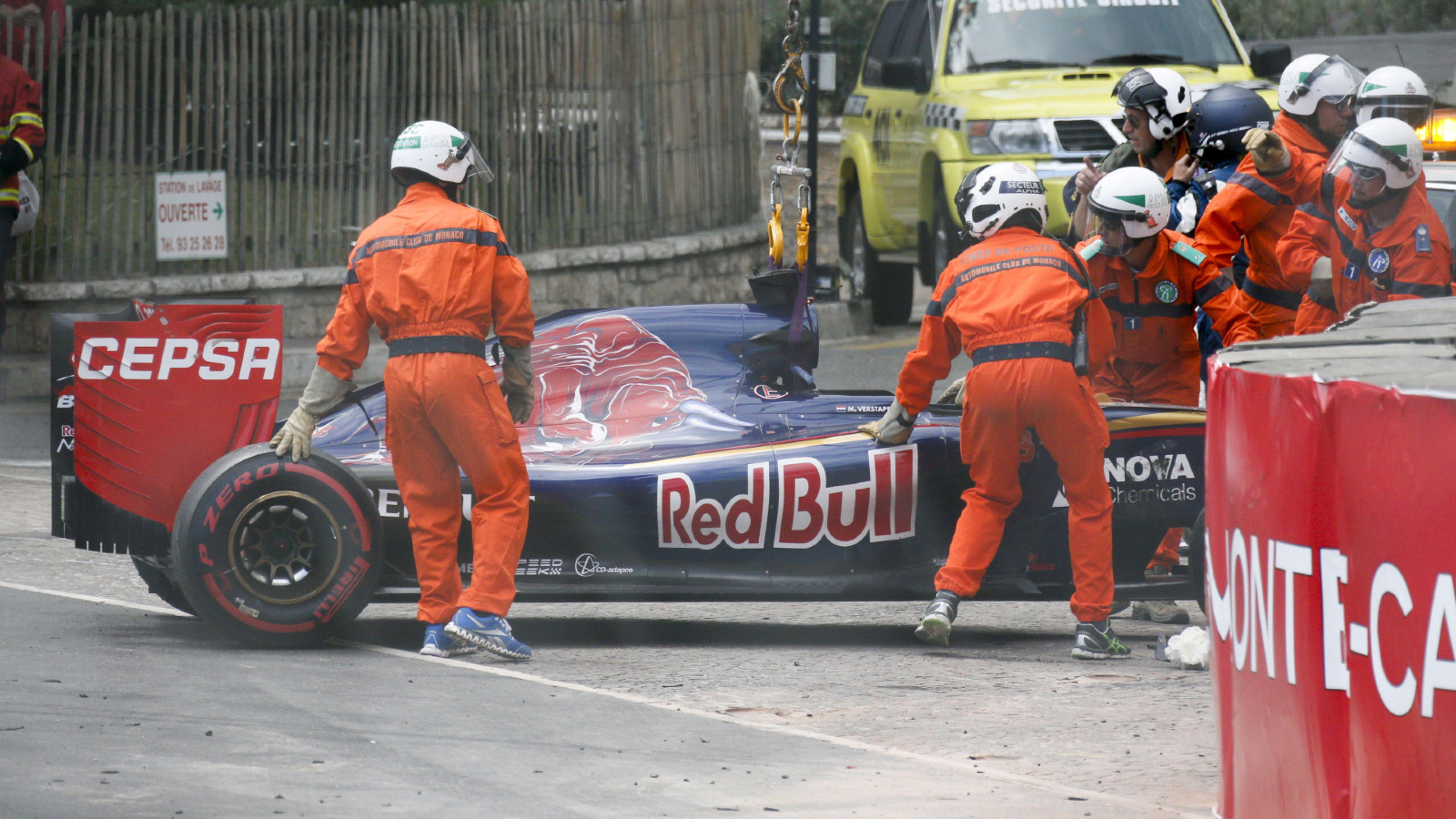 Romain Grosjean believes Max Verstappen's maturity today means he would not make the mistake that took himself out of the race at Monaco in 2015.
Grosjean, now racing in IndyCar, and Verstappen had been engaged in battle at the 2015 Monaco Grand Prix, the Dutch driver's first attempt at F1's most gruelling race, when Verstappen made an error as he attempted a late move at St. Devote.
On the 62nd lap, Grosjean had positioned his car in the middle of the track and hit the brakes, only for Verstappen to misjudge his braking and collide with the back of the Haas.
The then-17-year-old was furious afterwards, pointing the finger at Grosjean for brake-testing him – a subsequent FIA investigation absolved Grosjean of any wrongdoing.
Grosjean took a measured approach to his response to Verstappen, saying "Max caught himself out by driving too aggressively" but that "he'll learn, he's a very talented driver".
Speaking more than seven years later, Grosjean has moved on from F1 and is enjoying his new career in IndyCar, while Verstappen has gone from strength to strength after maturing into a double World Champion.
Appearing on Sky's Any Driven Monday, Grosjean heaped praise on Verstappen for having learned the lessons presented to him during his early years in F1 as the panel discussed the Monaco '15 crash.
"I think Max wouldn't do that today," he said.
"Obviously, he got lucky because that was a big shunt for him. It cost me points as I had to go through the run-off to turn the car. But yes, that's definitely something Max learned.
"And it's normal. You can get all the preparation you want, and Max had a very, very fast career through single-seaters.
"So he came into Formula 1 super-early. You can have all the preparation you want – when you get to Formula 1, it's still F1 and it's still harder than the rest. It's still different and there's more involved."
Romain Grosjean: Max Verstappen has more confidence and peace in his driving
Now a keen observer of F1 rather than an active participant, Grosjean said he is enjoying watching Verstappen move to a new level after winning his first World Championship in 2021 – a feat he repeated in '22.
"Since he's World Champion, he is more at peace," he said.
"He just drives the way he does drive, which is a very engaged way of driving which I love and admire.
"But he just stays a little bit more within the limits than he would have done in the past. Since he arrived, he's been quite extraordinary. He's always been super-fast.
"Realistically, we only fought together in 2015 and the first few races in 2016, then he jumped to Red Bull and, with Haas, we didn't have a chance really to fight the Red Bull. But we had some get-together, we had some good battles.
"Max has been very impressive in F1 and that first World Championship settled him in nicely.
"We knew Max is a super-talented driver. I think winning his first World Championship definitely gave him something more, a kind of confidence and peacefulness in his driving. He's still the Max we love watching and he is always 100% driving the wheels off his car, but he just manages to stay at 100% and not go above that limit.
"With a very strong car, a very strong driver, it was a very strong team that was built around him, they have had huge dominance this year.
"Hopefully, Red Bull can have a bit of a tough time in the future with Mercedes and Ferrari, the big ones that can come in and annoy them a little bit. As much as we can be a fan of Max, it's not a great one seeing one car winning all the races for the show."
Read More: Did Red Bull overstep the mark with petulant Sky F1 boycott?