Grosjean to try oval race after watching Indy 500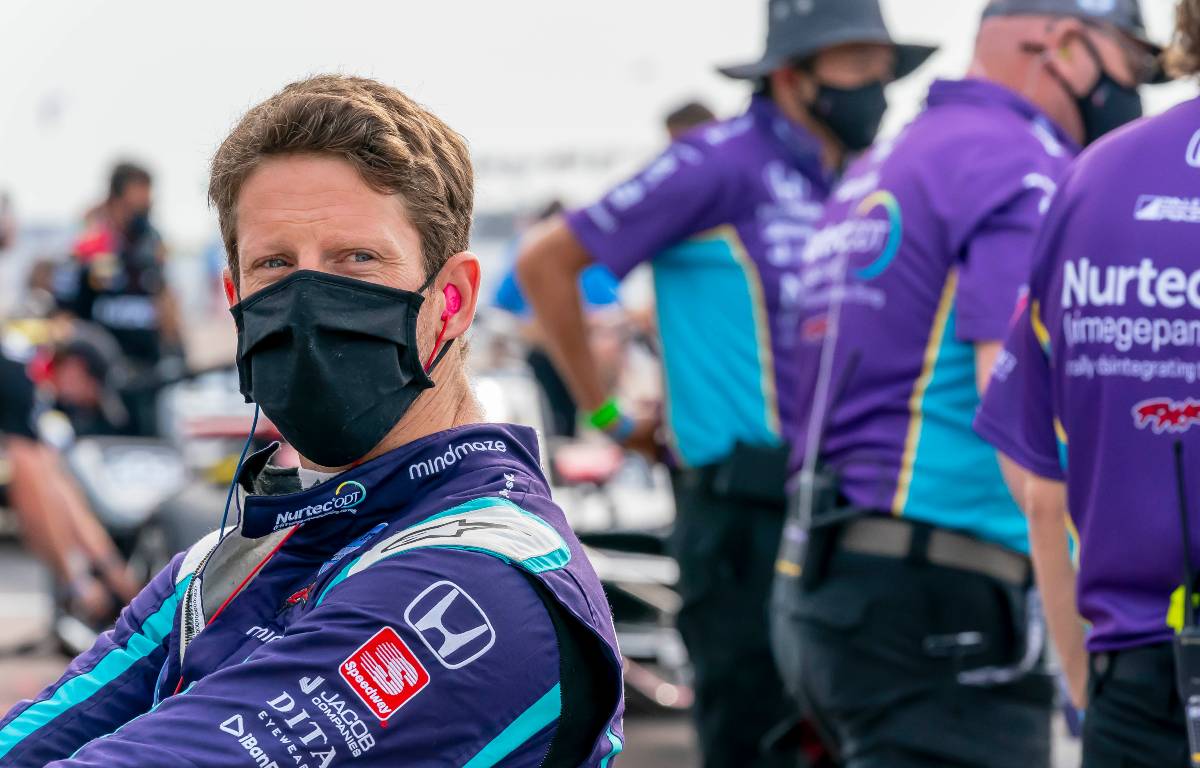 After watching the Indy 500, Romain Grosjean has had a change of heart and will now compete in an oval race in IndyCar.
Grosjean left the world of Formula 1 at the end of the 2020 campaign, with Haas opting to head into 2021 with two rookies instead.
Shortly after being dropped, it was announced he would be driving in the IndyCar series this year for Dale Coyne Racing, but would not compete in the oval races including the famous Indy 500.
However, after watching that very race a few weeks ago, he has had a change of heart.
"It's strange to be home watching it and not being part, knowing your friends are doing it," he told AP News.
"So we'll see what the situation is and then family-wise what do we think of doing. Initially, I said I did not want to do ovals.
"Now I would like to try one and then see if I want to do more."
So cool to lead the pack and fight for the win. Forgot how much I loved that. Thank you @IndyCar & @DaleCoyneRacing for reminding me. Now I want more 😁. Blue flags cost us a win but our day will come 💪.#r8g #us2021 #ThePhoenix @IMS @RickWareRacing pic.twitter.com/8iB1FNWIMK

— Romain Grosjean (@RGrosjean) May 16, 2021
While he has missed the oval races this season, Grosjean has made an excellent start to life in IndyCar, claiming his first pole position and first podium already.
It is the first time he has been fighting at the front in a long time, with his years in F1 after 2013 spent in the midfield and at the back of the pack.
He says that has reignited his love for racing again – a love that was starting to die out in F1.
"When you are passionate about something, it is like a fire," he said.
"And maybe that fire has been shaken down through the last few years. But when you get a pole and you are leading a race again, it's like, 'hell, yeah'.
"It's hard to do, but when you do it you want to do it again."
The Frenchman is far more widely known around the world after his horrific crash in Bahrain in what proved to be his final F1 race.
That is especially the case in America, and he loves the support he has over there.
"One of the most beautiful moments I've ever experienced was I finished second and did the interview for the crowd and everyone stood up and cheered for me," he added.
"I've been on the podium in Formula 1 but I had never seen so much energy and love coming from the grandstands.
"Even my wife, she cried watching at home. She said 'everything you have been doing the last six months, people I guess realise and love that'. It's a hell of a journey and it's a beautiful journey."
Follow us on Twitter @Planet_F1, like our Facebook page and join us on Instagram!