Brawn admits frustration at Alonso only having two titles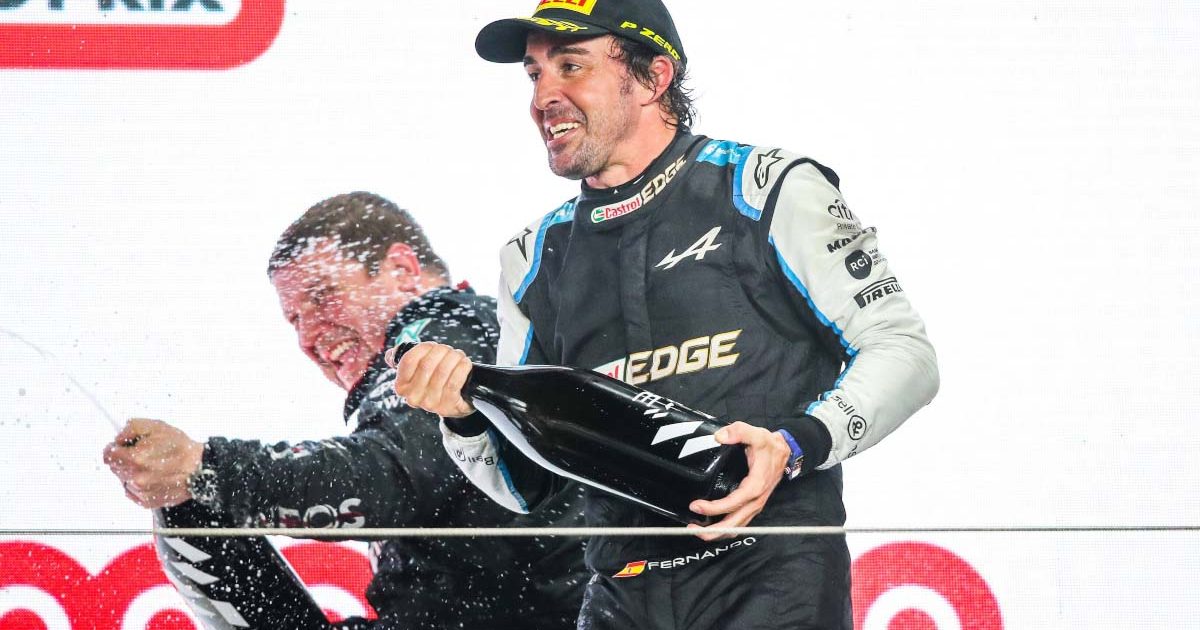 Ross Brawn has said seeing Fernando Alonso 'only' hold two World Championships to his name is a source of frustration for him, given the Spaniard's enduring talent.
The Alpine driver won the fan-voted 'Driver of the Day' award after taking his first podium in 104 starts in Qatar, having qualified well and shown his racecraft throughout Sunday to put himself behind Lewis Hamilton and Max Verstappen at Losail.
It was a popular podium through the paddock and among Formula 1 fans, as Alonso secured his 98th top-three finish as an F1 driver.
But given how naturally gifted Alonso has been and still is, Formula 1's managing director of motorsports feels his title haul should be higher.
"Fernando is my driver of the weekend," Brawn wrote in his column on Formula 1's official website. "Like Lewis, he dialled into the track very quickly and got the car working well.
"That Alpine looked good all weekend. He's just enjoying himself so much. He's in his element.
"I'm a big fan of Fernando and I've always felt frustrated he only won two World Championships for someone of his talent.
"He's easily my driver of the day. He's a man who is still in love with F1 and it shows."
Fernando Alonso's last two visits to the #F1 podium – 2675 days apart.

Welcome back! 🙌#QatarGP 🇶🇦 #F1 pic.twitter.com/lhiGLEPVlK

— PlanetF1 (@Planet_F1) November 22, 2021
Alonso has come close on several occasions to winning more World Championships, missing out by one point in 2007, before coming agonisingly close in 2010 in Abu Dhabi and losing out again to Sebastian Vettel when the Red Bull driver came through the pack in 2012 at Interlagos.
His deficits in those seasons to the eventual title winners combined would mean that eight more points would have drawn him level in the standings, meaning scoring 11 extra points over the course of three seasons would have made him a five-time World Champion.
But given that Alonso took a step back from Formula 1 to race in other categories, Brawn believes that he's used that space to come back refreshed – and the man himself said he feels his preparations for 2022 are now on "another level", with the fresh motivation of a podium underneath him.
"He's hugely talented. Maybe the perspective he's got now, after some time away from the sport, might be helping," he said.
"It's brilliant to see him up there on the podium and brilliant to see Alpine doing so well here this weekend."
Given Alonso's success in Qatar being something of a validation for his comeback, Brawn said that he and the wider Formula 1 community would like to see him stick around for as long as he's competitive.
"Will it entice him to stay around for a while longer? Who knows? I think we all want Fernando around for a while," he said.
"He's driving very well. He deserves to be there, there's no question about that. It's great for the sport, great for the fans, great for everyone."
Alonso shows form is temporary, class is permanent
Fernando Alonso was finally back on the podium after a long seven years.