Brawn assures FIA 'tried everything' at Belgian GP
Formula 1 managing director Ross Brawn said there was nothing more the FIA could have done to get the racing underway in Belgium.
Persistent heavy rain meant that the race could not begin at the originally-scheduled time, with a multiple-hour delay following as the clock was stopped on the three-hour window to complete the Belgian Grand Prix.
But after a second venture out onto the track behind the Safety Car, the conditions were deemed still too treacherous, and shortly after the race was abandoned.
The process of getting to that stage frustrated many, with the question of why the race was not called off earlier asked.
On top of that, by completing the mandatory laps for a race classification under the Safety Car, it did feel as though Formula 1 was simply trying to tick the boxes by technically holding a race.
But Brawn made it clear that there were no more options remaining on the table.
"I feel terrible for the fans, who turned out in their thousands and braved consistently wet conditions in the grandstands to support their heroes," he wrote in his column on the Formula 1 website.
"They showed such dedication and will never forget this weekend.
"Unfortunately, the weather worked against us. It was relentless. The FIA tried everything they could, sending the cars out twice behind the Safety Car to assess the conditions.
"It wasn't so much the intensity of the rain that was the problem, more that it was consistent which led to very poor visibility.
"It's pretty rare to see a weekend where the weather has been so intense, so consistently. Every effort was made to get the race underway safely and normally, there is a window when you can bring the safety car in, but that wasn't possible.
"At the end of the day, safety comes first. And it wasn't safe enough to continue the race. So the FIA did the best they could in what have been very challenging circumstances, of which we've not seen in decades."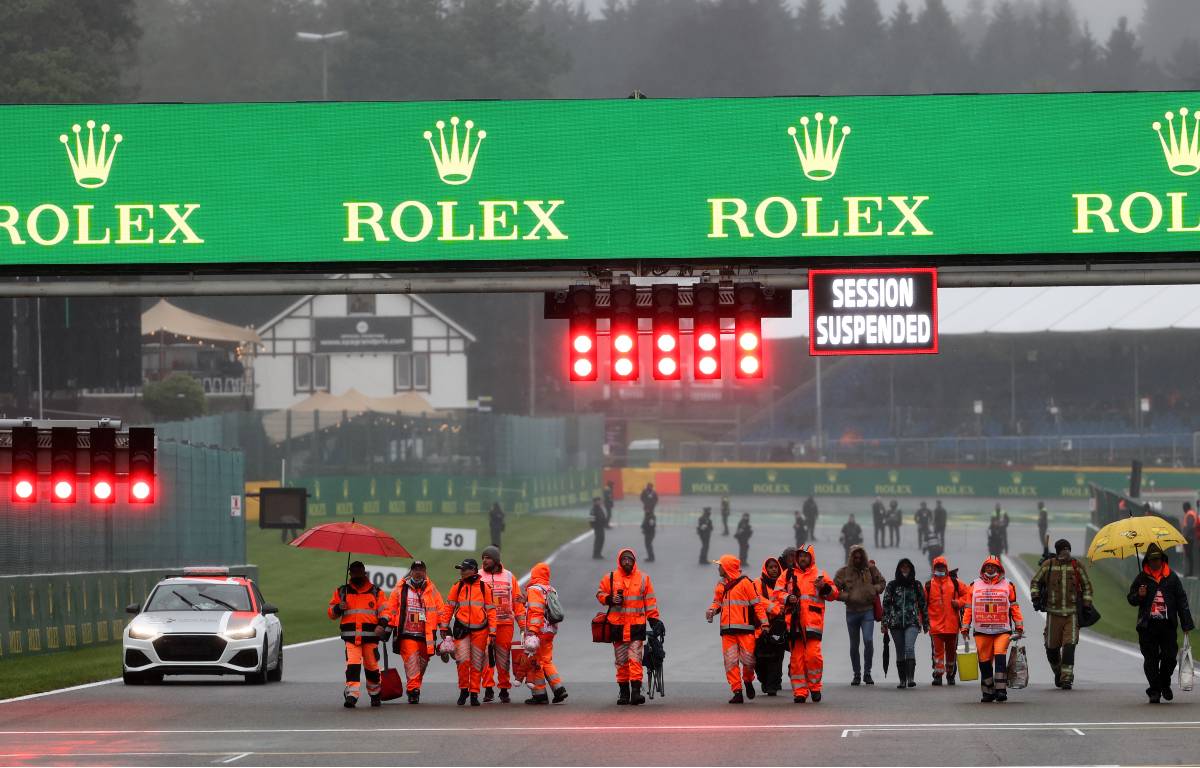 Check all the latest 2021 teamwear via the official Formula 1 store
The 'race' grew more controversial still when it was decided that half-points would be awarded to the top 10.
Brawn accepts this was not an ideal situation, but felt it would have been worse to see the drivers get no reward at all for their efforts in qualifying.
George Russell in particular was a standout, qualifying P2 for Williams, and so he picked up his first podium in Formula 1.
"Half points were awarded. It's not ideal but if you can't reward someone for the race, reward them for the bravery in qualifying," said Brawn.
"A lap like George Russell did in qualifying in the absence of a full race should be rewarded. As I say, it's not ideal, but it's where we are. The weather just wasn't in our corner on Sunday."