'Racing Point must be thinking about decision'
He may be a four-time World Champion but Ross Brawn feels Sebastian Vettel will have "big shoes to fill" when he replaces Sergio Perez next season.
Although Perez arrived on the 2020 grid seemingly one of the most secure drivers, when the 2021 transfer window played out, he was the one left out in the cold.
With Ferrari kicking off the silly season with the announcement that Vettel would be leaving the team, Racing Point ended it by announcing that Vettel would replace Perez in 2021 at the rebranded Aston Martin team.
Instead of sulking, Perez gave team owner Lawrence Stroll and the rest of the paddock cause to question their line ups.
He continued his good run of form with a maiden grand prix victory at Sunday night's Sakhir Grand Prix, moving up to P4 in the Drivers' Championship with 125 points, 92 more than Vettel in a Ferrari.
"This was a thoroughly deserved victory for Checo," F1 sporting boss Ross Brawn wrote in his post-race column.
"I said in this column last week Racing Point may be feeling they underachieved. Well they corrected the scales – big time. And all credit to them. They were there and picked up the pieces and Checo just drove brilliantly.
"We all want to see him next year. It'll be a tragedy if he can't get a car. The team must be thinking about the decisions they have made, losing him when he's driving so well."
But while Brawn is convinced Vettel will be back in top form next season, he concedes the four-time champ has "big shoes" to fill.
"His replacement Sebastian Vettel I'm sure will come back stronger, as he's in a bit of a trough at the moment, but Checo is a guaranteed deal," he added.
"So that'll be interesting to see how that develops.
"In a way, Seb has some fairly big shoes to fill now, even if he's a World Champion."
Perez has all but ruled out a move to Red Bull in 2021, saying he doesn't think it will happen.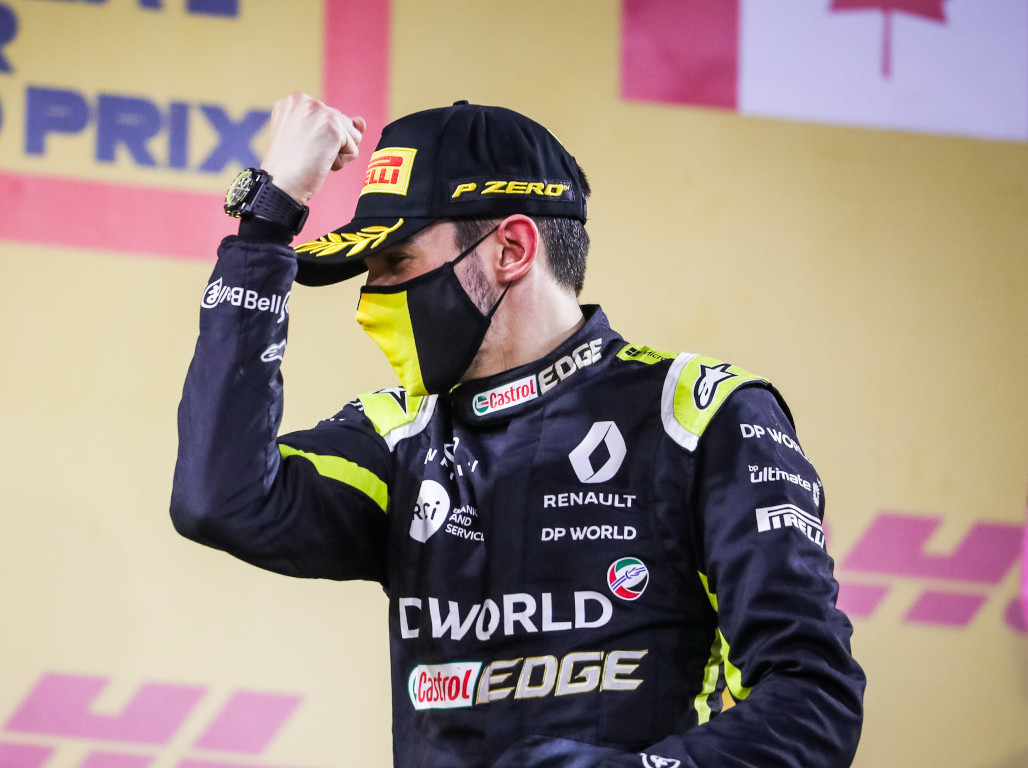 Get your hands on the official Renault 2020 collection via the Formula 1 store
Perez, though, wasn't the only driver achieving a first-ever in Bahrain.
Esteban Ocon raced his way to second place, taking his maiden Formula 1 podium.
The P2 comes near the end of his comeback season with the Renault driver, who spent 2019 as Mercedes' official reserve driver after being dropped by Racing Point, improving as the year progressed after a slow start as he adjusted to life back in Formula 1.
Brawn said: "Esteban will take a huge amount confidence from his podium.
"The Frenchman was out of the sport for a year, and it's surprising how you can lose that edge. It's coming back now, and I think he'll be in great shape for next year.
"No one knows where Fernando Alonso is going to jump in, but Esteban won't be an easy driver to match, so I think his result in Bahrain has come at the perfect time for him."
Follow us on Twitter @Planet_F1 and like our Facebook page.