Formula 1 managing director Ross Brawn has promised a "deep investigation" into Romain Grosjean's horror crash in Bahrain.
The Frenchman veered off into the barriers on the opening lap of the Bahrain Grand Prix following contact with Daniil Kvyat, and upon impact with the barrier Grosjean's Haas split in two and burst in to flames.
It appeared that the barrier opened up, causing Grosjean in the cockpit to go through and land at the other side, meaning the halo device protecting the cockpit was the main reason that we are talking about only minor injuries for the Haas driver.
And the way the barrier parted is of great concern to Brawn.
"It's shocking for everyone in F1 to see an accident of that severity, we're not used to that, fire being involved as well," he told Sky F1.
"But I think it's a tribute to the work that the FIA and the teams have done over the years. I think we remember the controversy of the halo when it was introduced. And I have to give credit to Jean Todt [FIA president], because he insisted that it should come through.
"And I think today, we might be looking at a different situation if we didn't have the halo. And for me, that's what prised, and managed to keep the barrier apart, when the car went through it.
"There's no doubt the halo is the factor that saved the day saved Romain. The team behind it need credit for forcing it through. I don't think anyone can doubt the validity of the halo. It was a lifesaver today.
"But I'm sure we'll have a deep investigation to understand what we can learn from it. Because seeing a barrier split like that is clearly not what we want to see."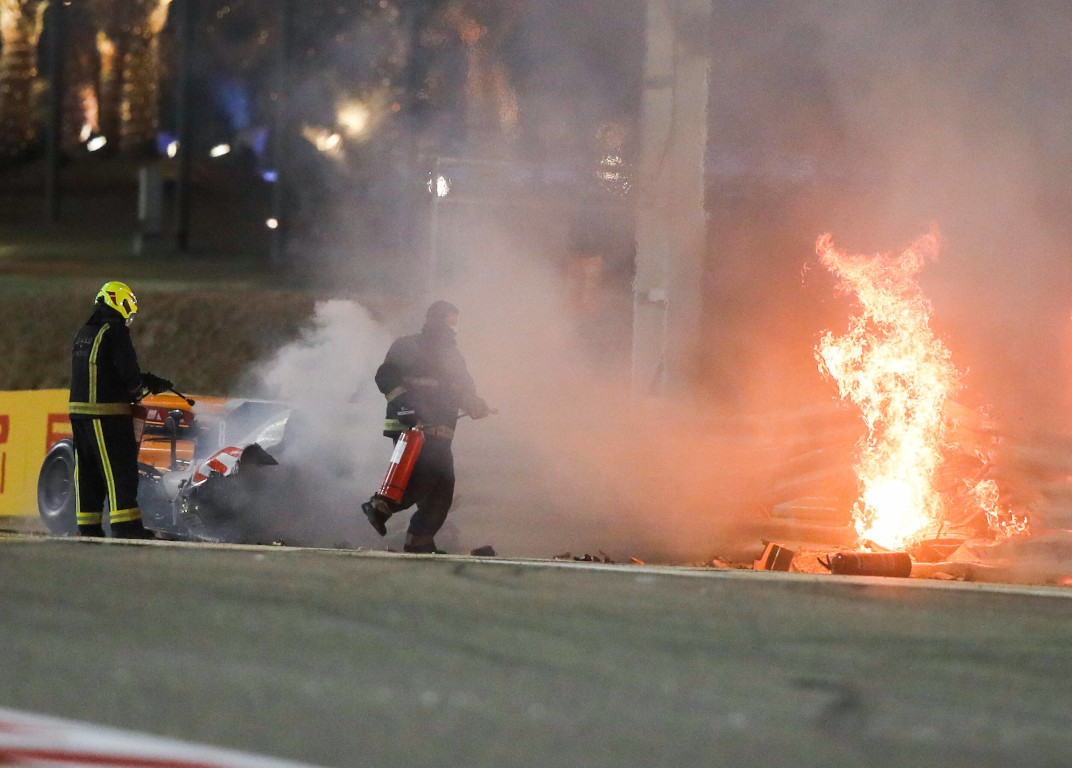 The medical team played a pivotal role in ensuring that Grosjean escaped the wreckage.
Among the first on the scene were medical car driver Alan van der Merwe and FIA medical delegate Ian Roberts.
As Grosjean emerged from the flames it was thanks to the incredible work of them and the medical personnel that they were able to pull him to safety.
"I can't agree more, credit to everyone. Clear thought, clear purpose. They didn't hesitate. They did exactly what they needed to do today, and you can't fault them," said Brawn when asked about the fantastic work of the medical team.
"And we're proud to have them all. And I think it's very reassuring for the drivers to see that level of professionalism, and that response. And from that respect, I think it was perfect.
"Obviously, we don't want to see an accident like that. But in terms of the response. I can't really think there could have been anything more effectively done."
Follow us on Twitter @Planet_F1, like our Facebook page and join us on Instagram!