Rueda 'a decisive figure' in Ferrari success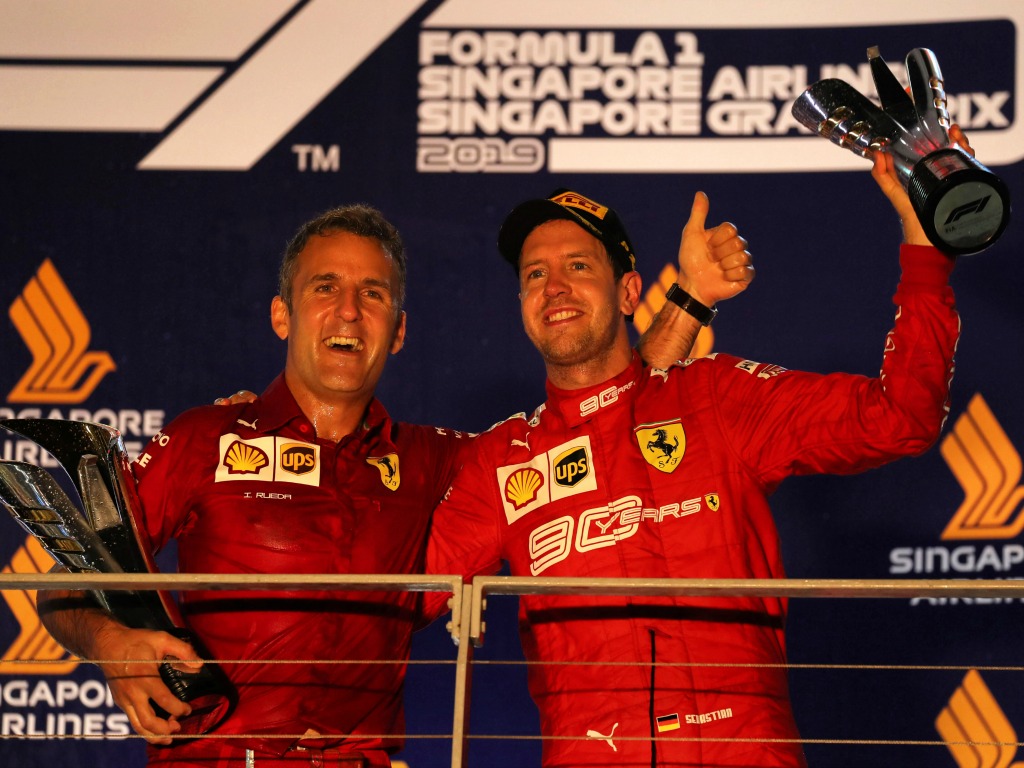 Iñaki Rueda, Ferrari's chief strategy officer, has been praised in the Italian press for his role in the Scuderia's recent successes.
Rueda has had to face his fair share of the blame in a season which has not always gone Ferrari's way but, he was able to 'take his revenge' with Ferrari's latest run of victories.
Rueda was present on the podium with Sebastian Vettel and Charles Leclerc in Singapore, acknowledgement for his role in a weekend where Ferrari were supposed to be third best behind Mercedes and Red Bull.
"It's a hard work for those who make strategies in F1," wrote Luigi Perna in Wednesday's edition of La Gazzetta dello Sport.
"Take Iñaki Rueda, the head of Ferrari's strategy team, who has been crucified for the error that lead to the elimination of Charles Leclerc from Q1 in Monte Carlo.
"That day Mattia Binotto had to do his best to protect Rueda but, in the last few races, Rueda took his revenge. He turned out to be a decisive figure in the successes of Spa and Singapore.
"The race engineers got it all right in Singapore. First by slowing down the pace of Leclerc, who had the lead from pole position, in order to keep all the cars close and prevent rivals from anticipating the pit stop due to the risk of being stuck in traffic.
"Then making Vettel stop in the pits before the other big names, a move that allowed the German to jump from third to first place, bypassing the Mercedes of Lewis Hamilton and also his team-mate.
"The strategy was also fundamental at Spa. In that case Vettel had to be sacrificed, passing a faster Leclerc after the pit stop and acting as a blocker on Hamilton on his return from the pits.
"In Germany, the readiness of the Ferrari pit wall also helped Vettel's comeback from last to the second place, always deciding at the right moment to switch from wet to dry tyres.
"Thanks to the brains of the remote garage, a group of forty engineers who occupy a control centre back at Maranello, they are connected in real time with Rueda, the only person in charge of Ferrari strategy."
Follow us on Twitter @Planet_F1 and like our Facebook page.