Rain is forecast on all three days at Russian GP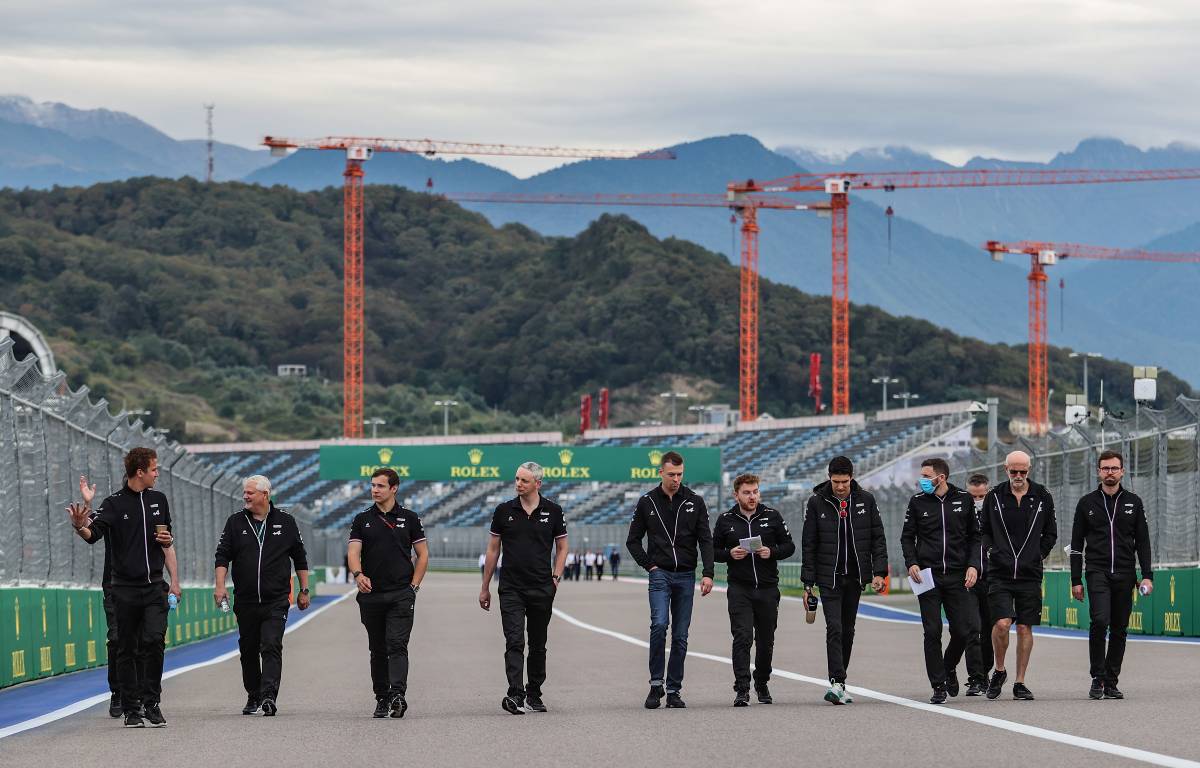 A wet weekend in Sochi is expected with rain in the forecast for all three days of the Russian Grand Prix.
Formula 1 fans were left desperately frustrated the last time rain fell on a race weekend as no full-speed laps were possible in the Belgian Grand Prix – a result eventually being declared after a couple of brief forays behind the Safety Car.
This time, Friday and Saturday look like being most affected by downpours. On Friday, the first practice session is more probably when wet or intermediate tyres will be needed.
The chance of rain, according to the BBC weather forecast, is over 80% at around breakfast time in Sochi, and still up near 60% mid-morning when FP1 begins. By mid-afternoon, for FP2, the rain is expected to have given way to brighter skies and a temperature of 18 degrees.
The showers are forecast to be lighter in intensity on Saturday but a wet FP3 and qualifying session is very much on the cards.
Indeed, it looks just about certain that qualifying will be run on a damp circuit because there is a 100% chance of rain between 2pm and 3pm local time, and only just below that for the hour either side.
The fear, therefore, is that qualifying could be severely disrupted or even not take place altogether at its scheduled time if those 'light' showers are heavier than anticipated.
We all see it's a natural dip and simply a puddle, right? And that the track/area in the background is looking pretty good, yeah?
You are all truly scarred for life after Spa! 😅

It's gonna be good!

— Carlin (@CarlinRacing) September 21, 2021
F1 TV are offering PlanetF1 readers 10% off both monthly and annual subscriptions! In order to claim this fantastic discount, click the following link and use the promo code PLANETF10 at checkout!*
*The offer ends at midnight on September 26 and excludes Netherlands
Even the prospect of qualifying being brought forward, were that to be possible on the events timetable, would be dubious as Saturday morning also looks like being wet, albeit less so than the afternoon.
As for race day, that presents a better picture, although there is still a 28% chance of rain in each of the two hours when the grand prix is due to take place.
Light showers and sunshine is the picture for Sunday morning in Sochi, with the afternoon looking cloudy and a high temperature predicted of 20 degrees.
Fernando Alonso on the possibility of a wet race weekend. "It is a flat track with no elevation changes. The water stands quite a lot. So visibility is pretty bad around here in the wet.
"Hopefully it does not rain on Sunday. Hopefully we do not have a second Spa."
Wet conditions are unusual for Sochi, but one man who may welcome something to mix it up is Max Verstappen as he faces a three-place grid penalty for being predominantly at fault in his collision with Lewis Hamilton at Monza.
The Dutchman took pole position on that soggy weekend at Spa, which led to a 12.5 half-points haul for a 'race' win, and he now defends a five-point lead in the standings at the Black Sea resort that hosted the Winter Olympic Games in 2014.