Sainz: Hulkenberg said 'sorry' for first-lap crash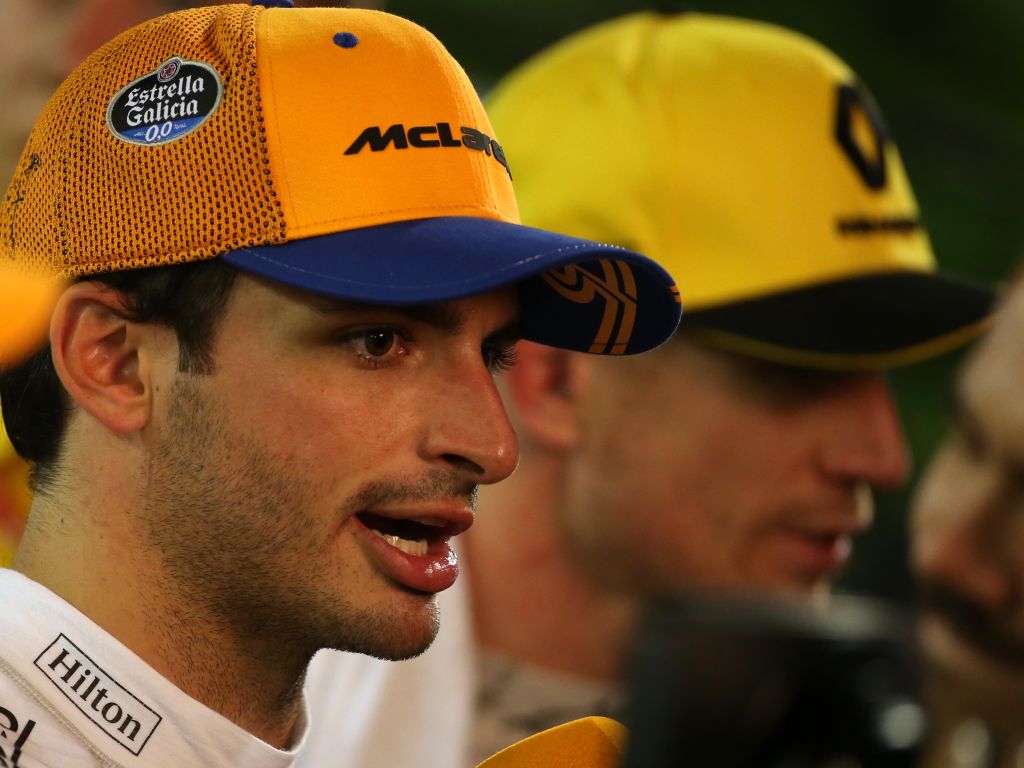 Carlos Sainz confirmed that Nico Hulkenberg said "sorry" for the first-lap incident which ruined their respective races in Singapore.
McLaren's Sainz kept P7 off the line with Hulkenberg also retaining his P8, but as Sainz tried to make a move around the outside of Albon at Turn 5, Hulkenberg took the inside line and hit the Spaniard.
Sainz suffered a puncture and floor damage, ultimately finishing the race in P12, while Hulkenberg also stopped at the end of his first lap for new tyres.
Although Hulkenberg did apologise to Sainz after the race, he was frustrated at the amount of points both of them had potentially lost, and believed Hulkenberg would be regretting the move.
"I was thinking about overtaking Albon," Sainz explained to reporters in Singapore, "and so Nico was not really on my radar.
"I really got a good start, Albon defended on the inside and I went around the outside, and then I wanted to close the door, which meant I had to brake and maybe Nico saw it as an opportunity.
"[It was an] opportunistic, ambitious move, which honestly after the race he came to me and said he's sorry about it! It's a shame because it could have been P7 and P8 for us today and maybe he's regretting it now.
"Honestly, with the pace we've had this weekend, and the pace I even had with the damaged car, today was an easy P7.
"It was so easy today to grab it, and that is disappointing because of that incident we didn't even fight for it.
"Nico is a great driver, a great guy and I'm not going to take it out on him but we both know we both had an easy P7 and P8 in our hands after being there in the first three corners."
The chequered flag waves on the #SingaporeGP, a hard-fought race by both drivers. 👊

A points finish after a great drive from Lando, who finishes P7. Carlos fought up to P12. 🇸🇬🤝 pic.twitter.com/ccdmxzOijk

— McLaren (@McLarenF1) September 22, 2019
Hulkenberg insisted that he tried to avoid Sainz but was unable to do so.
"I was attacking him, but there was sort of moving left-right, and he was on the left preparing the exit of five, and I went on the inside. I was well alongside him, but then I saw that he just turned in quite aggressively and wasn't going to leave space, so I tried to back out of it," the Renault driver explained.
"I went on the inside kerb, everything, couldn't avoid the wheel-to-wheel contact anymore, I picked up a puncture and he also had some damage."
Follow us on Twitter @Planet_F1 and like our Facebook page.