Sprint: George Russell clinches his first Formula 1 victory in Sao Paulo GP thriller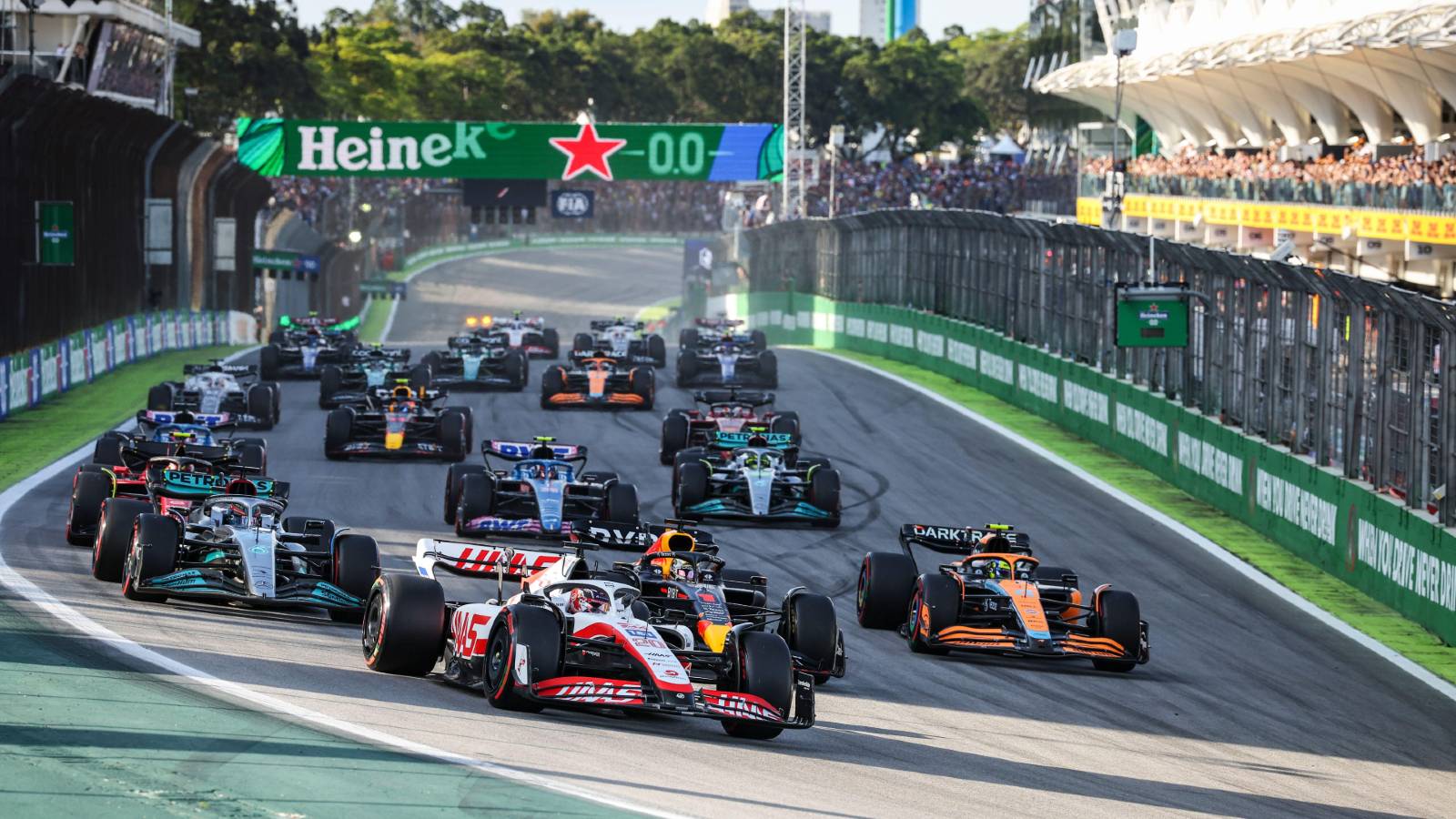 It was a sprint rather than a grand prix, but George Russell now has a Formula 1 win to his name after turning from zero to hero at Interlagos.
The Mercedes driver had ended Sao Paulo Grand Prix qualifying stuck in the gravel after skating off a slippery circuit, but still started third on the sprint grid as nobody had chance to eclipse his time.
But on a rare occasion when Max Verstappen was vulnerable, and pole-sitter Kevin Magnussen unable to capitalise on his sensational Friday result, it was Russell who stepped up on an excellent day for Mercedes.
Carlos Sainz finished second behind the Briton, whose team-mate Lewis Hamilton was third while Verstappen slipped to fourth.
Magnussen had caused the biggest F1 qualifying shock for many years when he claimed pole, helped by factors including the on-off rain and Russell becoming 'beached' to trigger red flags that denied his rivals the prospect of any further dry Q3 running.
Saturday's weather conditions were in stark contrast to a dreary Friday, with the sun having shone for FP2 in which Esteban Ocon sprang another surprise by going fastest – and the sky remained blue but with some cloud cover for the 24-lap sprint.
Magnussen was on the racing line at the start and yet knew he would have a devil of a job staying ahead of Verstappen into the opening sequence of corners, even though the World Champion had bucked the trend by starting on the medium tyres rather than the softs used by everyone else except Nicholas Latifi.
That was not how it turned out, however, as the Dane led away comfortably with Verstappen encountering early pressure from Russell. It was lap three before Verstappen got past the Haas and next time around on the start-finish straight, Russell followed suit. Carlos Sainz demoted Magnussen to fifth, the Dane also soon having Lewis Hamilton on his tail.
Fernando Alonso, meanwhile, made contact with his Alpine team-mate Ocon, sustaining damage and having to stop for a new front wing. "Well done" was the sarcastic team radio message from Alonso, referring to "our friend" – reflecting his seemingly deteriorating relationship with the Frenchman.
Two more colleagues also got together in the wrong kind of way as Lance Stroll defended aggressively against Sebastian Vettel, putting the German onto the grass. At his next attempt, Vettel got the better of that Aston Martin battle – and the stewards later hit the Canadian with a 10-second time penalty.
Back at the sharp end, Russell was within DRS range of Verstappen and at halfway launched a powerful challenge to the Dutchman. He drew alongside on two consecutive laps in some thrilling action, towing along Sainz and Hamilton to make it a potential four-way scrap at the front. "I hit some debris," said Verstappen over team radio, perhaps explaining his struggles.
At the third time of asking, Russell got past the Red Bull, helped by a slipstream, as the man who replaced him at Williams, Alex Albon, became the first and only driver to retire – booking himself P20 on the grid for the race.
Sainz then passed Verstappen for second as the duo made contact, the Red Bull sustaining front-wing damage for his ensuing battle with Hamilton for third which went the way of the former champion after another duel.
As Russell raced away for his maiden win and pole position for the main event, Verstappen held off his team-mate Sergio Perez for fourth ahead of Charles Leclerc, Lando Norris and Magnussen, who earned a point for his qualifying endeavours by clinging on for eighth.
With Sainz having a five-place grid penalty for the race, dropping him to seventh, it was not yet a guaranteed front-row lockout for Mercedes.
That was because Hamilton had a start-line infringement referred to the stewards, who would investigate after the race along with similar incidents involving Zhou Guanyu and Daniel Ricciardo.
Sprint Result
1 George Russell Mercedes 24 laps
2 Carlos Sainz Ferrari +3.995
3 Lewis Hamilton Mercedes +4.492
4 Max Verstappen Red Bull Racing +10.494
5 Sergio Perez Red Bull Racing +11.855
6 Charles Leclerc Ferrari +13.133
7 Lando Norris McLaren +25.624
8 Kevin Magnussen Haas +28.768
9 Sebastian Vettel Aston Martin +30.218
10 Pierre Gasly AlphaTauri +34.170
11 Daniel Ricciardo McLaren +39.395
12 Mick Schumacher Haas +41.159
13 Zhou Guanyu Alfa Romeo +41.763
14 Valtteri Bottas Alfa Romeo +42.338
15 Fernando Alonso Alpine +48.985
16 Yuki Tsunoda AlphaTauri +50.306
17 Lance Stroll Aston Martin +50.700
18 Esteban Ocon Alpine +51.756
19 Nicholas Latifi Williams +76.850
20 Alex Albon Williams DNF