FIA confirm the lengthy list of track changes made at the Jeddah F1 circuit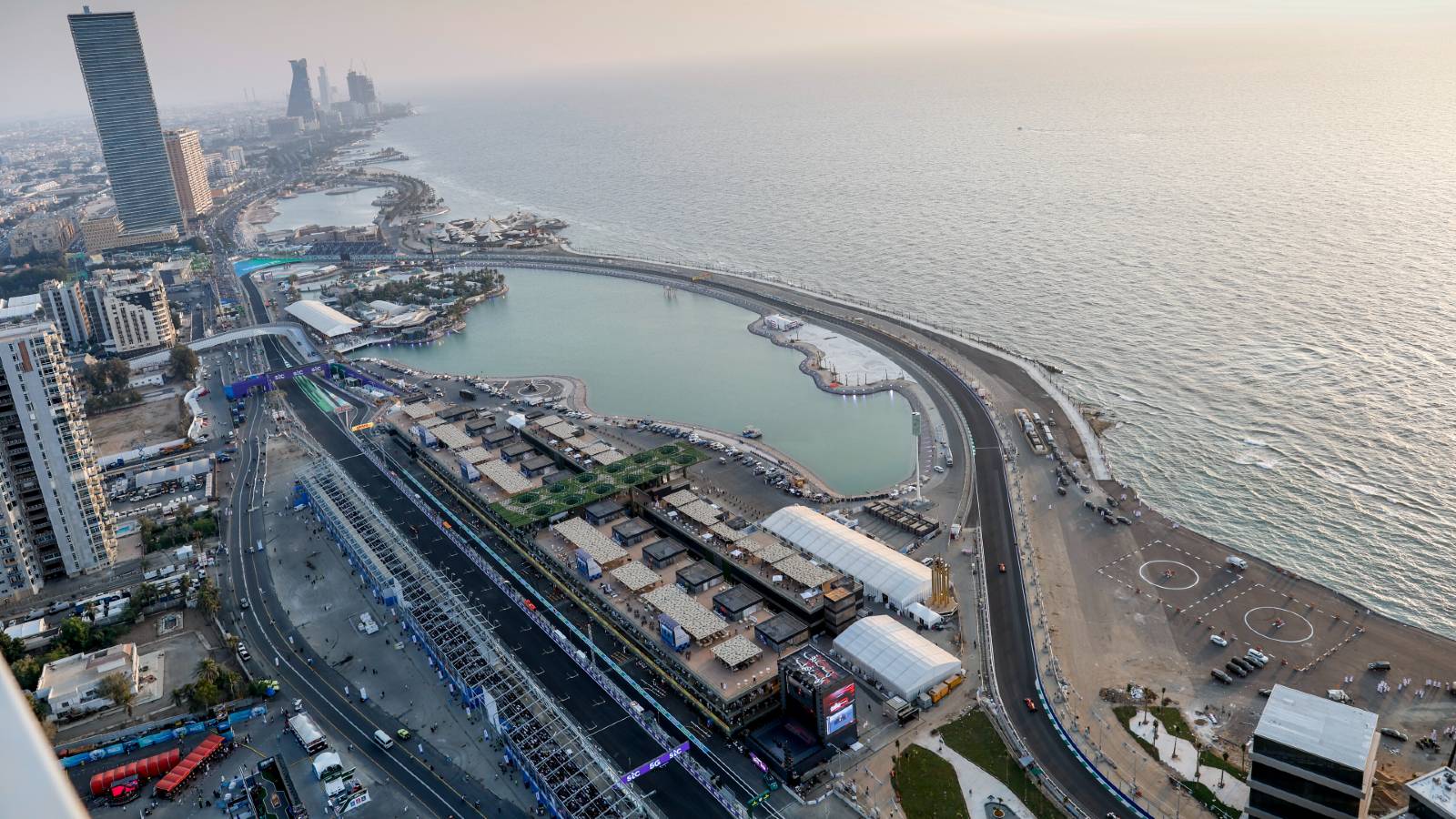 The third edition of the Saudi Arabian Grand Prix is almost here, and we can expect to see plenty of changes in Jeddah to the track itself, and the surrounding area – with the FIA having now confirmed the exact tweaks to come.
The Jeddah Corniche Circuit has already proven to be a track that can offer up great entertainment when the Formula 1 cars are let loose, both the 2021 and 2022 Saudi Arabian GPs ranking right up there among the best races of those respective seasons.
That being said, it was not all positive feedback from the drivers, as a safety concern brought up by some was a lack of visibility through the circuit's trademark fast corners.
This has been a main focus for the circuit during Formula 1's time away, with the fencing modified around five corners, while the Turn 22/23 section has been tightened by starting Turn 22 10m later than previously, and Turn 23 5m later than last year in the only full layout change.
There are also barriers and walls being moved back compared to last year to improve how much the drivers can see, as well as new kerbs and rumble strips being put in place in Jeddah to make things safer all round for the drivers.
Speaking on the F1 Nation podcast about the alterations to the track and general surroundings, Saudi Arabian Grand Prix CEO Martin Whitaker said: "For a start, it looks a lot more mature. So it's sort of grown up, the palm trees actually now look like proper palm trees!
"And just the whole sort of guest journey is a lot better, so when you arrive at the circuit, all the roads have now been finished, so they've all got proper pavements, they've got proper lighting.
"Which sounds like a ridiculous thing to say, but if you remember, ahead of the first race, the municipality dug up all the roads, admittedly to make it look better, it's just that we didn't get it finished in time. So the place just looks a lot more professional.
"On track, of course, there are more changes. The drivers are going to be I think, really quite pleased because obviously the first time they get a chance to have a look will be when they walk around on Thursday.
"But during the winter months, we've again made some quite interesting changes to improve the sight lines. So, on five of the corners, we've moved the fences back by anything between two and seven metres. So in some places, it's quite a marked change to the overall look and feel of the circuit.
"Then we've also removed the steel plates that we'd put in on the inside of a number of the corners. The concrete barriers are effectively edged to go around a corner, so they have shoulders.
"So actually the FIA said 'no, we're quite happy with those, let's remove the steel plates'. We've removed those from six corners.
"There is a change to one of the corners. The perimeter of the track has not changed apart from in one place, and that is [Turn] 22, 23. That corner has been tightened, so that will make that corner probably 30 kilometres slower.
"So therefore, they will be going on to effectively the back straight or that long curve between 23 and 27, they will be entering that at a slower pace. So it'll be interesting to see how that works out."
So, with these changes, it begs the question of that will effect the lap times in Jeddah?
Well, despite the reduction in speed at turns 22 and 23 that Whitaker mentioned, he nonetheless suspects that a lap on average of the track will now become slightly faster.
"It will reduce the lap time somewhat, but probably not an awful lot," he said.
"I mean, effectively, you could argue that improve sight lines could even give drivers greater competence through some of the corners. So we might see even greater speeds through some of the corners."
In addition, Whitaker explained that the kerbs have also received attention, and will now be far smoother in gradient.
He explained that the old versions had proven to be fine with the previous generation of challengers, but turned out to be an issue in 2022 when the new ground-effect cars were unleashed.
Put to him that Mick Schumacher's big qualifying crash here last year highlighted the duty to protect drivers, Whitaker replied: "Good point, I should have mentioned we have changed the kerbs.
"One of the issues, if you remember was that track was designed and constructed in the '21 era car, and therefore when we got to the '22 era car, I imagine that there will be other circuits who faced this issue as well, the kerbs did not work well with the modern era car and as a result of that '22 design.
"And so to that end, we've changed pretty much all of the kerbs as well, they're much smoother up and a much decreased angle on the backside of the kerb so that you won't get a car effectively losing traction when it gets on top of the kerb."
Tom Clarkson, host of the podcast, then mentioned to Whitaker that he had 'rumble lines' in his notes for the track, likening it to the blue lines seen in skiing to guide the competitors on the course.
They are a fairly common sight on public roads, and Whitaker indeed confirmed that the Formula 1 variation to this can be found at the Jeddah track, and that it would even be possible to play a tune with them if drivers hit them in the right way.
"It is difficult to explain what they are," Whitaker stated. "They look like sort of elongated, I suppose cats eyes, sort of the size of a sausage!
"So that's effectively what they are and I think really, it's quite simple. They are on the inside of the apex, they probably stretch for however long they need to stretch on the inside of a number of corners, particularly the corners where we've opened up to sort of between five and seven metres.
"And effectively as a driver, you're just going to feel those. One amusing note was that they thought that if we had them at varying intervals, that they will actually play a tune as you go along!"
PlanetF1.com recommends
Saudi Arabia Grand Prix weather: Tricky conditions set to challenge F1 drivers in Jeddah
Mercedes not expecting to be within reach of 'super dominant' Red Bull in Jeddah
Red Bull wary of Ferrari threat with Jeddah expected to better suit SF-23
F1 TV Pro* viewers can watch all the live action from all 23 race weekends this season completely ad-free! Click here for the ultimate F1 viewing experience.
*Available in selected territories only. Click here to see eligible territories.
Admittedly, Whitaker said that not every possible circuit change brought up could feasibly have been implemented.
But, he said that all changes have been made in line with the wishes of Formula 1 and the FIA, with Grand Prix Drivers' Association director George Russell, who will compete at the track with Mercedes, also having his say, as did all the drivers through Formula 1.
"Obviously the drivers have expressed concerns about those sight lines," Whitaker acknowledged.
"Let's get this correct before we go any further, I think the drivers love the track, I think they love the fact that it's fast, they love the challenge of it, they love the surface don't forget, because the one thing that we always wanted to make sure in that build-up to race one was that the tarmac, the actual surface was quick and everything like that.
"And I think we've dispelled any theories about what they were going to be delivered, so that's great. But yeah, obviously, we've done all the changes very much in league with Formula 1 and with the FIA, both of them have been very involved.
"And clearly the F1 team, originally through Ross [Brawn], they engaged with the GPDA and particularly with people like George, to make sure that we were doing what we could do.
"Now, we haven't been able to do everything, purely because of time, but more importantly, the location. This is actually a very narrow strip of land, so we're actually operating on quite a narrow strip.
"So therefore, we can't do everything, and also you've got bridge posts and what have you in the way on certain corners if we went further back.
"But yes, we have engaged with drivers, and they have been involved, admittedly through Formula 1, not through ourselves."
Full FIA changes to Jeddah Corniche Circuit for 2023
Turn 3: Painted kerb.
Turn 4: Steel plate removed.
Turn 5: The existing mobile steel kerb has been replaced by a permanent concrete bevelled kerb. At the back of the kerb an asphalt transmission has been constructed with not more than 4% inclination.
Turn 8: New alignment of wall, offset to old wall 7.80 m.
Turn 8: The existing mobile steel kerbs (apex and exit) have been replaced by a permanent concrete bevelled kerb.
Turn 10: New alignment of wall, offset to old wall 9.40 m.
Turn 10: The existing mobile steel kerbs (apex and exit) has been replaced by a permanent concrete bevelled kerb.
Turn 11: A row of grey TECPRO Barriers have been installed at the inside of Turn 11 exit on drivers left from the vehicle opening to the end of the track light posts.
Turn 11: A "Rumble strip" has been added behind to the verge at RHS (right-hand side).
Turn 14: New alignment of wall, offset to old wall 5.80 m.
Turn 14: Painted kerb and "rumble strip" has been added to the verge.
Turn 16: Steel plate removed.
Turn 17: The existing mobile steel kerb has been replaced by a permanent concrete bevelled kerb.
Turn 19: A painted kerb and "rumble line" has been added in the verge.
Turn 20: New alignment of wall, offset to old wall 3.70 m.
Turn 20: Painted kerb and "rumble strip" has been added to the verge.
Turn 21: Painted kerb and "rumble strip" has been added to the verge.
Turn 22: Steel plate removed.
Turn 22/23: Turn 22 starts approx. 10 m later, Turn 23 moved by approx. 5 m. The existing mobile steel kerbs have been replaced by a permanent concrete bevelled kerb. This is the only layout modification.
Turn 24: Steel plate removed.