Qualifying: Sergio Perez takes pole as Max Verstappen forced out in Q2 in Jeddah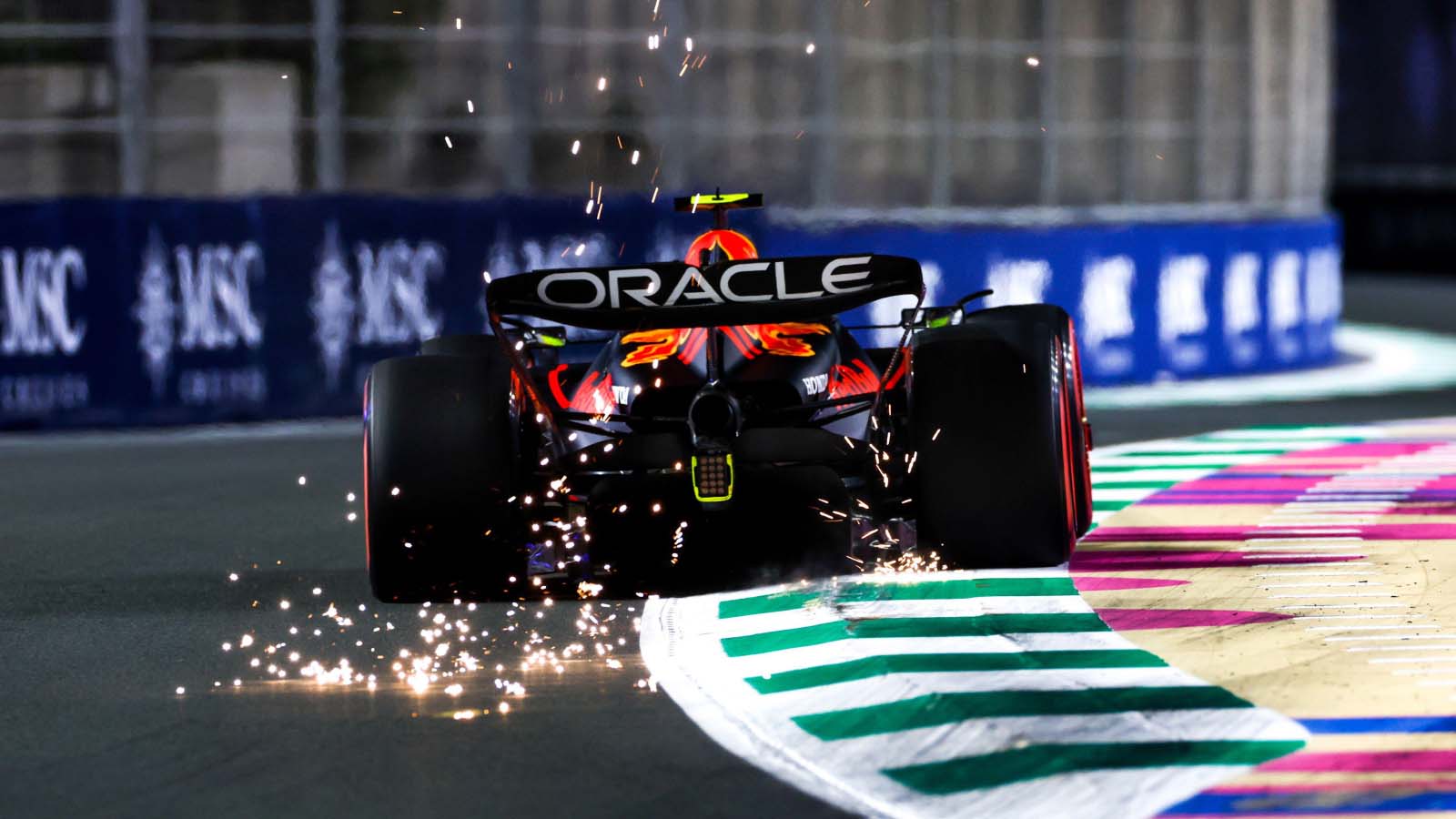 Sergio Perez will start on pole for the Saudi Arabian Grand Prix for the second year in a row after an entertaining qualifying session in Jeddah, though Max Verstappen suffered a mechanical issue in Q2 which will see him start all the way down in 15th.
After Ferrari seemingly struggled for pace in final practice, Charles Leclerc put in an excellent lap on his final tour of Jeddah to qualify second, but a 10-place grid penalty will see him drop to 12th and Fernando Alonso will inherit a front-row slot alongside Perez come Sunday.
George Russell and Carlos Sainz will make up the second row, ahead of Lance Stroll and Esteban Ocon as five different cars fill the first six slots on the grid for Sunday's Saudi Arabian Grand Prix.
Judging by the pace Red Bull showed in FP3, the make-up of the front row looked to be a foregone conclusion before the qualifying session had even started – with Verstappen a second faster than the third-fastest car in final practice.
But early in Q1, it was AlphaTauri's Nyck de Vries who found himself in a spot of bother when he spun round under braking at Turn 1 – having missed FP3 through having a full power unit change on his car. The rear of his AT04 appeared to lock as soon as his foot touched the brake and the Dutchman was left with four flat-spotted tyres for his troubles.
Elsewhere, Lando Norris turned in slightly too early at the final hairpin of Turn 27 and tagged the inside wall with his left-front tyre, forcing him to abort his first flying lap and head back to the pits. Fernando Alonso also spun round as the drivers explored the tight limits of the Jeddah Corniche Circuit, with plenty of jeopardy around the walled street layout.
Yet another spinner came later in the session as Logan Sargeant found himself facing backwards on the exit of the Turn 22/23 chicane – newly reprofiled for this year to reduce entry speed at that section – and the Williams driver was able to turn himself around and get going again.
The damage to Norris' McLaren forced an early exit from Q1 and from qualifying altogether, as a P19 grid slot awaits Norris alongside Sargeant, whose first lap time was deleted for a track limits breach by crossing the pit entry line on his way to the finish line – having set a time good enough to get through to Q2.
He tried again for one final run, but an impact on the kerb at Turns 1 and 2, followed by a brush with the wall, damaged his Williams and forced Sargeant to abort.
Yuki Tsunoda, Alex Albon and De Vries were the others to fall in Q1 – with just 0.010s separating Tsunoda from Valtteri Bottas and a place in Q2.
PlanetF1.com recommends
Toto Wolff quizzed about the sudden departure of Lewis Hamilton's performance coach
Red Bull opt for caution by fitting new gearbox for Max Verstappen
Mechanical issues force Max Verstappen out in Q2 in Saudi Arabia
A queue formed at the end of the pit lane as qualifying continued, but all was not well for Verstappen as he trundled around Jeddah. He suffered what he called a "big moment" with a snap of oversteer at Turn 14, before slowing with what sounded like a transmission issue – with drive going from his gearbox.
He already had a gearbox change earlier in the weekend, but while he was able to crawl back to the pit lane, a resigned climb out of his car with several minutes still remaining in the session saw Verstappen out early – and suddenly, qualifying appeared to be a much more open affair.
Both Alfa Romeo and Haas pairs would ultimately join Verstappen in getting knocked out in Q2, but given the way the reigning World Champion had dominated free practice, the final part of qualifying had lost the outright favourite for pole position, meaning the P1 slot was seemingly much more up for grabs.
But the start of Q3 is where Perez came to the fore, his first effort around half a second faster than anyone else could manage as last year's polesitter appeared to pick up where his team-mate had left off in terms of raw pace.
Nobody was able to match that first run from the Mexican, though Leclerc was able to get to within two tenths of him at the last, and both Aston Martins fell away in the final part of the lap after almost matching the Red Bull in the first two sectors.
Qualifying classification
1 Sergio Perez Red Bull 1:28.265
2 Charles Leclerc Ferrari + 0.155
3 Fernando Alonso Aston Martin + 0.465
4 George Russell Mercedes + 0.592
5 Carlos Sainz Ferrari + 0.666
6 Lance Stroll Aston Martin + 0.680
7 Esteban Ocon Alpine + 0.813
8 Lewis Hamilton Mercedes + 0.958
9 Oscar Piastri McLaren + 0.978
10 Pierre Gasly Alpine + 1.092
11 Nico Hulkenberg Haas 1:29.451
12 Guanyu Zhou Alfa Romeo Racing + 0.010
13 Kevin Magnussen Haas + 0.066
14 Valtteri Bottas Alfa Romeo Racing + 0.217
15 Max Verstappen Red Bull + 20.502
16 Yuki Tsunoda AlphaTauri 1:29.939
17 Alex Albon Williams + 0.055
18 Nyck de Vries AlphaTauri + 0.305
19 Lando Norris McLaren + 0.508
20 Logan Sargeant Williams + 38.571