Saudi Arabian GP: Sergio Perez wins race but Max Verstappen keeps championship lead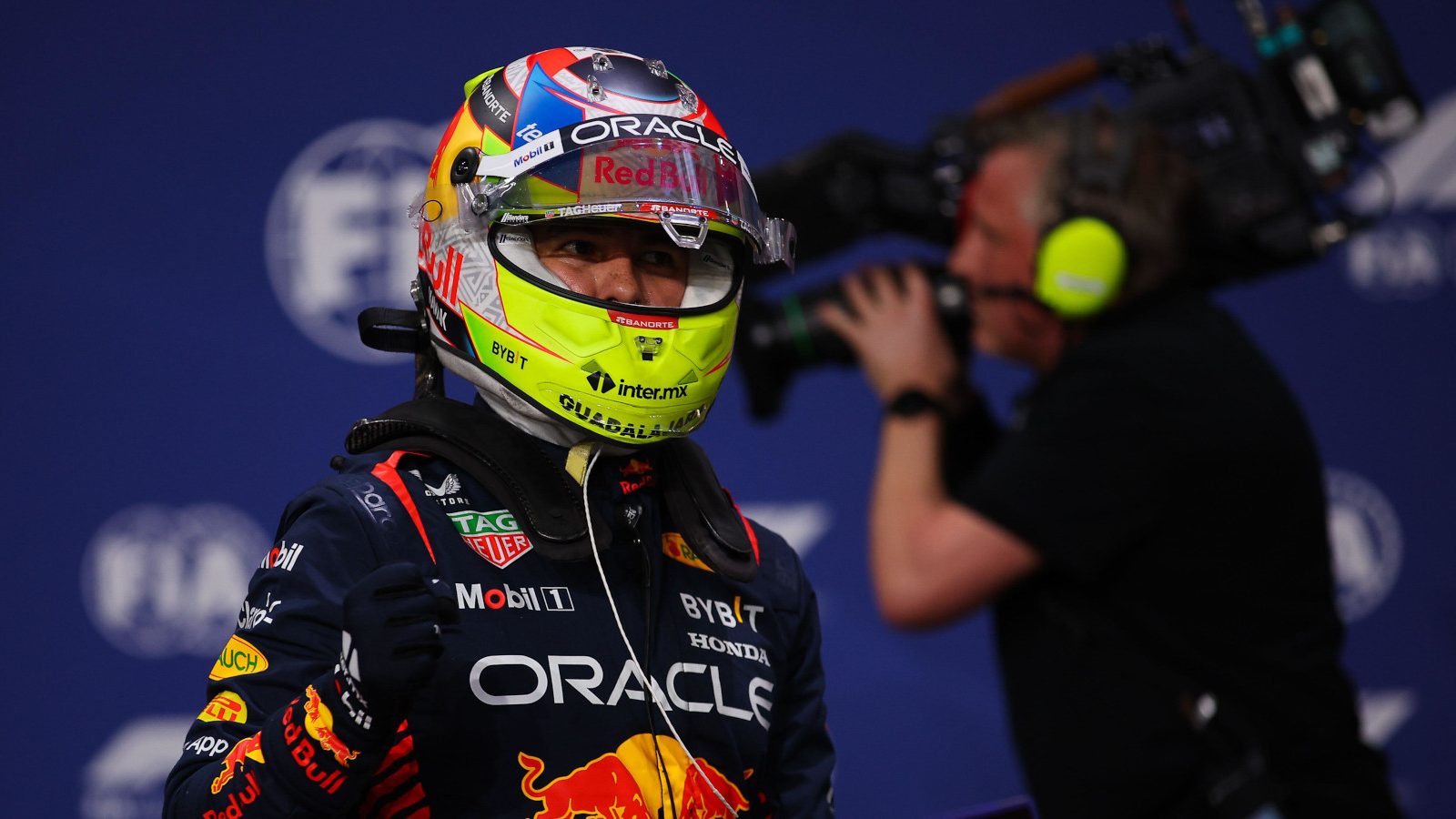 Sergio Perez had the pace to hold off Max Verstappen to win the Saudi Arabian Grand Prix, the Mexican driver's prowess on street circuits once again on display.
After a brief glitch at the start when Fernando Alonso took the lead, Perez was P1 on Lap 4 and didn't look back even with his team-mate looming in his mirrors, taking the chequered flag six seconds ahead of the reigning World Champion with Alonso P3.
Verstappen took the fastest lap point on the very last lap of the race to retain the lead in the championship by a point ahead of his team-mate.
Verstappen's reliability troubles continued ahead of the race with Red Bull fitting his RB19 with the Bahrain driveshaft, unable to fix the one that failed in qualifying. The team was later seen working on the car on the grid after Verstappen reported a slippery pedal with fluid leaking onto it on his out-lap to the grid.
The reigning World Champion lined up P15 on the grid, his team-mate Perez on pole position ahead of Alonso, George Russell and Carlos Sainz. The other Ferrari of Charles Leclerc was down in 12th place having taken a third Control Electronics. The Monégasque driver was one of only two starting on the soft tyres, and questioned Ferrari about that, with Lewis Hamilton in P8 one of two on hards.
As the drivers stormed off the line Perez cut across the track to block Alonso but the Aston Martin driver went up the inside and into the lead. He was noted for an incorrect start position, hit with a five-second penalty. "Copy," was the Spaniard's response. Russell was up to third while the other Aston Martin was also on the move, Lance Stroll going around the outside of Sainz for fourth.
Oscar Piastri lost positions and a piece of bodywork, the Australian into the pits for a new front wing. His team-mate Lando Norris was in the following lap, also for a new front wing. Hamilton was up one place to seventh, Leclerc jumping from 12th to ninth, and Verstappen up to 13th.
The lead changed on Lap 4, Perez using his DRS to pass Alonso but having a small lock-up in the process. His team-mate was also on the move, passing the two Haas drivers and then Zhou Guanyu to break into the top ten. Hamilton, Pierre Gasly and Leclerc ran a DRS tow with Leclerc passing the Alpine before chasing down the Mercedes, who was noted for weaving.
Leclerc took P7 off Hamilton, Alonso was told he's "definitely Plan A", Hamilton reported the grip on his tyres "sucks", Verstappen passed Gasly to close in on Hamilton's rear wing, and Valtteri Bottas made the first scheduled stop on lap 10. Two laps later Verstappen breezed by Hamilton and Perez was told his front right was looking "sad". The gap between the two Red Bulls 20 seconds. A lap later Leclerc was P6 having taken Esteban Ocon.
Stroll was the first of the top ten to pit, coming in on lap 14, followed by Gasly, Sainz, Leclerc, who pitted as Verstappen cruised up to his rear wing, and Ocon. Both Ferraris got the jump on Stroll only for the Canadian to exit the race, told to "stop" his car which he did so at Turn 10 with the Safety Car coming out.
That saw the rest of the field except Logan Sargeant pit, Perez, Alonso, Russell and Verstappen running first to fourth after stops ahead of Sainz, Hamilton, Leclerc and Yuki Tsunoda. Ocon and Gasly completing the top ten. The racing resumed on lap 21 with Perez given a free run as Alonso moved to cover off Russell with Hamilton on the mediums taking fifth off Sainz, who was warned for weaving.
PlanetF1 recommends
Lewis Hamilton denies speculation of a rift with trainer Angela Cullen after surprise split
Charles Leclerc rubbishes rumours of a direct swap with Lewis Hamilton
Ralf Schumacher: If Michael had been there, Steiner would've treated Mick differently
With DRS enabled on lap 24, Verstappen shot past Russell to put his RB19 into podium contention, and not even a lap later, he was up to P2 as he made overtaking look very simple against Alonso. Meanwhile Alex Albon reported "brake failure" but continued past the pits before coming in on the next lap.
While Verstappen chased down Perez, Hamilton closed in on Russell. The latter was told to move out of his team-mate's way, but he argued that based on Alonso's penalty he didn't have to. He was then told Alonso had already taken his penalty, Russell not impressed.
Taking a few tenths off his team-mate, Verstappen reported that the "driveshaft feels a bit rough". He was told not to worry, but worry he did: "It makes a weird noise at high speed, I think there's something wrong". His team-mate and race leader Perez was reporting brake pedal issues. But still the Red Bulls ran 1-2 ahead of Alonso with Red Bull responding to Perez's question about whether they should continue to push with a "you're free to push".
The team-mates raced to the line, Perez six seconds ahead of Verstappen, with Red Bull taking their second 1-2 in as many races. But Verstappen with the fastest lap point kept the lead in the World Championship by a point over his team-mate with Alonso, following up his Bahrain P3 with another in Saudi Arabia, third on the log. The Aston Martin driver was 15s down on the race leader but Mercedes believe he could be in line for a penalty for the team touching his car during his in-race penalty.
Russell was fourth, 5.138s down on Alonso, but a post-race 10 second penalty for the latter after not serving a previous five-second penalty correctly means Alonso was relegated to P4 and Russell claimed the final podium spot, before the FIA's decision was overturned hours later upon appeal.
Hamilton, Sainz and Leclerc with Ocon, Gasly and Kevin Magnussen completed the top ten. The Haas driver made a late pass on Tsunoda to grab the final points-paying position.
Result
1 Sergio PEREZ Red Bull Racing 1:21:14.894
2 Max VERSTAPPEN Red Bull Racing +5.355
3 Fernando ALONSO Aston Martin +20.728
4 George RUSSELL Mercedes +25.866
5 Lewis HAMILTON Mercedes +31.065
6 Carlos SAINZ Ferrari +35.876
7 Charles LECLERC Ferrari +43.162
8 Esteban OCON Alpine +52.832
9 Pierre GASLY Alpine +54.747
10 Kevin MAGNUSSEN Haas F1 Team +64.826
11 Yuki TSUNODA AlphaTauri +67.494
12 Nico HULKENBERG Haas F1 Team +70.588
13 Guanyu ZHOU Alfa Romeo +76.060
14 Nyck DE VRIES AlphaTauri +77.478
15 Oscar PIASTRI McLaren +85.021
16 Logan SARGEANT Williams +86.293
17 Lando NORRIS McLaren +86.445
18 Valtteri BOTTAS Alfa Romeo 1 lap
Did not finish
Alex Albon Williams lap 29
Lance Stroll Aston Martin lap 18