Sebastian Vettel reveals the 'biggest natural talent' he ever raced against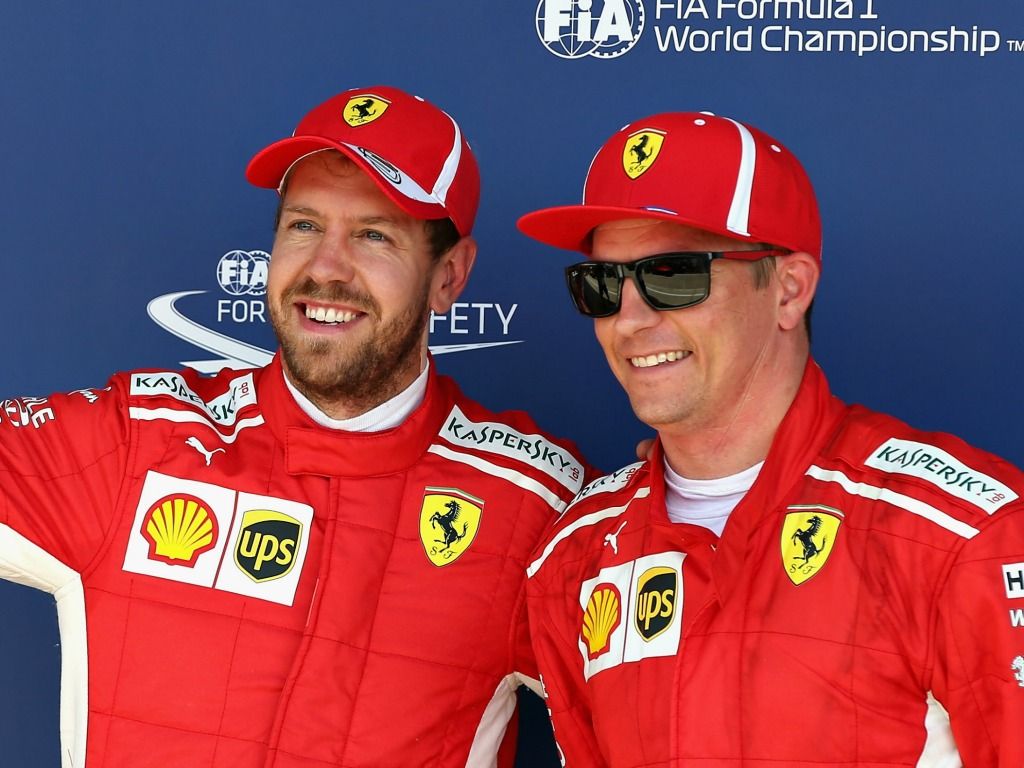 Sebastian Vettel has rated his former Ferrari team-mate Kimi Raikkonen as the "biggest natural talent" he's ever competed against, saying if you give the Finn a steering wheel "he knows what to do with it".
Vettel partnered Raikkonen from 2015 to 2018, the duo winning 14 grands prix and ensuring Ferrari finished runner-up in three of their four years as team-mates.
It was largely a harmonious partnership, barring one opening lap collision at the 2017 Singapore Grand Prix when the team-mates, together with Max Verstappen, crashed as they went into Turn 1. It marked the first time in history that both Ferrari F1 cars were eliminated on the opening lap.
That, though, was a racing incident, nothing malicious, with Raikkonen saying after he left Formula 1 that the two had "a good relationship always".
They, however, weren't able to add to Ferrari's tally of World titles as team-mates, Raikkonen remaining the last driver to have won the Drivers' Championship with the Scuderia when he was P1 in 2007.
Vettel, who has already teamed up with Mark Webber, Daniel Ricciardo and Charles Leclerc, rates the 43-year-old as the most naturally talented driver he's ever met.
"I think Kimi is actually the biggest natural talent I've come across, ever," the former Aston Martin driver said on the 'Beyond the Grid' podcast.
"Just in terms of raw speed, I think. And it shows in the car, obviously, but it shows also in any other form of car.
"I think switching – if there was a discipline of switching cars every day – after 10 days he would be lapping everybody else, just because he's just a natural, it doesn't take time to adapt to the car, to what the car requires.
"What the car asks him to do comes naturally to him. If you give him a steering wheel he knows what to do with it, in some situations for many drivers it is necessary to take measures, but for him it is natural."
The German, who walked away from Formula 1 at the end of the 2022 season, also spoke of his relationship with his fellow World Champion.
"He surprised me right from the first handshake because he looked me in the eye," said the 35-year-old.
"We drivers are often 'absent' with our heads at the moment of a presentation. He, on the other hand, immediately had great respect for me.
"There was never an argument between the two of us because it was always direct. If we crashed into each other we talked about it, fixed what happened, maybe laughed about it.
"But there was never a question that anything could sort of shake up or destabilise the, I don't want to say bond, but relationship that we had. With people, I think Kimi's been exceptional."
This isn't the first time that Vettel has talked up Raikkonen and his relationship with him, saying last year: "Great respect. I don't think you can have an argument or a problem with Kimi. If you do, the problem is not him, the problem is you."
Read more: Lewis Hamilton on his role in arranging Sebastian Vettel's farewell dinner