Vettel: Brake failure happened in 'best spot'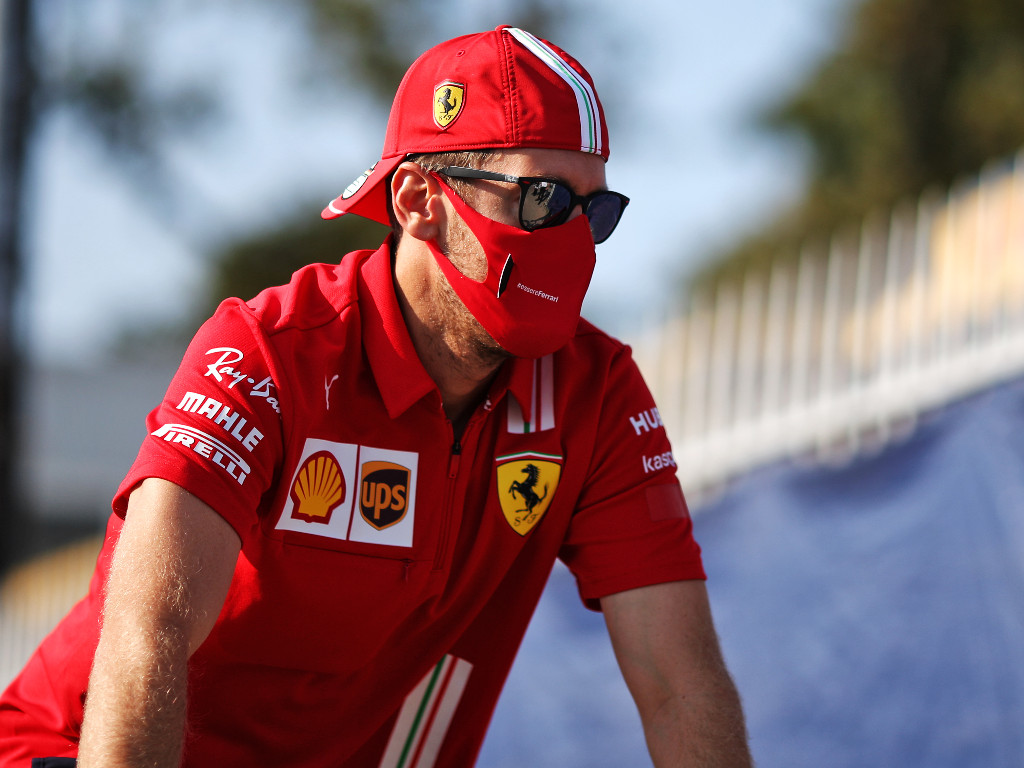 It was another miserable weekend for Ferrari as they recorded a double-DNF at their home race, but Sebastian Vettel was at least happy with where his brake failure occurred.
Vettel was running in P17 on Lap 6 and had the Williams of George Russell hunting him down.
The four-time World Champion was then told over team radio that there was an issue with the rear-left of the car.
That issue turned out to be the brakes which had exploded on the run up to the Parabolica.
Vettel confirmed it was a brake failure and would go straight on at Turn 1, taking out the polystyrene.
From there Vettel managed to crawl back to the pits and retire from the race as his Ferrari misery continues.
"It is the worst thing but at least it happened in the best spot," Vettel told reporters.
"If it happens elsewhere it's not so nice. I completely lost the pressure on the pedal and went straight.
"In the laps before I ran into trouble but we managed the brakes but it was obviously quite bad.
"I was struggling, had a very bad start with the Hard tyres and lost positions. Then we ran into the problems, had to cool the car, and the brakes failed, so a short race."
Vettel's woeful final season with Ferrari is showing no signs of improvement, but he said that you can't always get what you want.
"It's very difficult at the moment for the whole team, but we are in that position and we have to do the best we can to have a worthy ending of the season," he said.
"We still have lots of races ahead of us. Of course if I could choose I want to be at the front [of the pack] but sometimes you don't get to choose and have to deal with what you have.
"We have to keep our heads up even though it's difficult.
"In that regards it's good that there are no fans, but life is like this, it always depends on where you're looking from, and I think even if professionally there aren't many good things at the moment, there are always some positives so it's just a question of what you focus on."
#Seb5 had to retire due to a brake issue and #Charles16 crashed heavily at the Parabolica. He is ok. A race to forget. #ItalianGP🇮🇹 #essereFerrari🔴 pic.twitter.com/tXgEa0rwbh

— Scuderia Ferrari (@ScuderiaFerrari) September 6, 2020
Get your hands on the official Ferrari 2020 collection via the Formula 1 store
Next up for Ferrari is the Tuscan Grand Prix at Mugello, arguably even more of a home race for the team since they own the place.
However, Vettel said his expectations are "very low".
"It's clear in terms of expectations, you see where we are and that we can't expect an awful lot," he said.
"I think in the last races we have struggled a little bit to make the car work at 100%. I hope at Mugello we are in a bit of a better place but that doesn't mean we are fighting for the podium so you need to be realistic.
"Expectations are very low, but hopefully we have a smooth weekend without trouble, that would be a good start on my side."
Follow us on Twitter @Planet_F1 and like our Facebook page.