Sainz reveals thank you letter sent by Vettel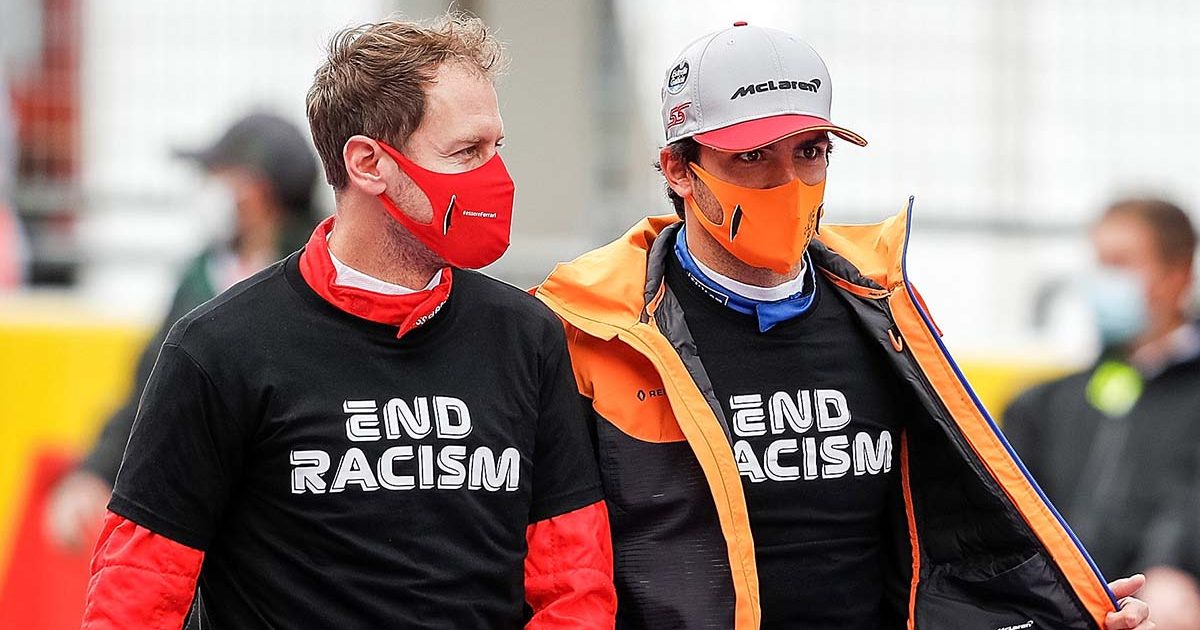 Carlos Sainz has spoken of his "great respect" for Sebastian Vettel, with a moment during the 2014 season staying with him during his Formula 1 career.
As Vettel said his goodbyes at Red Bull before starting a new chapter with Ferrari in 2015, Sainz was completing his duties as a reserve and simulator driver for the team before making his own step up onto the Formula 1 grid the following season with junior team Toro Rosso.
Sainz has now replaced Vettel at Ferrari and, in an interview with Spanish publication Soy Motor, he spoke fondly of his predecessor and revealed that a letter he received from him back in his early Red Bull days is something he treasures.
"I have a lot of respect for Sebastian," Sainz said.
"I think he is one of the drivers who is going to mark an era in Formula 1, regardless of maybe the most difficult years he has had.
"I'm going to tell a story…the day he said goodbye to Red Bull in 2014, I was a simulator driver and he dedicated a letter to me.
"He thought that the work I was doing in the simulator for him and for the team was important, and he had the kindness to say goodbye to Red Bull by sending a letter to all the employees personalised for each employee.
"He knew that at four o'clock in the morning I spent hours in the set-up recommending settings for his race in Australia and he was kind enough to send me a letter thanking me for that effort in the simulator and those hours of work I had put in.
"And since then I have a special affection for him and I have a relationship with him beyond the cameras, which maybe I have never told him and someday I will tell him, but since then I have a great respect for him."
#SF21 looking 🔥

Making those final touches ahead of our return to Bahrain ✨#essereFerrari 🔴 #BahrainGP pic.twitter.com/oaOrPVlvn2

— Scuderia Ferrari (@ScuderiaFerrari) March 22, 2021
Kit yourself out in Ferrari colours via the official Formula 1 store
While Sainz is only at the very beginning of his Ferrari career, he has already got the feeling that he is at a unique team.
He said: "Yes, I was very impressed by the Tifosi at Fiorano. The people climbing the fences just to see my installation lap at Fiorano, that made an impact on me.
"I said, 'the number of times the Tifosi must have climbed that fence, the number of times they must have come here to see Schumacher test the car, and now they're climbing up there to see me'.
"And that feeling of saying 'this only happens at Ferrari', because there is no other team that has a circuit in a village and that people go there to see the car run.
"A circuit in their town and a circuit in their factory. And the factory and the track are the centre of the town. That's unique."
Follow us on Twitter @Planet_F1, like our Facebook page and join us on Instagram!