How Sebastian Vettel influenced Charles Leclerc in early stages of Ferrari career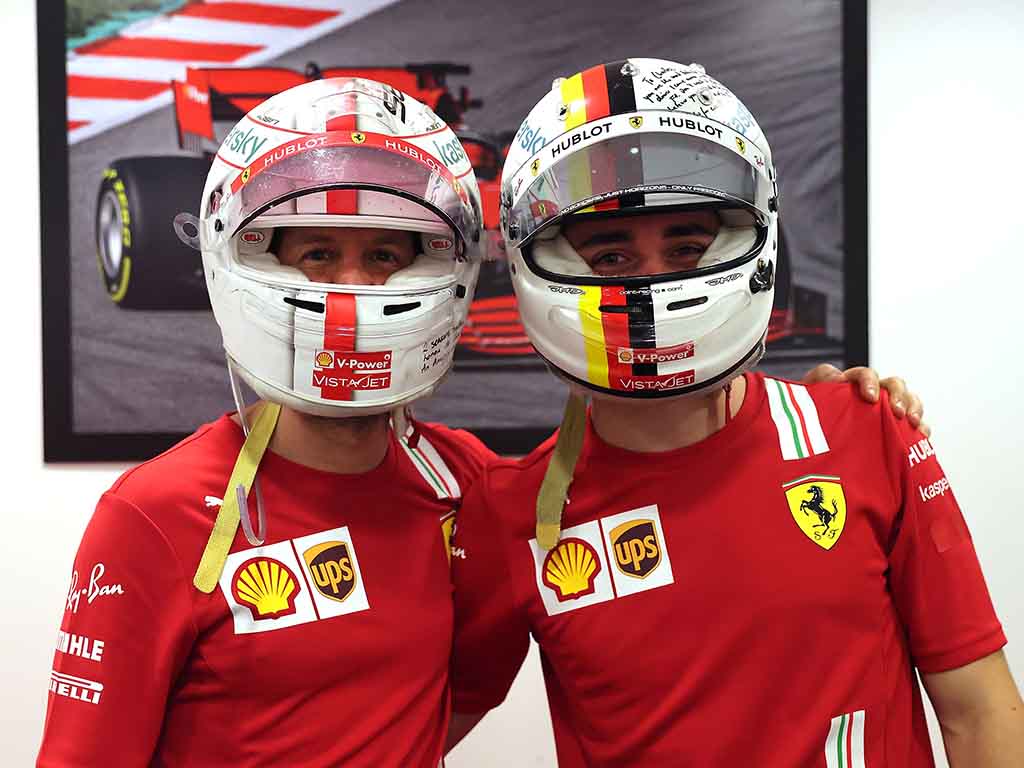 Charles Leclerc has revealed how Sebastian Vettel showed him a different level of commitment to life as a Ferrari driver in Formula 1.
Leclerc and four-time World Champion Vettel spent two seasons as Ferrari team-mates together after the Monegasque driver passed his rookie test with flying colours at Sauber in 2018.
The two did not always see eye-to-eye on track, with collisions at the 2019 Brazilian Grand Prix and the 2020 Styrian Grand Prix clear stand-outs in what was a heated rivalry at times.
However, there was and still is plenty of respect between the two drivers, their bond no doubt becoming stronger as they both battled with an extremely uncompetitive SF1000 in 2020 which handed Ferrari their worst finish in the Constructors' Championship in four decades (P6).
But, it was in Leclerc's first season with the Ferrari team when Vettel gave him a little bit of a wake-up call in terms of commitment and determination.
"He is the hardest worker in the F1 paddock, for sure," Leclerc is quoted as having told Motorsport-Magazin.
"When I came from Alfa Sauber, I arrived casually in the morning and he had already been sitting in the office for an hour and a half.
"I took this approach from him, because now I also arrive quite early and leave very late.
"But when it happened for the first time I asked myself: Why does he do that? What does he need so much time for?
"With more experience and the more I talked to him, the more I saw that there are little details that I didn't take care of at the beginning, but he did.
"That has made a difference. I learned a lot of things from him.
"Especially at that point in my career, when I was still very young, it was good to have an experienced driver like Seb by my side."
Both Vettel and Leclerc have experienced difficult times as Ferrari drivers, but Leclerc does not feel their situations are comparable.
"When I made the mistakes I didn't have to compensate for anything [like a bad car]," Leclerc concluded.
"I just wanted to do well in Imola. Then in France I made a mistake, but that could have happened anywhere.
"I always try to go to the limit. There was the big mistake in France, the smaller one in Imola but I can't change that anymore.
"I have the feeling that there is more talk about it than necessary. Sure, the points gap is huge, but as I said, we have to improve as a team on Sunday."
Leclerc also revealed that he and Vettel still keep in touch to this day and, like the vast majority of people, will miss having him on the grid from next season and beyond.
He said: "We don't send each other messages every week, but when something comes up, we always text each other.
"And I think we will all miss him. Seb is a very, very nice and really friendly person. Everyone will miss him in the paddock."
Read more: Charles Leclerc quizzed on widespread criticism of Mattia Binotto and Ferrari