Sebastian Vettel critical of Monza fly-by for Italian president's 'ego'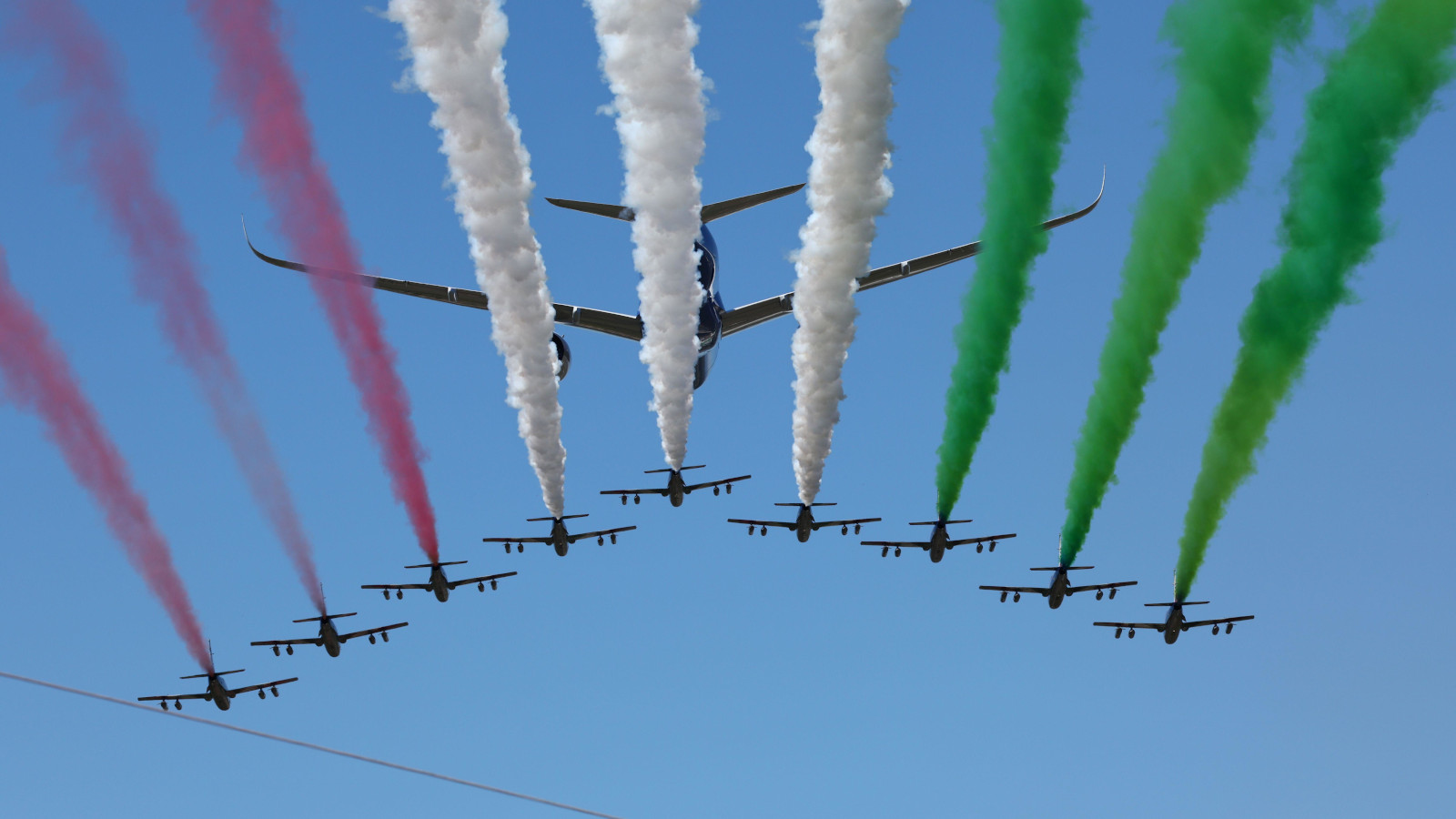 Sebastian Vettel has criticised Formula 1 for giving into Italian president Sergio Mattarella's "ego" with a fly-by over the Monza grid.
Determined to reduce Formula 1's carbon footprint, the sport's bosses targeting net-zero by 2030 as part of a wider sustainability strategy, flypasts by military aircrafts were banned at the beginning of this year.
F1 bosses did, however, give the go-ahead for display teams such as Britain's Red Arrows and Italy's Frecce Tricolori.
The traditional flypast took place on Sunday, red, white and green smoke deployed from the rear on the nine MB-339 jets as they flew over the Monza grid on two occasions.

But for the second they were accompanied by a jumbo jet.
Aston Martin driver Vettel says he heard it was done on the instruction of the Italian president.
Asked if he hopes Monza stays on the calendar, the German replied: "I hope so, and I hope they stop doing the fly-bys.
"I heard the president of Italy was insisting to have the fly-by – I mean, he's about 100 years old, so maybe it's difficult for him to let go of these kinds of ego things.
"I think it has to stay on the calendar. It is a great circuit, a great atmosphere, but the fly-bys…"
Buongiorno a te e a tutte le amiche
Happy Sunday
Oggi vedremo sfrecciare nel cielo della Brianza le frecce tricolore prima dell'inizio del GP di Monza.
Felice giornata a tutte pic.twitter.com/woFi9cou7N

— FRIGERIOROSELLA (@frigeriorosella) September 11, 2022
The four-time World Champion, who in the past few years has often spoken out about climate change, was annoyed that Formula 1 chiefs gave into Mattarella's demands.
"We were promised that they are gone," he continued as per GPFans, "and it seems that the president just has to change his mind and F1 gives in despite the boards around the track about certain goals when it comes to making the world a better place.
"F1 should move away from being influenced. If you have a goal then you shouldn't do like all the countries and just neglect the fact that you won't achieve it. You should stick to the word you put out, but time will tell.
"It's a great circuit, a great atmosphere but they should stop doing the fly-bys."
Vettel's final Italian Grand Prix was a race to forget, the driver eliminated in Q1 on Saturday before retiring on lap 12 of Sunday's race.
Max Verstappen took the win behind the Safety Car, the Red Bull driver securing his fifth race win in succession as he romps towards a second successive World title.
Vettel was the last driver to win the title, never mind successive ones, with Red Bull, P1 from 2010 to 2013.