Vettel brands the Outer Circuit 'too short'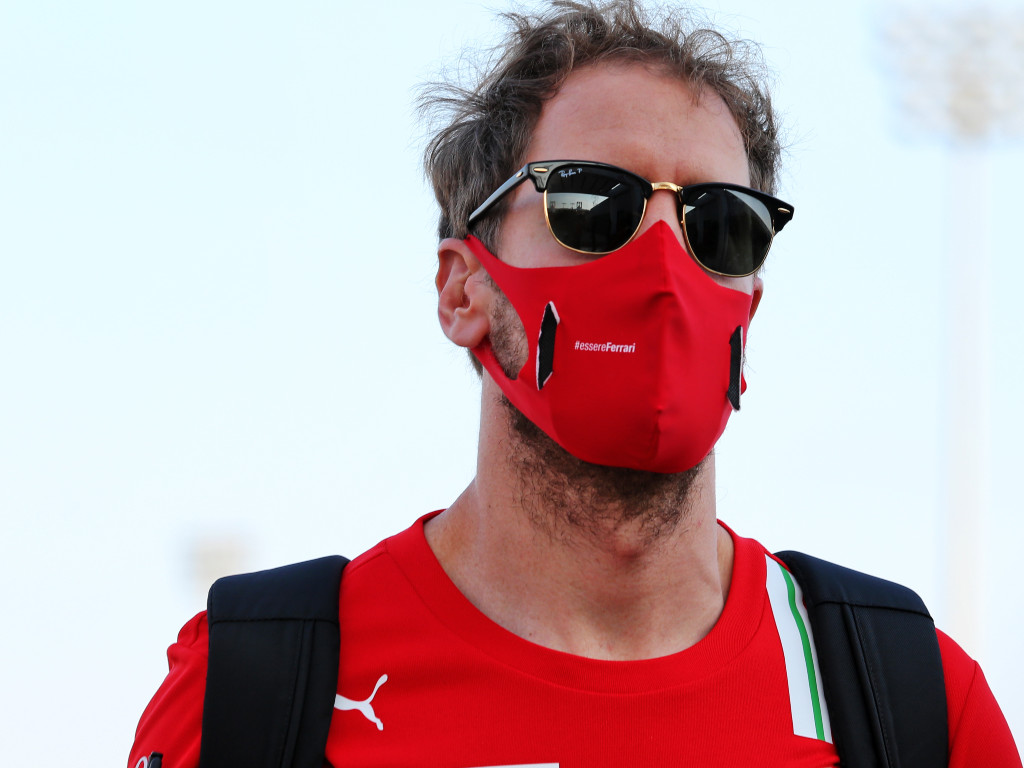 Sebastian Vettel can be added to the list of drivers who don't like the Outer Circuit, calling it "too short".
For the second race weekend in Bahrain, this event being called the Sakhir Grand Prix, the Bahrain International Circuit's shorter and faster Outer Circuit is in use for the first time.
But Vettel certainly isn't an admirer, saying it's simply "too short". George Russell's FP2-topping time was a 0:54.713. Vettel meanwhile finished FP2 in P16, but only 1.117s off Russell's benchmark.
"It's very short, it's too short to be honest, it's a bit strange," he told Sky F1.
"Just when it's about to start it stops, but it is what is.
"We've had a mixed session, the first session was okay, the second session was horrible, we tried something with the car and I think it was very aggressive and probably not what we wanted and not what we needed.
"We were happy and thought it would work, but I don't think it did.
"But I hope tomorrow we can close the loop and we're back on track."
The real challenge of the lap comes in the middle sector with a series of sweeping bends, but since that is the only section which differs from the Grand Prix Circuit, Vettel said there isn't much for the drivers to learn.
"It's quite tricky, Turn 4 is more or less as it was last week, it's a bit faster because it opens up but then it's quite bumpy around Turns 7 and 8, the kerbs are very aggressive and it's just difficult to make it stick through that part," he explained.
"The evening was very difficult for all the corners for us, it is a tricky lap, but like I say it's just that one tricky section the rest you know quite well by now so it's not really a new track, it's just a couple of corners that are new."
Traffic in qualifying is a problem on most circuits these days, so Vettel is just hoping that qualifying for the Sakhir Grand Prix can come and go without any major issues.
"Not just the middle section the whole track is short and there will be the same amount of cars so Q1 will be very tight," said the four-time World Champion.
"The other thing that doesn't help is we have to go really slow in the cool laps to bring the tyres down, that's probably the worst factor.
"One thing is looking for traffic, the other is having such big speed deltas, so it will be a mess. I hope that nothing happens, we can't all go through, but all go through without being impeded or having trouble with traffic and so on."
A failure in FP2 limited our mileage. But tomorrow is a new day and I'm confident it will be a good one 💪 pic.twitter.com/smwUUQmXz7

— Charles Leclerc (@Charles_Leclerc) December 4, 2020
Get your hands on the official Ferrari 2020 collection via the Formula 1 store
A "failure" on Charles Leclerc's car meant that Vettel was the solo Ferrari in FP2, meaning it's hard to judge where the team truly are in the pecking order.
But with the pack so tight, Vettel feels it will always be very difficult to pinpoint a place for the Scuderia.
"Hard to say because we had a mixed session this evening, Charles wasn't out running so we didn't get the answer on the other side either," he explained.
"I think Q1 should be fine, to make it through to Q2, and then Q3 I think could be possible, maybe it's a little bit better than last week but I reckon it will be very tight.
"It's a short lap, gaps between the cars are nothing, the midfield has always been tight this year so it will be even tighter."
Follow us on Twitter @Planet_F1, like our Facebook page and join us on Instagram!