Seb rues Kimi crash that 'destroyed the race' in Jeddah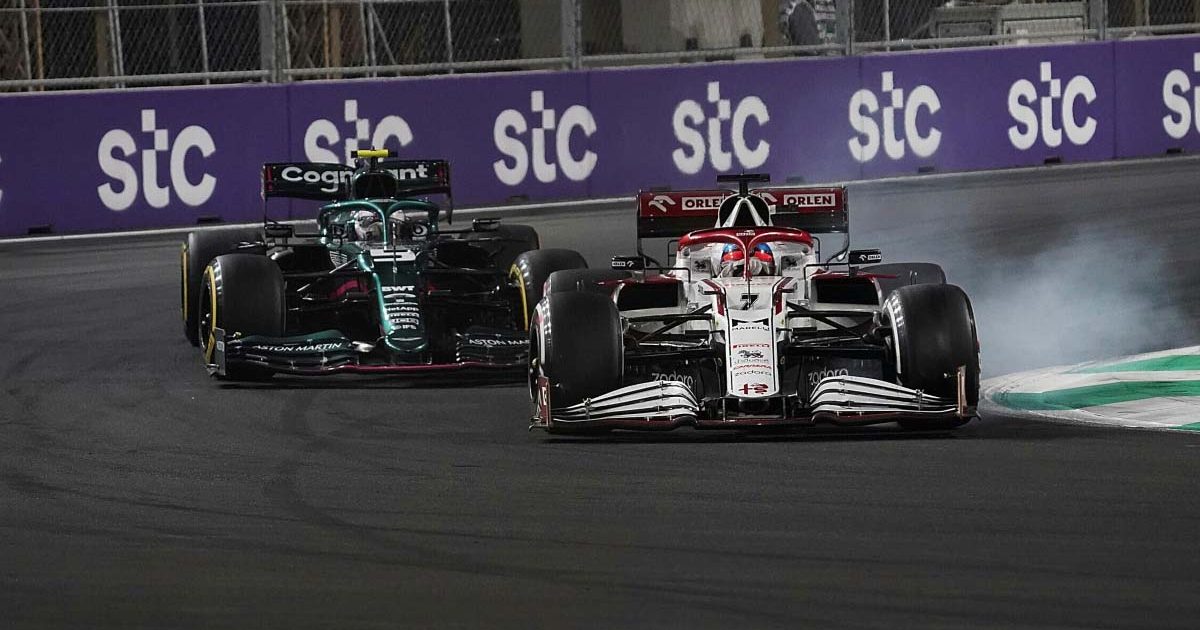 Sebastian Vettel was in the wars in Saudi Arabia, and admitted his tangle with Kimi Raikkonen "destroyed the race" for him on Sunday.
After starting P17, the Aston Martin driver had managed to work his way up into the top 10 between red flag periods and passing cars on track, before his first incident occurred – as Yuki Tsunoda spun him around at Turn 2 by tagging his right-rear tyre.
Vettel was able to get going again, and ended up sparring with his former Ferrari team-mate later on in the race.
Raikkonen tried to overtake him around the outside at Turn 1, but Vettel hung it out to keep the place at Turns 2 and 3, but the Alfa Romeo driver tried to stay on the outside heading into the left-hander of Turn 4.
He was squeezed towards the wall, and they eventually collided – leaving both drivers plum last of the runners on track, before Vettel retired from the race with the damage sustained.
"It was all going my way," the four-time World Champion told Formula1.com. "We started 17th and we were inside the top 10. So it was extremely difficult, but we managed to go through [the field] and then at the end, we obviously got kicked out by Yuki and after that there was another incident with Kimi that destroyed the race.
"I don't know what happened, to be honest, because I had the corner and I don't know where he really wanted to go.
"There's no room for two cars in that corner, so I think he has to back out of it."
Raikkonen too was perplexed as to how the incident occurred, and explained that he tried to keep going alongside the Aston Martin to have a chance to pass into Turn 4 – but just put it down as being a racing incident.
"I don't know. I overtook him kind of in the first corner and went a little bit wide there, and we kept going side-by-side into [Turn] 4," said the Finn.
"My intention was to try and stay on the track and to go on the outside, but I don't know. Maybe he thought we were both going to go straight. I don't know, it is what it is."
Vettel's first incident with Tsunoda saw him head backwards towards the barriers at Turn 2. When told the AlphaTauri driver had planned to apologise to him for their crash, the German seemed relaxed about the situation.
"It's fine, it happens," said Vettel. "It's just bitter obviously for him and for me. I think he was faster; he would probably have got past two, three, four, five, 10 laps later anyway.
"A shame for both of us to lose that position in the points."
Weekend to forget for Aston Martin
It was another weekend to forget for Aston Martin.