Vettel: Masi 'not proud' of Q3 red flag situation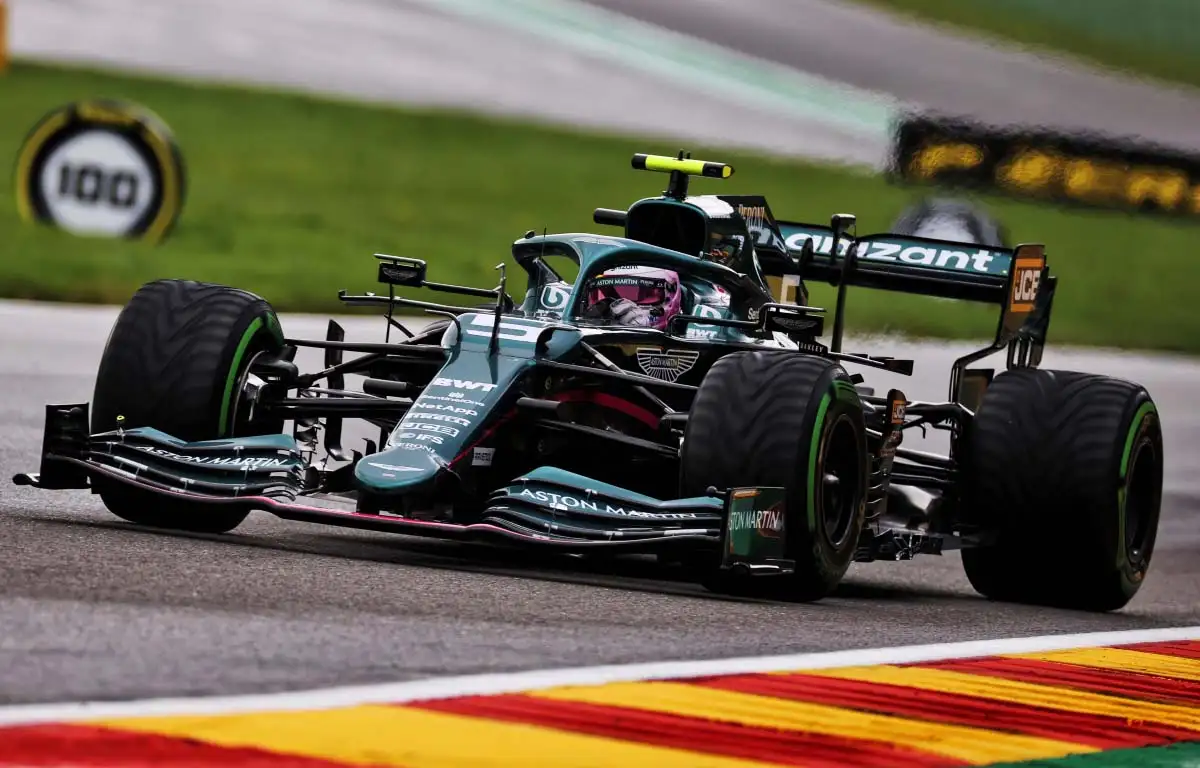 In the aftermath of a dramatic wet qualifying session, Sebastian Vettel feels race director Michael Masi is "not proud" of how a red flag was not used sooner.
Vettel was asking on team radio for the start of Q3 to be halted after rain restarted at Spa, and Lando Norris was sent spiralling into the tyre barrier at Raidillon after aquaplaning up Eau Rouge – which led the McLaren driver to be taken to hospital for a precautionary X-ray on his elbow.
The Aston Martin driver reacted angrily when the session was eventually red-flagged, as he believed it should have happened before an accident occurred.
Speaking to Sky Sports after the session, Vettel felt that a wider range of information needs to be made available to the drivers before heading out of the pits, and that some parts of decision-making in the rain need to stay out of the drivers' hands.
Note to the FIA: When Seb says it's a red flag. It's a red flag. #F1

— PlanetF1 (@Planet_F1) August 28, 2021
F1 TV Pro is half price for two months! In order to claim this fantastic discount, click the following link and use the promo code SPA50 at checkout!*
*Offer expires at 23:59 on Sunday, August 29. Offer only available on Pro. Customers will need to take out a monthly subscription and this offer can only be redeemed on web. Offer not available in NL, FR or NZ.
"I think Michael [Masi] is not proud of what happened either," said the four-time World Champion. "I think it's always easy to play 'captain hindsight', but I think we need to find a way to listen more to the information we have.
"Inside the garage is very limited because it's like looking out of the window, but 3km that way, I have no clue what's going on. When I went down to Eau Rouge and came up the hill, there was a lot of water and I was calling for a red flag.
"But I think the truth is the session should not have started at all.
"There's plenty of things we could have done better. It's better to be safe one time too many than one time too little. I think it's good that nothing happened, that's the main news, but it could have been a different outcome for Lando and I'm not sure there's anything he could have done.
"The trouble is, of course we are in control and you can say 'box', but it's a bit of a weird situation because everybody is in the same position and you don't want to get kicked out [of qualifying]. You want to progress, so that decision [of continuing] shouldn't really be entirely up to us.
"We delayed the session in the beginning where there was less water, but I don't entirely understand why we didn't start the session.
"It's always easy [to say] afterwards, but the main thing is that it doesn't happen again."