Vettel: Midfield racing 'not what I'm really here for'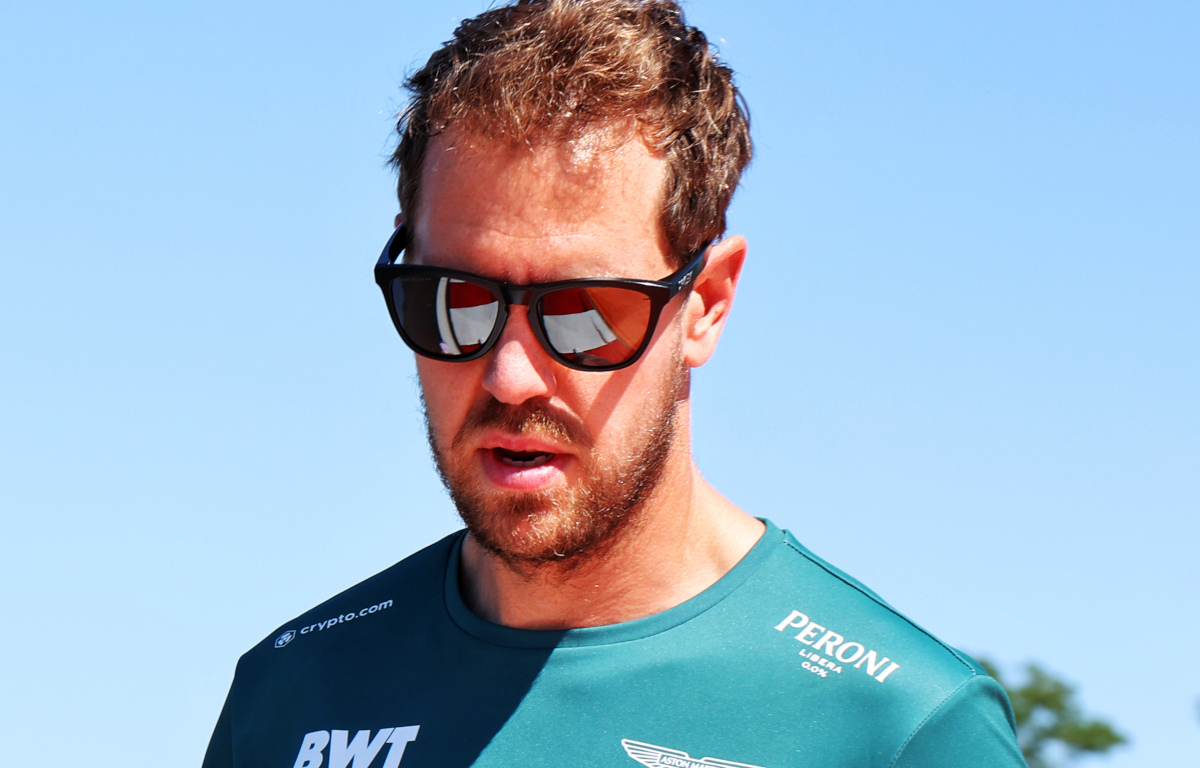 Sebastian Vettel says racing in the midfield "just doesn't feel the same" and isn't why he's on the Formula 1 grid.
After spending a decade regularly fighting for wins and podiums, the German has rarely been able to do so since joining Aston Martin for the 2021 campaign and beyond.
Instead, in what has often been the sixth fastest car on the grid this year, he has usually been involved in the midfield battle for the lower positions in the top 10 at best.
He admits that isn't as enjoyable to him and isn't why he's still racing in F1.
"The satisfaction when you cross the line just doesn't feel the same," he told Sky Sports.
"Once you've won a race and been on the podium and you've got this massive boost from the fans afterwards and, in a way, confirmation…
"Now you race and you get an eighth or 10th place and you feel you've done a really good race, no mistakes, but it's 10th, it's ninth, it's eighth, it's not really what I'm here for.
"Maybe I'm spoiled, I got used to winning and being at the front."
It's been a good day for Seb. Now it's time to build on that momentum. Up next, Brazil!

Join #SV5 for his #MexicoGP debrief. 💚

— Aston Martin Cognizant F1 Team (@AstonMartinF1) November 7, 2021
If all goes to plan, Vettel won't be racing in the midfield for too much longer with Aston Martin aiming to compete for wins and titles within the next few seasons.
The widespread regulation changes coming into play next year will provide them with an opportunity to close the gap to the front-runners, but the same applies to every other team on the grid.
Even so, the four-time World Champion is optimistic and says he has no regrets about joining the British outfit for what will most likely be the final years of his career.
"Lawrence is very serious and the team is on track. Everything that is happening is very, very promising," he added.
"To set out a schedule is always difficult because everyone is setting out the same schedule – we all want to go back to winning ways, whether it's McLaren, Alpine, there are two teams at the moment fighting each other at the front, you've got Ferrari.
"I always believe there's a race to win, otherwise I wouldn't start anymore. But sure, if you look at the statistics, if you start 12th or eighth or 10th, then you're not in pole position literally.
"I have no regrets and I think that's the main thing."
Sebastian Vettel is still World Champion material
Aston Martin have views of being at the front of the grid, and that's exactly where Vettel likes to be.